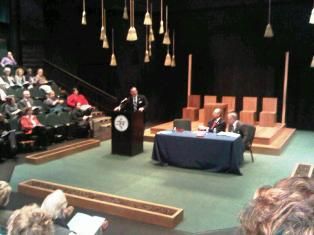 At a called meeting of arts leaders and individuals from around the state on January 11 at the Alabama Shakespeare Festival (ASF) in Montgomery, Alabama State Council on the Arts chairman Jim Harrison (Tuscaloosa) and ASCA executive director Al Head encouraged the arts community to step up to the challenge of arts advocacy for the upcoming legislative session. Without such a united front, Head said, the consequences may be dire for state arts funding.
Alabama State Treasurer Young Boozer, a long-time board member and former board president of ASF, gave a brief economic forecast prior to Head's laying the groundwork for arts advocacy in home districts. Boozer exhorted the more than 200 arts leaders and individuals who filled ASF's Octagon Theater to work one-on-one, contacting longtime donors to build on existing relationships to raise funds.
Boozer quoted Wood Allen, who said, "90% of life is just showing up." Turning the phrase, he said, "But I say 90% of successful fundraising is making the call to your legislators or prospective donors."
Head described a bleak scenario that the arts community might face in the FY 13 budget process and what can be done to mitigate the situation with some well-placed advocacy at home. "Go back home and tell your arts story," Head said.
"If we don't speak out (about arts funding), it will be easy to slip through the cracks," he said. He encouraged people to invite elected state officials to visit arts programs and arts education events, and to make the case for the economic impact of their arts organizations within the community. Head also encouraged people to know who their legislative delegations are, to understand the process and be familiar with key committee chairs and the movement of the budgets.
"There are many points at which we can make a difference during the budget process," Head said.
Head and Harrison encouraged everyone to return home and organize local arts groups to meet with their elected state legislators. "Get to know the officials you elected and help them understand the arts' impact in your communities," Head said.
Find your local representative or senator: http://www.legislature.state.al.us/
Photo: Al Head addresses the audience in the Octagon Theater while Young Boozer and Jim Harrison look on. (Jeanie Thompson)