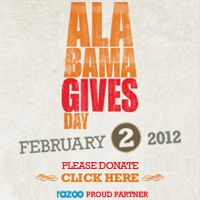 On February 2, 2012, the Alabama Association of Nonprofits, in partnership with the Alabama Broadcasters Association and the Razoo Foundation, is doing something in Alabama that's never been done. With the launch of Alabama Gives Day, these organizations are taking one day to harness the power of individual contributions statewide, connecting new and existing donors with thousands of Alabama nonprofits.
"The Alabama Broadcasters Association is excited to participate in what will be a historic event for philanthropy in our state and possibly across the nation," said Sharon Tinsley, President of the Alabama Broadcasters Association. "The concept of Alabama Gives Day is heartwarming for all who will be part of the event. Alabama radio and TV stations will endeavor to raise record amounts in gifts for charities across the state in a twenty-four hour period."
Alabama Writers' Forum Executive Director Jeanie Thompson said she is excited that the Forum and the literary arts community are part of the ground-breaking social fundraising event in Alabama.
"For twenty-four hours, starting at midnight on Feb. 2, people who love the literary arts in Alabama can go online and quickly make their voices heard through contributions to the Forum," said Executive Director Jeanie Thompson. "Donations will support the programs of the Forum, such as the Alabama Book Festival, the High School Literary Arts Awards, and the resources for writers and readers at www.writersforum.org."
In 2011, Colorado Gives Day raised $12 million for participating nonprofits, far surpassing the $8.4 million raised in 2010. In 2011, Minnesota's Give to the Max raised $13.4 million for Minnesota nonprofits from over 47,000 donors in twenty-four hours. While the immediate benefit is huge, the ripple effects of giving spurred other philanthropic endeavors in Minnesota and Colorado, generating even more donations months later.
During Colorado's Give Day, 98% of nonprofits featured on GivingFirst.org received a donation, and 83% of those participating nonprofits acquired new donors. A positive lesson that charities have learned from their participation in giving days, say organizers, is that the events have strong appeal to young donors. Norman Rice, president and CEO of the Seattle Foundation, host of Give Big Seattle, describes their event as "the democratization of philanthropy, in which everyone can make a difference in the world around them."