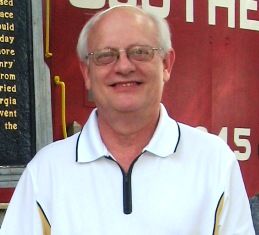 Bob Stewart, Executive Director of the Alabama Humanities Foundation (AHF), has announced his retirement effective January 31, 2012, capping twenty-five years as AHF head.
Stewart, 58, stated, "After a quarter century of service to the humanities in Alabama, and as one of the longest serving directors of all the state humanities councils in the nation, I decided it was time to pass the baton to new leadership and to explore new directions for myself."
"It is difficult to imagine a more passionate advocate for the humanities in Alabama than Bob Stewart," said Jim Noles, chairman of the AHF's board of directors. "Bob's enthusiasm and experience will be greatly missed by the AHF and by me personally. Filling his shoes will be no small task for our organization."
Under Stewart's leadership, AHF, the official state affiliate of the National Endowment for the Humanities (NEH), established itself as a leader among the state's cultural and educational organizations. During his tenure, AHF awarded over $4 million of NEH funds in nearly 1,000 project grants to colleges, universities, libraries, museums, arts organizations, and community groups. AHF also became known for its own innovative programs, including its speakers bureau of humanities scholars, reading and discussion programs for professionals, family literacy programs, the Jenice Riley Memorial Scholarships for elementary history and civics teachers, and traveling exhibitions to more than thirty communities in the state through the Smithsonian's "Museum on Main Street" program. AHF has also made significant efforts to improve classroom education through its SUPER (School and University Partners for Educational Renewal) professional development program for over 2,500 history, English, and foreign language teachers since 1991. In 2009 AHF created a similar program, SUPER Emerging Scholars (SES), for high school students from academically and economically challenged schools in Alabama.
The President of the Federation of State Humanities Councils, Esther Mackintosh, said of Stewart's contribution to the humanities, "During Bob's twenty-five years leading AHF, the council has given us outstanding model programs. During that time Bob has also contributed significantly to the national dialogue among state humanities councils about how to engage the American public with the humanities in ways that contribute to the strength of our democracy."
Stewart personally directed several statewide programs during his tenure, including a museum exhibition and library program, "In View of Home: 20th Century Visions of the Alabama Landscape," which received the Federation's 1990 Schwartz Prize for outstanding public humanities programs. He is presently directing a special project, "Project Turn the Page," which is providing thousands of books on various Alabama topics, as well as award-winning young adult fiction, to numerous schools and libraries affected by the April tornadoes. The project is funded by an NEH Chairman's Emergency Grant and a generous contribution by Joel Anderson of Florence, Alabama.
In 1989 AHF initiated the annual Alabama Humanities Award and luncheon in Birmingham to honor individuals, and later organizations, that have made outstanding contributions to the humanities. Among the many scholars, writers, elected officials, and philanthropists who have received the award was the reclusive To Kill a Mockingbird author Harper Lee, who made her first major public appearance in Alabama at the 2002 luncheon. Stewart personally recruited many of the national speakers for the luncheon, including historian Douglas Brinkley, PBS essayist Roger Rosenblatt, Vanity Fair editor and Prince Valiant comic strip writer Cullen Murphy, and Nobel prize-winning novelist Toni Morrison.
From 2001-2008 Stewart led a statewide collaborative effort to raise funds, design, and launch the comprehensive online Encyclopedia of Alabama (www.encyclopediaofalabama.org). Until his retirement from Auburn University and the EOA launch in 2008, noted historian Wayne Flynt served as editor of the Encyclopedia.
Flynt said, "Without the vision, commitment, and limitless energy of Bob Stewart there would not be an online Encyclopedia of Alabama. As the co-founder and visionary organizer of the EOA, Bob leaves a legacy of one of the nation's most advanced electronic encyclopedias, which is transforming the way people around the world understand the state."
"Before I move on to new challenges I plan to devote some time to reading, writing, and taking stock of what the AHF has contributed to this state and what the humanities have come to mean to the nation as a whole," said Stewart. "Understanding our history, celebrating our literary and artistic achievements, deliberating our ideas, values and current social conditions—these are vital elements in our educational system and cultural norms. I might even go so far as to place them alongside athletic, technical, and scientific pursuits among our national priorities. I hope I can continue to make that case in whatever way possible in the future."