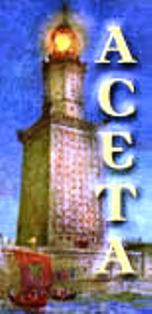 Each year, the Association of College English Teachers of Alabama (ACETA) sponsors four awards—three of them for outstanding essays and one for lifetime achievement in literary scholarship. ACETA has announced that competition for the 2012 William J. Calvert Award for an outstanding scholarly or theoretical essay and for the 2012 James Woodall Award for an outstanding pedagogical essay is now open to college English teachers and graduate students. For undergraduates, competition for the Mary Evelyn McMillan Undergraduate Writing Award is also open. Winners of these awards will receive $150 each and will be asked to read condensed versions of their essays at the Saturday, February 25, 2012, session of ACETA's annual conference, meeting at the University of North Alabama.
ACETA's steering committee selects each year the winner of the prestigious Eugene Current-Garcia Award for Distinction in Literary Scholarship. A generous benefactor of the arts and humanities, George Landegger, Chairman, Parson's and Whittemore, provides the $5,000 and the Frank Fleming bronze of the old Monroe County Courthouse tower that the recipient is given in early May in Monroeville at the Alabama Writers' Symposium. Nominations are now open.
Calvert, Woodall, and McMillan entries should be submitted, preferably by e-mail, to Dawn Miranda-Fraser, ACETA's president, at dmirandafraser@gmail.com.
Current-Garcia nominations should be mailed to:
Christy Hutcheson
English Instructor
Lurleen B. Wallace Community College
750 Greenville By-Pass
Greenville, AL 36037
334-383-6707
All deadlines are January 23, 2012.
Learn more at http://alcollegeenglish.org/.