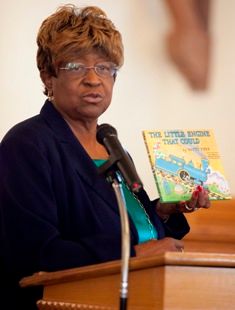 Rep. Barbara Boyd (D-District 32, Calhoun, Talladega) turned to a children's classic to inspire the student writers at the Alabama Department of Youth Services Chalkville Campus on October 26. Rep. Boyd punctuated her optimistic message with a reading of The Little Engine That Could during the book release for Love To Live.
"My challenge to you from this story is that it doesn't matter how difficult a thing is or whether people will help you," she said. "What are you to say when you confront adversity?" She then led the students in a chant of the book's theme—"I think I can. I think I can."
"Your attitude will always affect your aptitude," she said, "so always be the best you can."
Elected to the legislature in 1994, Rep. Boyd is a retired educator with over forty-five years of service in public and private education. She taught on most levels—secondary, two-year, and four-year colleges, including Jacksonville State University, Gadsden State Community College, and Miles College. She currently serves on the Trustee Board of Christian Education at Murray Temple Christian Methodist Episcopal Church, the NAACP, the Alabama Democratic Conference, and the Southern Christian Leadership Conference. She is a life member of the Alabama Council of Negro Women.
She drew on her experience with middle school students to further accentuate her message. "Here's something I used to say with my eighth graders. Say it with me: I am only one, but still I am one. I can't do everything, but I can do something. And because I can't do everything, I will strive to do the something that I can do.
"Every one of you out there has a talent. Some have more than one talent. Make sure that you do the something that you can do."
Introducing Rep. Boyd, DYS Executive Director J. Walter Wood told the assembled student writers, "I can't wait for this day every year. Family members, visitors, and important officials show up for this event. But we are not here for those people. We are here for you. This is the day we celebrate what you do, and what you are going to do. This is your day."
One published student read her work from Love To Live. Four students from the class of 2012 read their favorite poems from the new anthology and poems. In what has become a tradition at Chalkville, teaching writer Priscilla Hancock Cooper presented each reader with a long-stemmed rose.
The event concluded with a book signing and reception in the campus library.
Writing Our Stories is an award-winning creative writing collaborative program whose partners include the Alabama Department of Youth Services, the ABSOP project, and the Alabama Writers' Forum. Additional funding has been provided by the Alabama State Council on the Arts. The Children's Trust Fund provided funds for the WOS Curriculum Guide.
Copies of this year's anthologies are available from the Forum for a $5 shipping and handling charge for each book. To order, contact the Forum at 334-265-7728, toll free at 866-901-1117, or at writersforum@bellsouth.org.
Here are two sample poems from Love To Live:
Like a Bright Shining Sun
I have a beautiful personality,
Like a bright shining sun
I like to help people in any way that I can
I am as curious as George,
Uncertain of the future that lies ahead
But I am also determined to have a bright future
Like a boxer is determined to win a fight when he enters the ring
And I'm praying that in my life's journey I will be a success
I will never give up and I will always give my best
M.S.D.
The Pain I've Caused
Another year has gone.
My three year old son has grown.
Living day by day without his momma at home.
Always asking, "Why's my momma gone?"
Pain in my heart for thinking
I was right when I was wrong.
Being punished for my mistakes.
Is what really kept me away.
When I was missing him every day.
Months went by while on the run.
Every other day spending time with my son.
Only a few hours he had to stay.
Enjoying every second of every day.
Coming out of my mouth I'm ashamed to say
Four of twelve months, I spent with my baby.
K.C.R.
Photo of Rep. Barbara Boyd by Robin Cooper