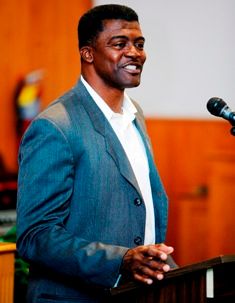 "I don't think you understand the gravitas of what you are doing," said Frederick "Freddie" Robinson, addressing the newly published writers in Open the Door 14. "When I was a young man, I didn't understand that what I did then would affect the rest of my life. As you write, contemplate where you are now, have a vision of where you want to go in life, and maintain that vision. Believe me, if you work for it you will receive it."
Robinson, a standout defensive back for the University of Alabama and the Indianapolis Colts and an executive at AT&T Wireless, entertained the standing-room-only audience with his playful jabs at Auburn University and inspired with his spirituality. Robinson was the keynote speaker at the Writing Our Stories book release event in the Department of Youth Services Mount Meigs Campus Chapel on October 20.
"I'm the guy who used to grab Bo Jackson, wrestle him to the ground, and beat him up," quipped Robinson. "Believe me, when you have Bo Jackson around the legs, you need all the divine help you can get."
Robinson is currently the Director of Transport Engineering for AT&T Mobility. He began his career with AT&T as an engineer and has served in several management positions in operations and project management.
A retired defensive back for the Indianapolis Colts, Robinson was the 1987 Defensive Rookie of the year for the team and was an NFL Player of the Week during his first two seasons. Robinson was also an All-American and All-Southeastern Conference player for the University of Alabama football team from 1983 to 1986, though he is most proud of making the Dean's List and earning his degree in electrical engineering while serving as president of Omega Psi Phi Fraternity, Inc.
Robinson is co-owner of Abundant Properties, Inc., and Stone Mountain Eye Care. He is married to Brenda Robinson and is the proud father of two daughters, Kiristen, a former collegiate women's basketball player, and Kristen, the reigning Miss Georgia Teen USA. He also serves as Church School Ministry Leader and Married Ministry Leader for New Life Baptist Church in Decatur, Georgia.
In introducing Robinson, Alabama Writers' Forum Executive Director Jeanie Thompson told the audience of students, family members, state dignitaries, and DYS administration, faculty, and staff, "Art is a community. The name of this program is Writing Our Stories, and although these young men wrote their stories, they are also our stories."
Robinson seized upon that theme. "As you write these stories about your life, remember that others will see themselves there," he said. "As I read, I thought over my life. I've made over 100 tackles and even a few touchdowns, but I have never published anything that I've written. When these words are in play, they will have an impact."
After Robinson's address, thirteen students—five returning to campus—read from their work and then signed books for audience members. They also lined up to receive an autograph from Robinson.
The Honorable Barbara Boyd (D- District 32, Calhoun, Talladega), Alabama State House of Representatives, will address young women published in Love to Live on October 26 at the Chalkville Campus book launch. The following week, on November 3, the Honorable Oliver Robinson (D- District 58, Jefferson), also an Alabama state representative, will address the young men published in Let Me Tell You About Me for the Vacca Campus book event.
Writing Our Stories is an award-winning creative writing collaborative program whose partners include the Alabama Department of Youth Services, the ABSOP project, and the Alabama Writers' Forum. Additional funding has been provided by the Alabama State Council on the Arts. The Children's Trust Fund provided funds for the WOS Curriculum Guide.
Copies of this year's anthologies are available from the Forum for a $5 shipping and handling charge for each book. To order, contact the Forum at 334-265-7728, toll free at 866-901-1117, or at writersforum@bellsouth.org.
Here are two sample poems from Open the Door 14, edited by teaching writer Marlin Barton:
America's Apple Pie
My best is all you ever wanted,
so what you did I can vaguely understand.
Born as both, but raised as one.
This is the ballad of a bi-racial man.
Let the truth be told, released from the soul,
and American fact be cast into light.
Confine the criminal reality no more.
Apple pie is sweeter if you're white.
My hair cut and clothed casually.
Football was my excuse for a tan.
Son, you can be anything you choose.
Now, father, I know, no matter race, that I can.
My best is all you ever wanted,
so white was wrought and black was banned.
You blessed and lost me, but for just reasons.
So my heart strums the ballad of a bi-racial man.
You knew the truth and I love you for caring,
but parts of true nature can never die.
So in a strange but sincere way,
I love the taste of lies in America's apple pie.
W.M.
…Alone
for Dakota
Bonded together like a chain link fence,
woven into each other's lives and memories.
Friends don't let friends do dumb stuff…alone
was the phrase we lived by.
Your crooked grin always seemed to say,
We're in so much trouble when we get home.
Your jokes that made no sense
somehow I still found funny,
but what most linked us was our willingness
to be completely honest and not
have to worry about being criticized.
The summers we spent together helped
us both find and recognize our true selves,
or maybe we only arrived at the knowing
that we couldn't make it in our own worlds…alone.
K.K.
(Photo of Frederick Robinson by Darren Freeman)