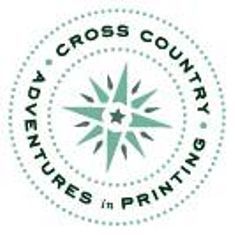 On December 1, letterpress printer Kyle Durrie will pull her "Moveable Type Truck" into town for a print workshop and open studio event at Railroad Park. Durrie began her journey in Portland, Oregon, where she transformed a 1982 Chevy step van into a mobile print shop. Since June 11, she's been on the road, making stops in cities across the country to share her love for letterpress.
During her visit to Birmingham, she will partner with the writing center, Desert
Island Supply Co. (DISCO), to lead a workshop for Woodlawn High School students. In addition to explaining the printing process, she will allow students to print their own posters to take home.
That afternoon, Durrie will park her truck at Railroad Park (on the 17th Street Plaza) for a free public event from 3-7pm (in cooperation with DISCO and the Alabama Writers' Forum, a partnership program of the Alabama State Council on the Arts). Here, she'll invite visitors into the truck for a tour and a chance to print their own letterpress holiday cards to take away.
For more information about Kyle, her work, and her journey, visit
http://www.type-truck.com.