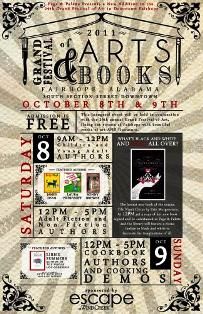 The Alabama Writers' Forum invites readers and writers to take part in the Grand Festival of Art and Books, Saturday & Sunday, October 8-9, in Fairhope, Alabama. The 29- year-old festival of arts adds a book component this year on Saturday, thanks to the vision of Karin Wilson, proprietor of Page & Palette bookstore.
"We applaud Karin's idea to introduce writers to the Festival this year!" Jeanie Thompson, Executive Director of the Alabama Writers' Forum, said. "During a weekend when art lovers, bird watchers, and sports enthusiasts converge on the Eastern Shore of Mobile Bay, literature is invited to the party. From award-winning children's authors to cookbook creators to innovative publishers and poets, this year's new Festival of Books offers something for every reader. We are happy to take part and hope people will stop by the Alabama Writers' Forum's information table and plan to hear the Forum's panel discussion, The Range of Writing Today, at 2 p.m. We have a great line-up of Alabama writers and publishers."
Kirk Curnutt, recently elected AWF board president and author of Dixie Noir, will serve as panel moderator. Panelists include Ashley Gordon, proprietor, Mockingbird Publishing, whose latest title is Year of Our Lord; Linda Busby Parker, proprietor, Excalibur Press, author of Seven Laurels, and editor of Christmas Is a Season!; and Sue Brannan Walker, Alabama State Poet Laureate and author of She Said.
The Alabama Writers' Forum is a partnership program of the Alabama State Council on the Arts.
The Grand Festival of Art and Books and The Range of Writing Today are free and open to the public. For more information, contact Page & Palette.