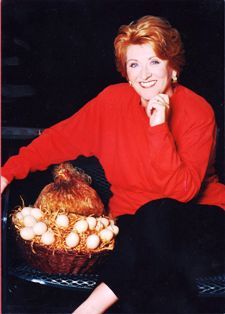 Fannie Flagg, a Birmingham native, has been named the 2012 recipient of the Harper Lee Award for Alabama's Distinguished Writer of the Year. Flagg will receive the award at the Alabama Writers Symposium in Monroeville on April 27, 2012, at the annual luncheon. The conference will meet April 26-28.
"I am absolutely thrilled and honored to receive this award—particularly this award named in honor of my idol Harper Lee," said Flagg.
"This year we have the advantage of announcing the 2012 Harper Lee Award recipient very early," said Jeanie Thompson, executive director of the Alabama Writers' Forum. "Fannie's fans will be happy to know they can register for the Symposium right away by contacting Alabama Southern Community College at mbmurphy@ascc.edu."
The Alabama Writers' Forum, a partnership program of the Alabama State Council on the Arts, coordinates the selection of the Harper Lee Award recipient annually from nominations from the field. The honor is presented annually by Alabama Southern Community College at the Symposium. It is made possible through a generous grant from George F. Landegger, chairman, Parsons and Whittemore.
"We're excited to have Fannie Flagg return to the annual Alabama Writers Symposium," said Dr. Melinda Byrd-Murphy, director of the Alabama Center for Literary Arts. "She was a featured author in 2000 and was a crowd favorite. We're glad she is being recognized for her contribution to the literary arts at this year's event."
A New York Times bestseller, Flagg is the author of the novels I Still Dream About You (Random House, 2010); Can't Wait to Get to Heaven (Ballentine Books, 2007); A Redbird Christmas (Random House, 2005); Standing in the Rainbow (Ballentine Books, 2002); Welcome to the World, Baby Girl! (Ballentine Books, 1998); Fried Green Tomatoes at the Whistle-Stop Cafe (Random House, 1987); and Coming Attractions: A Wonderful Novel (1981; reprinted as Daisy Fay and the Miracle Man, Ballentine Books, 1992). Her writing awards include the Alabama State Council on the Arts Distinguished Artist Award (2001), First Place in Fiction Award from the Santa Barbara Writers Conference (1978), and others.
Also known for her work as an actress, producer, and writer for stage, film, and television, Flagg received an Academy Award® nomination and the University of Southern California Scripter Award from Friends of USC Libraries for her screenplay, Fried Green Tomatoes, an adaptation of her novel.
In her letter of nomination, Anita Miller Garner, author and University of North Alabama associate professor of English, wrote, "Much like Capote's A Christmas Memory and Steinbeck's Travels with Charley, Fannie Flagg's novels tap into the human capacity for making art from reminiscences about an actual or imagined time, a centuries-old successful formula. Her novels, of course, are not factual reminiscences but are artful fiction from which the reader intuits truths. And, much as in a good memoir, the 'spoonfuls of sugar' of hindsight and memory help us swallow with less distaste the realizations of life Flagg offers the reader."
When nominating Flagg, Tina F. Turley, executive producer of Theatre Tuscaloosa, wrote, "While most people know that Ms. Flagg is a New York Times bestselling author, her credentials as a scriptwriter for television and an award-winning screenwriter demonstrate that she has worked successfully in two genres. To have visualized her material first in fiction and then adapted it to a screenplay demonstrates the versatility of her talent as a writer. Fannie Flagg is truly one of Alabama's finest treasures."
Flagg presently divides her time between California and Alabama.
The Harper Lee Award is made to a living, nationally recognized Alabama writer who has made a significant, lifelong contribution to Alabama letters. It includes a cash prize and a bronze sculpture by Frank Fleming of the iconic Monroe County Courthouse clock tower. The courthouse is a setting for Lee's novel To Kill a Mockingbird. Flagg will read selections from her work in the courthouse on Saturday, April 28.
This year is the fifteenth annual Harper Lee Award. Previous recipients include Winston Groom (2011), Carolyn Haines (2010), Rick Bragg (2009), Rebecca Gilman (2008), William Cobb (2007), Wayne Greenhaw (2006), Andrew Hudgins (2005), Sonia Sanchez (2004), Rodney Jones (2003), Mary Ward Brown (2002), Sena Jeter Naslund (2001), Helen Norris (2000), Madison Jones (1999), and Albert Murray (1998).
For more information, contact Danny Gamble at the Alabama Writers' Forum 205-665-7986 or gambledanny@bellsouth.net.
Photo: Fannie Flagg by Suze Lanier.