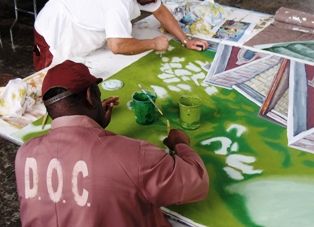 Southern Circuit—Tour of Independent Filmmakers will screen Concrete, Steel & Paint, a film about crime, restoration, and healing by Cindy Burstein and Tony Heriza at various venues throughout Alabama in September.
This complex story raises important questions about crime, justice, and reconciliation and dramatically illustrates how art can facilitate dialogue about difficult issues.
When men in a Pennsylvania state prison join with victims of crime to create a mural about healing, their views on punishment, remorse, and forgiveness collide. Finding consensus is not easy, but as the participants move through the creative process, mistrust gives way to surprising moments of human contact and common purpose.
Attend a screening, meet co-director Cindy Burstein, and join in the conversation about art, prison, healing, and justice.
Tuesday, SEPT 6: AUBURN
6 PM, JULE COLLINS FINE ART MUSEUM
Thursday, SEPT 8: BIRMINGHAM
7 PM, ALYS STEPHENS PERFORMING ARTS CENTER
Saturday, SEPT 10: GADSDEN
8 PM, PITMAN THEATRE
View a trailer and learn more about Concrete, Steel & Paint at www.concretefilm.org.
"Concrete, Steel and Paint informs us with piercing eloquence that, through art and honesty, salvation and transcendent understanding are possible." - The Huffington Post
Southern Circuit–Tour of Independent Filmmakers provides communities across the South with a tour of highly talented independent filmmakers. It is the nation's only regional tour of independent filmmakers, providing communities with an interactive way of experiencing independent film.