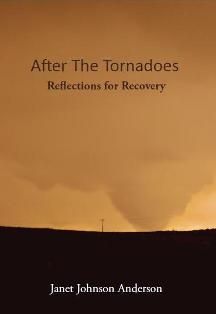 Janet Anderson was writing poetry by candlelight during Huntsville's week-long power outage in April, when a passion welled up in her to turn her writing into a larger gift and ultimate fundraiser.
Anderson states, "Beyond all the statistics and facts of Alabama's worst storms, I thought about what sustains us during fearful times of crisis, and know the first thing we need to do is own and embrace our feelings." She hopes first that her new 172-page book, After the Tornadoes: Reflections for Recovery, will lend a poetic voice to and on behalf of victims of the April tornado outbreak as they deal with loss and rebuilding. The book also offers twelve pages of never before seen storm photos. More importantly, she hopes book sales will generate the funds she herself could never extend to relief efforts. Her book is $20 and profits will go to disaster relief organizations at work in Alabama.
Books-A-Million Corporation has teamed with Anderson to make this book available to its customers. Anderson's book is currently and will remain stocked in every single BAM store across the state of Alabama. BAM is the largest book distributor for the Southeast and headquartered in Alabama is happy to help raise money for the many families still suffering from loss. The unique element is that BAM is doing so at no cost whatsoever to the author or the consumer. This is unheard of in the book industry.
A $20 investment in a wonderful book by an Alabama author is an easy way for fellow Alabamians to help individually, and with purchases collectively we can generate tremendous funds to help these families get back on their feet. Books are available now in-store only.