Writers Hall of Fame Special Edition June 2015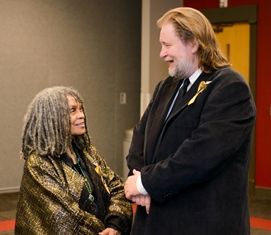 Alabama Hall of Fame celebrates 12 inaugural inductees
At a gala dinner recognizing twelve renowned authors, some 280 people celebrated the induction of the inaugural class of the Alabama Writers Hall of Fame. The event was held on June 8 at the Bryant Conference Center in Tuscaloosa. Prior to the induction ceremony, attendees mingled in the reception area and had a meet and greet with the inductees, their families, and friends.
"When I was a child, I discovered the Schomburg Library [in Harlem]," said inductee Sonia Sanchez. A librarian recommended Their Eyes Were Watching God. I had no inkling then that I'd be associated with Zora Neale Hurston. This is an honor." Both Sanchez and Hurston were inducted with the inaugural class.
After dinner, Master of Ceremonies Edmond Williams, Professor Emeritus of Theatre at UA, introduced members of Theatre Tuscaloosa, who led the audience through a scripted, literary odyssey with readings from the inductees' best known work. Tina Turley, executive producer of Theatre Tuscaloosa, directed the dramatic reading.
"To see so many people who don't usually wind up together at a literary event all eagerly waiting to celebrate the inaugural class was a thrill," said Forum Executive Director Jeanie Thompson. "In addition to the elegant, evocative tables designed by AWF Board Vice President and Arts Council member Julie Friedman with Matt Clinton Designs of Tuscaloosa, there was an atmosphere of excitement and pride. There was joy and celebration in the air."
"The first twelve inductees give us reason to be proud, thankful, and amazed that so much important work has come from Alabama writers," said Alabama State Council on the Arts Executive Director Al Head. "I personally can't wait to see the second class of inductees. There are many more worthy candidates waiting in the wings for Hall of Fame induction."
"I, like others, was pleased to see so many individuals from across the State who attended the Gala to honor the inductees and to celebrate Alabama's many contributions to the literary heritage of our country," said Louis Pitschmann, Dean of UA Libraries and director of the Alabama Center for the Book.
"Watch for news of the next nomination period and the date for the 2016 event in Literary News, our events calendar, and on Facebook at Alabama Writers' Forum Friends," said Thompson.
(Photo of Alabama Writers Hall of Fame inductees Sonia Sanchez and Rick Bragg by Miriam Brant)
To view images of the evening, visit our Photo Gallery.