September 2014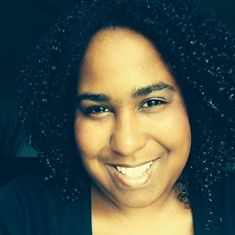 AWC to present "Abide": A Memorial Celebration of Jake Adam York and His Work
The annual Auburn Writers Conference (AWC) brings together students, faculty, and many regional writers for creative writing workshops and readings. Its theme this October is The Inspired South. For the opening event of the conference, AWC will hold a reading and celebration in honor of alumnus Jake Adam York, whose four collections of poetry address the Civil Rights movement in Alabama. This reading is part of the Third Thursday Poetry Series at the Jule Collins Smith Museum of Fine Art.
On Thursday, October 16, 2014, at 7 p.m., poets and York's friends Jeanie Thompson, Dan Albergotti, and Brian Barker, along with York's long-time editor Jon Tribble, will present a tandem reading from York's posthumously published collection, Abide. Joining them will be Amanda Gunn, the winner of the Southern Humanities Review's Auburn Witness Poetry Prize in Honor of Jake Adam York.
Photo: Amanda Gunn (contributed photograph)
ABIDE…
http://www.writersforum.org/news_and_reviews/newsroom.html/article/2014/09/19/awc-to-present-abide-a-memorial-celebration-of-jake-adam-york-and-his-work
***
Southern Humanities Review
advertisement
http://www.southernhumanitiesreview.com/
***
Rep. Byrne lauds literary tourism advocates Palmer, Walker
U.S. Rep. Bradley Byrne (R-District 1, Mobile) recognized Alabama literary tourism and the work of Mary S. Palmer and Sue Brannan Walker in promoting it. Rep. Byrne spoke from the floor of Congress on September 18. He first recognized Palmer's short story "Raisin' Cain," winner of the Southeastern Literary Tourism Initiative Tourism Writing Contest Award. "Professor Palmer's story highlighted the family-friendly nature of Mobile's Mardi Gras and… includes photos and tourism links at the end so readers can learn how to visit the real Mardi Gras parades and other nearby Mobile attractions included in the inspiring story," said Rep. Byrne.
"Dr. Walker," he said, "is using the examples of tourism writing from this initiative to challenge her students to compose original short works of literature that encourage their readers to visit the actual places included in the stories."
CONGRESSIONAL RECORD…
http://www.gpo.gov/fdsys/pkg/CREC-2014-09-19/pdf/CREC-2014-09-19-pt1-PgE1461-5.pdf#page=1
"RAISIN' CAIN"…
http://selti.org/rasin-cain-mardi-gras-story-wins-mobile-bay-selti-tourism-writing-contest/
***
Forum to co-sponsor poet Vijay Seshadri at BMA Speaks
The Indian Cultural Society and the Birmingham Museum of Art (BMA) will present an evening in honor of Mahatma Gandhi's birthday, Gandhi Jayanti (officially October 2), on October 17, 2014, 7-9 p.m. at the museum. The evening begins with a program honoring student participants in the Gandhi Jayanti poster and essay contest. Following the poster contest, BMA will hold its quarterly BMA Speaks spoken word event. During BMA Speaks, the museum will welcome Vijay Seshadri, a Pulitzer Prize-winner poet.
VIJAY SESHADRI …
http://www.writersforum.org/news_and_reviews/newsroom.html/article/2014/09/24/forum-to-co-sponsor-poet-vijay-seshadri-at-bma-speaks
***
New from The Ardent Writer Press
advertisement
http://www.ardentwriterpress.com/
***
Calderini, Smith join Forum staff as academic interns
Mary Katherine Calderini and Kapreece Smith have joined the Forum's staff as academic interns for the Fall 2014 semester. A senior English major / writing minor at the University of Montevallo (UM), Calderini is an aspiring fiction writer. She has published works in UM's literary journal, The Tower, and her short play, Regina Cory, was produced at the White Cardigan Club Playwright Festival at UM. Her honors include the 2011 Lindsey Stricklin Senior Portfolio Scholarship, presented by the Forum through its Alabama High School Literary Arts Awards and Scholarship Competition, and a Montevallo Ambassador Program Scholarship. She is also a member of Sigma Tau Delta, Alpha Lambda Delta, and Phi Kappa Phi. Calderini recently spent two weeks serving with Cru in Albania, where she taught English to university students from Kosovo.
Smith is a senior English major / psychology minor at Alabama State University (ASU). She is president of the Iota Rho chapter of Sigma Tau Delta, a member of the Pulse Poetic Society, and a work / study student in the Division of Continuing Education at ASU. Scheduled to graduate in May 2015, Smith plans to enroll in a Masters in Library and Information Sciences program. In the future, she hopes to pursue her fiction while working as a librarian at the Smithsonian Institute.
***
Georgette Norman to retire from Rosa Parks Museum
Georgette Norman will retire as the first director of the Rosa Parks Museum at the end of September. Norman has served as director of the museum for more than thirteen years. Under her leadership, the museum has seen more than 500,000 visitors from around the world and hosted seventy art exhibitions, including several international exhibits.
GEORGETTE NORMAN…
http://www.montgomeryadvertiser.com/story/life/2014/09/16/rosa-parks-museum-honors-longtime-director/15750327/
***
Associates News
Virginia Gilbert has had two poems accepted for publication in Wellesley College's The Women's Review of Books. Her panel proposal has also been accepted for the AWP conference to be held in Minneapolis in April 2015.
http://www.writersforum.org/resources/authors/listing/virginia_gilbert_poetry.html
Rob Grey's film Mobile in Black and White recently placed second at the Dallas Black Film Festival for Best Feature Film.
http://mobileinblackandwhite.org/
The LA Review recently interviewed BJ Hollars about his new book, Dispatches from the Drownings: Reporting the Fiction of Nonfiction (University of New Mexico Press, 2014). In other news, his book Monsters: A Collection of Literary Sightings (Pressgang, 2012) was named a 2014 selection for public and secondary school libraries by the Association of American University Presses.
http://losangelesreview.org/interview-bj-hollars-author-dispatches-drownings/
Alissa Nutting published an essay in the September issue of ELLE magazine about weight loss as a socially bigger deal than completing a doctorate.
***
Visit our Opportunities page
Our Opportunities page keeps you informed on publishers and organizations who want your work. Here you'll find Calls for Submission and Writing Contests. The page also includes links to Writers Groups, Writing Workshops, and National Conferences—excellent places to network.
OPPORTUNITY KNOCKS…
http://www.writersforum.org/opportunities/contests.html
***
Upcoming Literary Events
Attract a larger audience for your literary events with the Forum's Events calendar. Some 2200 book lovers receive Literary News each month, and a number of these readers check our calendar for literary events in their areas and beyond.
MORE READINGS, SIGNINGS, & BOOKMARK…
http://www.writersforum.org/events/
***
Hear interviews with Alabama's literati on Alabama Arts Radio
Each week on the Alabama Arts Radio Series, staff members of the Alabama State Council on the Arts visit with writers, musicians, visual artists, and other individuals who contribute to our state's rich artistic traditions. Recent literary interviews include Brooke Bullman, Ted Rosengarten, and Randall Horton.
Listen Sundays 5-5:30 p.m. on WTSU 89.9 (Montgomery-Troy), WRWA 88.7 (Dothan), and WTJB 91.7 (Columbus-Phenix City). Those farther south may listen Saturdays, 2:30-3 p.m., on WHIL 91.3 (Mobile-Biloxi-Pensacola). Broadcasts are also streamed live and archived on the Web.
LISTEN HERE…
http://www.arts.state.al.us/radioseries.aspx (New site)
***
Support the Arts supports the Forum
Proceeds from the sale of the Alabama Support the Arts license plate help fund arts education programs. The next time your car tag needs renewal, purchase one of these colorful plates to help support the Forum and other arts education projects.
SUPPORT THE ARTS…
http://www.arts.state.al.us/licensetag.aspx
***
Friend the Forum on Facebook and follow on Twitter
For late-breaking news, follow us on Twitter @ writersforum and friend us on Facebook @ Alabama Writers' Forum Friends.
http://www.facebook.com/home.php#!/home.php?sk=group_95957334400
***
The Alabama Writers' Forum
The Alabama Writers' Forum, a partnership program of the Alabama State Council on the Arts, promotes writers and writing in Alabama, with an emphasis on arts education programs for young writers.
Links:
http://www.razoo.com/story/Alabama-Writers-Forum
***
The Alabama Writers' Forum
P.O. Box 4777
Montgomery, AL 36103-4777
334-265-7728
Toll Free: 866-901-1117
Fax: 334-262-2150
writersforum@bellsouth.net
www.writersforum.org
© 2014 The Alabama Writers' Forum, Inc.