September 2012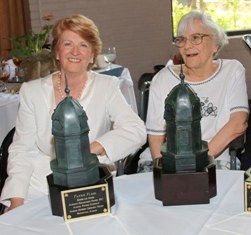 Nominations open for Harper Lee Award
The Alabama Writers' Forum invites nominations for the Harper Lee Award for Alabama's Distinguished Writer of the Year 2013. The award will be made to a living, nationally recognized Alabama writer who has made a significant, lifelong contribution to Alabama letters. The honor recognizes those who primarily write creative nonfiction, drama, fiction, memoir, poetry, or a combination of these. This is not an award for journalistic, historical, nor scientific writing, nor is it an award for service, scholarly research, nor teaching. Nominations must be received by November 1, 2012.
The award carries a $5,000 stipend and an original Frank Fleming bronze rendering of the Monroeville Courthouse Clock Tower. The Harper Lee Award for 2013 will be presented with its sister award, the Eugene Current-Garcia Award for Alabama's Distinguished Scholar of the Year, at the Alabama Writers Symposium at Alabama Southern Community College in Monroeville, April 25-27, 2013.
To nominate Harper Lee Award candidates, write a letter telling briefly why the writer is eligible to be considered for the award. List her or his books, awards, and other credentials as a published writer. A brief resume of the writer (one-two pages maximum) is helpful but not required. Do not send photocopies of works, reviews, etc. Do not send books. The awards committee may request supplementary material. Be sure to list the nominator's daytime phone number. E-mailed nominations will be accepted if they are sent in an MS Word or RTF attachment.
Mail letters of nomination to The Harper Lee Award Selection Committee, The Alabama Writers' Forum, PO Box 4777, Montgomery, AL 36103-4777.
E-mail letters of nomination to writersforum@bellsouth.net, subject line: HARPER LEE AWARD.
The Harper Lee Award and the Eugene Current-Garcia Award are made possible through a generous grant from George F. Landegger, CEO of Parsons and Whittemore.
All nominations and all deliberations of the awards committee are confidential. For more information, call the Forum office at 334-265-7728, toll free at 866-901-1117, or e-mail writersforum@bellsouth.net.
photo: 2012 HLA recipient Fannie Flagg with the award's namesake, Harper Lee. (photo by Alex Roberts)
PAST RECIPIENTS…
http://www.writersforum.org/programs/harper_lee.html
***
2013 HSLAA deadline announced
The Forum invites Alabama high school students to submit their work for the 2013 High School Literary Arts Awards and Scholarship Competition (HSLAA). The postmark deadline date is January 11, 2013.
The competition is open to Alabama high school students in grades 9-12 in public, private, and home schools. Categories include poetry, short fiction, drama, creative nonfiction, portfolios, and literary magazines. Cash awards are available to high school seniors through the senior portfolio competition.
Complete guidelines, including mailing address and entry forms, are available on the Forum's website. Please note: Each entry form must be completely filled out, including addresses, zip codes, and teacher's e-mail address. Incomplete entry forms may cause the entry to be disqualified.
Published Alabama writers will choose the winning entries. Judges remain anonymous until the awards are announced.
COMPLETE GUIDELINES…
http://www.writersforum.org/programs/
***
What do you want out of life?
http://spalding.edu/academics/mfa/
advertisement

***
Slash Pine Press to host a moveable feast in Tuscaloosa
More than two dozen poets will read from their work during Slash Pine Press' fourth annual festival, Friday, October 12, and Saturday, October 13, in venues at The University of Alabama and in downtown Tuscaloosa. The events are free and open to the public.
Among the poets reading at the festival are Ethan Saul Bull, author of In the Hour and a Bedroom Later (Slash Pine Press, 2012); William Burke, author of The World is Full of Peasants (Slash Pine, 2011); and Cindy St. John, author of Be the Heat (Slash Pine, 2011). Also featured are Dr. Mark Yakich, associate professor of English at Loyola University New Orleans; and Carol Lynne Knight, co-director of Anhinga Press.
Invited faculty poets are Carolyn Hembree, instructor at the University of New Orleans; Bryn Chancellor, assistant professor of English at the University of Montevallo; Dr. Randy Blythe of the University of Alabama at Birmingham; Dr. Norman Golar, assistant professor at Stillman College; and Ashley McWaters, instructor of English and coordinator of undergraduate creative writing at UA. Also featured are twenty-five undergraduate creative writers from these institutions.
COMPLETE SCHEDULE…
***
2012 Auburn Writers Conference travels The Winding Road
On Friday and Saturday, October 12-13, 2012, the Auburn University College of Liberal Arts' Caroline Marshall Draughon Center for the Arts and Humanities and Department of English, in partnership with the College of Education's Truman Pierce Institute, will host the third annual Auburn Writers Conference.
The Winding Road: Travel, Identity and the Search for Voice invites writers and readers who hear the beckoning call of discovery and of new cultures, as well as those who believe that perhaps the greatest voyage is an exploration of the places we call home. The Auburn Writers Conference offers instruction, practice, perspective, and community for both established and emerging writers.
The 2012 conference will feature Judith Ortiz Cofer (The Latin Deli, Call Me Maria), Nick Taylor (Sins of the Father), R.A. Nelson (Days of Little Texas, Teach Me), and Myra McEntire (Hourglass), among others. Visit the conference website for an updated list of writers and workshops.
REGISTER HERE…
http://www.auburnwritersconference.org
***
Promoting public engagement in the arts and humanities.
advertisement
http://www.cla.auburn.edu/cah/

***
Visit our Opportunities page
Our Opportunities page keeps you informed on publishers and organizations who want your work. Here you'll find Calls for Submission and Writing Contests. The page also includes links to Writers Groups, Writing Workshops, and National Conferences—excellent places to network and to meet fellow writers.
OPPORTUNITY KNOCKS…
http://www.writersforum.org/opportunities/
***
Upcoming Literary Events
Do you need to attract a larger audience than those people on your e-mail list? Post your literary function on the Forum's Events calendar. Some 1500 book lovers receive Literary News each month, and a number of these readers check our calendar for literary events in their areas and beyond.
MORE READINGS, SIGNINGS, & BOOKMARK…
http://www.writersforum.org/events/
***
Alabama Arts Radio brings you outstanding interviews with your favorite authors
Each week on the Alabama Arts Radio Series, staff members of the Alabama State Council on the Arts visit with writers, musicians, visual artists, and other individuals who contribute to our state's rich artistic traditions. Recent literary interviews include Patricia White, Joey Brackner, and 2012 Alabama Poetry Outloud winners Peggy Payne, Doris-Anne Darbouze, & Bonnie Chen.
Listen Sundays 5-5:30 p.m. on WTSU 89.9 (Montgomery-Troy), WRWA 88.7 (Dothan), and WTJB 91.7 (Columbus-Phenix City). Those farther south may listen Saturdays 2:30-3 p.m. on WHIL 91.3 (Mobile-Biloxi-Pensacola). Broadcasts are also streamed live and archived on the Web.
LISTEN HERE…
http://www.arts.state.al.us/actc/1/radioseries.html
***
Support the Arts, Support the Forum
Proceeds from the sale of the Alabama Support the Arts license plate help fund arts education programs. The next time your car tag needs renewal, purchase one of these colorful plates to help support the Forum and other arts education projects.
LEARN MORE…
http://www.arts.state.al.us/news/index-news.html#"Support the Arts" License Tag
***
Friend the Forum on Facebook and follow on Twitter
For late-breaking news, follow us on Twitter @ writersforum and friend us on Facebook @ Alabama Writers' Forum Friends.
***
The Alabama Writers' Forum
The Alabama Writers' Forum, a partnership program of the Alabama State Council on the Arts, promotes writers and writing in Alabama, with an emphasis on arts education programs for young writers.
***
The Alabama Writers' Forum
P.O. Box 4777
Montgomery, AL 36103-4777
334-265-7728
Toll Free: 866-901-1117
Fax: 334-265-7828
writersforum@bellsouth.net
www.writersforum.org
© 2012 The Alabama Writers' Forum, Inc.