September 2011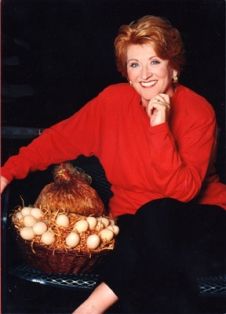 Fannie Flagg named 2012 Harper Lee Award recipient
Fannie Flagg, a Birmingham native, has been named the 2012 recipient of the Harper Lee Award for Alabama's Distinguished Writer of the Year. Flagg will receive the award at the Alabama Writers Symposium in Monroeville on April 27, 2012, at the annual luncheon. The conference will meet April 26-28.
"I am absolutely thrilled and honored to receive this award—particularly this award named in honor of my idol Harper Lee," said Flagg.
"This year we have the advantage of announcing the 2012 Harper Lee Award recipient very early," said Jeanie Thompson, executive director of the Alabama Writers' Forum. "Fannie's fans will be happy to know they can register for the Symposium right away by contacting Alabama Southern Community College at mbmurphy@ascc.edu."
The Alabama Writers' Forum, a partnership program of the Alabama State Council on the Arts, coordinates the selection of the Harper Lee Award recipient annually from nominations from the field. The honor is presented annually by Alabama Southern Community College at the Symposium. It is made possible through a generous grant from George F. Landegger, chairman, Parsons and Whittemore.
Photo of Fannie Flagg by Suze Lanier
READ MORE…
http://www.writersforum.org/first_draft/newsroom.html/article/2011/09/06/fannie-flagg-named-2012-harper-lee-award-recipient
***
AHF to honor Dr. Elaine Hughes, Wells Fargo, & Alabama teachers
The Alabama Humanities Foundation (AHF) will honor University of Montevallo Professor Emeritus Elaine Hughes with the 2011 Alabama Humanities Award and Wells Fargo with the 2011 Charitable Organization in the Humanities Award at its annual luncheon. The Foundation will also present the 2011 Jenice Riley Memorial Scholarships to five elementary school teachers.
The luncheon will be held on September 26 in Birmingham at the Wynfrey Hotel from 12-1:30 p.m. New Birmingham-Southern president Gen. Charles C. Krulak will deliver the keynote address
All members of the public are invited to attend. Tickets are $50 for lunch only and $150 for patron tickets, which include a pre-lunch reception and patron gifts. Tickets may be purchased at 205-558-3992 or online at www.ahf.net/luncheon. Ticket order forms can be faxed upon request.
READ MORE…
***
Black Warrior Review ad
Publishing the best in contemporary fiction, poetry, and nonfiction since 1974
advertisement
***
Philip Levine named U.S. Poet Laureate
The Library of Congress recently named Philip Levine as the eighteenth U.S. Poet Laureate Consultant for Poetry for 2011-2012. He will assume his duties on October 17 with a reading at the library's Coolidge Auditorium. Levine succeeds W.S. Merwin.
"Philip Levine is one of America's great narrative poets," Librarian of Congress James H. Billington said in a press release issued by the library. "His plainspoken lyricism has, for half a century, championed the art of telling 'The Simple Truth'—about working in a Detroit auto factory, as he has, and about the hard work we do to make sense of our lives."
The author of twenty collections of poems, Levine is professor emeritus in the English Department at California State University, Fresno.
READ MORE…
http://www.loc.gov/today/pr/2011/11-143.html
***
Nominations open for Alabama Poet Laureate
Nominations are now open for the next Alabama Poet Laureate. The position was created by the state legislature (Code of Alabama - S 143 - Powell) on May 5, 1931. It recognizes and honors a citizen poet of exceptional talent and accomplishment and seeks to encourage appreciation of poetry and literary life in Alabama. Deadline for nominations to the 2012-2016 term is December 31, 2011.
An honorific, four-year renewable term, the Alabama Poet Laureate is appointed by the President of the Alabama Writers' Conclave at its annual July meeting after an extensive review of applicants by the Poet Laureate Nominations Committee. The Governor of the State of Alabama will then appoint the selected candidate in an official ceremony during the fall of 2012. The new appointee will succeed current Alabama Poet Laureate Sue Brannan Walker of Mobile.
In order to be eligible for the position, candidates must, among other requirements, be a current resident of Alabama with a history of ten years prior residence, must be the author of at least one book of poetry, and must exhibit exemplary professionalism, significant contribution, and excellence in the field of poetry.
READ MORE…
http://www.writersforum.org/first_draft/newsroom.html/article/2011/08/23/nominations-open-for-alabama-poet-laureate
***
K.T. Archer ad
"Kismet" is a delightful book, and K.T. Archer left me looking forward to her next adventure. —Marianne Moates Webber, First Draft Reviews Online
advertisement
***
World film premiere of Alabama's Rick Bragg: Out of the Dirt scheduled for Birmingham
On Monday, September 26, The Alabama Booksmith will host the world premiere screening of Alabama's Rick Bragg: Out of the Dirt. The producer, the director, and Bragg will attend the screening at the Doubletree Hotel. The film will begin at 7 p.m., with refreshments served before the screening. Bragg will make comments after the show.
The film view of Bragg's life, featuring interviews with his friends and family, pays tribute to the Alabama writing legend.
Tickets are $29 and come with a hardback signed first edition of The Prince of Frogtown, the last volume of the Rick Bragg Family Trilogy. Copies of Bragg's other books and DVDs of the movie will also be available. The event will benefit tornado victims.
READ MORE…
http://www.writersforum.org/first_draft/newsroom.html/article/2011/07/27/world-film-premiere-of-alabama-s-rick-bragg-out-of-the-dirt-scheduled-for-birmingham
***
Myth, Memory, and the Haunted Muse is coming to Auburn
The second annual Auburn Writers Conference: Myth, Memory, and the Haunted Muse will convene on October 7-8 at The Hotel at Auburn University and Dixon Conference Center. The conference will feature small-group workshops, panel discussions, and readings.
Featured writers include Joshilyn Jackson, Peter Huggins, Wendy Reed, and many others.
The Auburn Writers Conference reaches a wide array of literary enthusiasts by cultivating an environment that welcomes writers, readers, and interested others. Joining the already vibrant arts community in Auburn, Alabama, its goal is to work with area arts endeavors to further the arts as a whole.
READ MORE…
http://www.cla.auburn.edu/awc/auburn-writers-conference-2011/
***
Alabama Historical Association calls for nominations for the Clinton Jackson Coley Award
The Alabama Historical Association has called for nominations for the Clinton Jackson Coley Award for Books on Local History. This award goes to the best book or pamphlet focusing on local historical concerns, including but not limited to the history of an Alabama community, town or county, or any institution therein (church, business, non-profit, etc.).
Works published since January 2010 are eligible, and those written by lay or amateur historians are welcome.
Nominations must be postmarked by December 31, 2011. The award will be given at the Alabama Historical Association's annual meeting in Huntsville in April 2012.
READ MORE…
http://www.writersforum.org/first_draft/newsroom.html/article/2011/07/28/call-for-nominations-clinton-jackson-coley-award-
***
W.W. Norton announces the Norton Anthology Student Recitation Contest
As a part of its 50th anniversary celebration, W.W. Norton is happy to announce the first ever Norton Anthology Student Recitation Contest. Between September 15 and November 15, college and high school students worldwide are invited to submit an original video recitation of one of eight preselected works.
Top submissions will be featured on the W. W. Norton Web site, where Norton editors, students, and fans will vote on the winners. Winners will receive Barnes & Noble gift cards and will have their name included on the acknowledgments page of a Norton Anthology.
READ MORE…
http://books.wwnorton.com/books/aboutcontent.aspx?id=17824&mid=64
***
Caroline Marshall Draughon ad
Promoting public engagement in the arts and humanities.
advertisement
http://media.cla.auburn.edu/cah/
***
September reviews feature diverse books for every taste
What do lost rooms, the Tuskegee airmen, and possible crocodiles have in common? They are all subjects in books reviewed in the September issue of First Draft Reviews Online. Read reviews of these books and many others on our dynamic new Web site.
Each month First Draft Reviews Online features reviews of books by Alabama authors, books about our state, and books by local publishers. Each review offers a link to authors, publishers, and reviewers when available. The page also features a searchable archive to benefit readers, students, and scholars.
SEPTEMBER REVIEWS….
http://www.writersforum.org/first_draft/book_reviews.html
***
First Draft Newsroom and Blogs keep you up informed
When it crosses our desks, we'll post it in the First Draft Newsroom. Check the Newsroom often to learn of items of interest to Alabama's literary community.
First Draft Blogs bring you a fresh outlook on the writing scene by one of our members or another notable or emerging writer with an Alabama connection. Recent contributors include Harper Lee Award recipient Carolyn Haines, renowned historian Wayne Flynt, and Bookmark host Don Noble. The Forum welcomes your contribution to First Draft Blogs. Query Danny Gamble at gambledanny@bellsouth.net with your ideas.
http://www.writersforum.org/first_draft/newsroom.html
http://www.writersforum.org/first_draft/blogs/
***
Upcoming Literary Events
Sept. 23, 6-8 pm, My Favorite Poem, Alabama School of Fine Arts, Birmingham
Sept. 24, 9 am-5 pm, Chattahoochee Valley Writers Conference, Columbus Public Library, Columbus, Ga.
Sept. 24, 9:30 am-3 pm, Southern Magic presents: Law and Order for the Writer, Homewood Public Library
Sept. 25, 2 pm, Staged Reading of Juliette's Journey by Julia Oliver, Smith Hall Auditorium, Huntingdon College, Montgomery
Sept. 26, 7 pm, Film premier: Alabama's Rick Bragg: Out of the Dirt, Doubletree Hotel, Birmingham
Oct. 7-8, Auburn Writers Conference, The Hotel at Auburn University & Dixon Conference Center, Auburn
Oct. 8, 10 a.m.-noon, Wayne Flynt: Keeping the Faith, John L. Borom Center for Health and Natural Sciences, Faulkner State Community College, Fairhope
Oct. 9, 4:30-6 pm, Poetry Reading: Natasha Trethewey, Goodwyn Hall, Room 109, Auburn University-Montgomery
Oct. 13, 6-8 pm, Book Event: Fairhope Anthology, Page & Palette, Fairhope
Oct. 14-15, Writing and Illustrating for Kids 2011, Spain Park High School, Hoover
Oct. 19, noon, Book Event: Warren Trest, B. B. Comer Memorial Library, Sylacauga
Oct. 20, 6-8 pm, Book Event: Jule Moon, Page & Palette, Fairhope
Do you need to attract a larger audience than those people on your e-mailing list? Post your literary function on the Forum's calendar. Literary News reaches some 1500 book lovers each month. They want to know about your event.
http://www.writersforum.org/events/submit.html
http://www.writersforum.org/events/
MORE READINGS, SIGNINGS, & BOOKMARK…
***
Hear outstanding interviews with your favorite Alabama authors
Each week on the Alabama Arts Radio Series, staff members of the Alabama State Council on the Arts visit with writers, musicians, visual artists, and other individuals who contribute to our state's rich artistic traditions. Recent literary interviews include Robert Halli, Virginia Gilbert, and Jake Adam York.
Listen Sundays 5-5:30 p.m. on WTSU 89.9 (Montgomery-Troy), WRWA 88.7 (Dothan), and WTJB 91.7 (Columbus-Phenix City). Those farther south may listen Saturdays 2:30-3 p.m. on WHIL 91.3 (Mobile-Biloxi-Pensacola). Broadcasts are also streamed live and archived on the Web.
LISTEN HERE…
http://www.writersforum.org/podcasts/radio.html
***
Support the Arts, Support the Forum
Did you know that proceeds from the sale of the Alabama Support the Arts license plate help fund the Alabama Writers' Forum? They do. Next time your car tag needs renewal, purchase one of these colorful plates to help support the Forum and other Alabama arts education projects.
LEARN MORE…
http://www.arts.state.al.us/news/index-news.html#"Support the Arts" License Tag
***
Got news?
Do you have news to spread? Submit your items to the AWF Literary News monthly e-newsletter. It's easy. Simply e-mail: 1) two-five paragraphs in an editable format such as Word or Rich Text Format; 2) a digital graphic such as a photo or logo in JPEG or GIF format with an RGB color palette. (We can not accept CMYK or gray scale files) Please include photo credit; and 3) a Web link to your complete story or Web site. Send your information to gambledanny@bellsouth.net or phone 205-665-7986. Please include your name, e-mail address, and telephone number. Deadline: 20th of each month.
***
Friend the Forum on Facebook and Twitter
For late-breaking news, follow us on Twitter @ writersforum and Facebook @ Alabama Writers' Forum Friends.
http://www.facebook.com/home.php#!/home.php?sk=group_95957334400
***
The Alabama Writers' Forum
The Alabama Writers' Forum, a partnership program of the Alabama State Council on the Arts, promotes writers and writing in Alabama, with an emphasis on arts education programs for young writers.
***
The Alabama Writers' Forum
P.O. Box 4777
Montgomery, AL 36103-4777
334-265-7728
Toll Free: 866-901-1117
Fax: 334-265-7828
writersforum@bellsouth.net
www.writersforum.org
© 2011 The Alabama Writers' Forum, Inc.