October 2012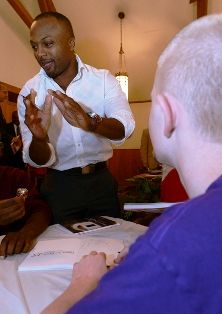 Football standout Anthony Madison addresses WOS students
"You guys have a great future ahead of you," said former Crimson Tide and Steelers cornerback Anthony Madison, addressing the newly published writers from the Writing Our Stories (WOS) program at the Lurleen B. Wallace School on the Department of Youth Services (DYS) Mt. Meigs campus. "I read your book, and you are intelligent."
Held in the campus chapel, the event marked the release of Open the Door 15, an anthology of poems and stories from the student writers. Students, guests, and DYS faculty, staff, and administrators filled the chapel to capacity. "Optimism" was the theme of the day.
"When I played ball at the University of Alabama I had my doubts because of my size, and I had naysayers who said I couldn't make it," said Madison. "Well, I made it. Same naysayers at the Steelers, and I played for seven years."
The next Writing Our Stories event is November 1 at 10 a.m. on the DYS Vacca campus. Jeh Jeh Pruitt, Dannon Project founder and Birmingham TV broadcaster, will deliver the keynote address.
Photo: Anthony Madison chats with a student in the Mount Meigs Chapel. (photo by Cyndi Grimes)
COMPLETE STORY…
http://www.writersforum.org/news_and_reviews/newsroom.html/article/2012/10/25/football-standout-anthony-madison-addresses-wos-students
***
Gov. Robert Bentley to commission Andrew Glaze as Poet Laureate of Alabama
Governor Robert Bentley will commission Andrew Glaze as the eleventh Poet Laureate of Alabama in a ceremony in the Old Archives Chamber in the Alabama State Capitol On November 5 at 10 a.m. A reception will follow at the NewSouth Bookstore, 105 South Court Street, Montgomery, AL 36104. The event is open to the public.
Glaze is the author of eight books of poetry, and has published two collections of selected works. He initially won critical acclaim with the publication of his first book, Damned Ugly Children: Poems (Trident Press, 1966). According to the Encyclopedia of Alabama, "Glaze has received Poetry magazine's Eunice Tietjens Award, and the American Library Association included his book Damned Ugly Children in its Notable Books List for 1966. Library Journal chose I Am the Jefferson County Courthouse as one of the best small press titles of 1981. He has won a National Hackney Award, and his selected poems, Someone Will Go On Owing, received the Best Book of the Year Award from the Southeastern Booksellers' Association in 1998. He was also the first recipient of the ABA Online Award the same year."
Glaze will serve a four-year term as Poet Laureate. Sponsors of the commissioning ceremony include the Alabama Writers Conclave, NewSouth Books, the Alabama State Council on the Arts, and the Alabama Writers' Forum.
READ MORE…
http://www.writersforum.org/news_and_reviews/newsroom.html/article/2012/10/29/governor-robert-bentley-to-commission-andrew-glaze-as-poet-laureate-of-alabama
***
What do you want out of life?
http://spalding.edu/academics/mfa/
advertisement
***
"To Kill a Mockingbird" finishes successful run in Hong Kong
Monroeville's community theatre troupe, the Mockingbird Players, traveled to Hong Kong this month to stage Christopher Sergel's adaptation of Harper Lee's Pulitzer Prize-winning novel, To Kill a Mockingbird. The group presented five performances at the Asia Society Hong Kong Center, October 12-14.
"My impression of the trip was overwhelmingly positive," said cast member Connie Baggett. "We were able to perform on sets constructed at the Asia Society venue that were miraculously similar to our hometown sets. The audiences were largely made up of students who were responsive and receptive and in love with To Kill a Mockingbird. I am encouraged that our production will be the start of a rewarding cultural exchange with China that can ultimately yield economic benefits for both countries."
The Mockingbird Players performs annually to sold-out crowds at the Old Monroe County Courthouse during the Alabama Writers Symposium and other weekends in the spring. The play has traveled abroad previously, and it has been presented at the Kennedy Center for the Performing Arts in Washington, D.C.
The Mockingbird Players' To Kill a Mockingbird was presented jointly by Asia Society Hong Kong Center, Alabama China Partnership, and Sozo Group.
MOCKINGBIRD IN HONG KONG…
http://www.writersforum.org/news_and_reviews/newsroom.html/article/2012/10/11/east-meets-west-with-performance-of-to-kill-a-mockingbird-
***
Al Head receives Bess Lomax Hawes National Heritage Fellowship Award
National Endowment for the Arts Chairman Rocco Landesman presented Al Head, Executive Director of the Alabama State Council on the Arts, with a 2012 Bess Lomax Hawes National Heritage Fellowship Award on October 4 in Washington, D.C. The fellowships are the nation's highest honor in the folk and traditional arts.
"Receiving the award is truly an honor," said Head, "but it is important to emphasize that the recognition is a reflection of the great work by many outstanding professionals that I have had the privilege to work with over many years."
A contingency from the Alabama arts community traveled to Washington to support Head.
"A highlight of the awards ceremony was having over thirty-five friends from Alabama there to help celebrate the work and accomplishments of one of the best folk-life programs in the state," said Head.
NATIONAL HERITAGE FELLOWSHIP AWARD…
http://www.arts.gov/honors/heritage/2012-NEA-Heritage-Fellows-Announced.html
***
Promoting public engagement in the arts and humanities.
advertisement
http://www.cla.auburn.edu/cah/
***
Ed Bridges retires from ADAH
Ed Bridges retired on September 30 after serving three decades as the director of the Alabama Department of Archives and History (ADAH), the oldest department of its kind in the U.S.
"Every day of my thirty years here has confirmed for me the importance of the extraordinary collections and work of the Archives for the State of Alabama," Bridges said. "It continues to be one of the finest state history agencies in the United States."
ADAH supports Alabama authors through its monthly Architreats: Food for Thought series.
Steve Murray, ADAH assistant director for administration, succeeds Bridges as the archive's sixth director.
READ MORE IN THE "MONTGOMERY ADVERTISER"…
http://www.montgomeryadvertiser.com/apps/pbcs.dll/article?AID=2012310230010
***
New Big Read grants and reading selections available
The Big Read is accepting applications from non-profit organizations to develop community-wide reading programs between September 2013 and June 2014. The Big Read is a national program designed to revitalize the role of literature in American culture and to encourage reading for pleasure and enlightenment. Application deadline is February 5, 2013.
Organizations selected to participate in The Big Read receive a grant, educational and promotional materials, and access to online training resources and opportunities. Approximately seventy-five organizations from across the country will be selected.
The Big Read titles include The Namesake by Jhumpa Lahiri, True Grit by Charles Portis, and Into the Beautiful North by Luís Alberto Urrea.
ONLINE APPLICATION…
http://www.NEABigRead.org/application_process.php
***
ASCA hires Elliot Knight as visual arts program manager
Al Head, executive director of the Alabama State Council on the Arts (ASCA), announced recently that Elliot Knight of Tuscaloosa has been hired as Visual Arts Program Manager for the Council. An Opelika native, Knight is an accomplished photographer, community arts leader, respected scholar and instructor. He received BA and MA degrees from the University of Alabama. Knight is scheduled to receive his PhD from the UA in American Studies in December 2012.
"After a comprehensive search and interview process the Council is confident and enthusiastic about the talent, energy and fresh perspective Knight will bring to the agency," Head commented.
Knight is the founder and co-director of the nationally recognized Black Belt 100 Lenses Program. Most recently, Knight was an instructor in the University of Alabama's Department of Art and Art History.
READ MORE…
http://www.arts.state.al.us/news/Visual_Arts_Program_Manager_Announcement.pdf
***
Visit our Opportunities page
Our Opportunities page keeps you informed on publishers and organizations who want your work. Here you'll find Calls for Submission and Writing Contests. The page also includes links to Writers Groups, Writing Workshops, and National Conferences—excellent places to network and to meet fellow writers.
OPPORTUNITY KNOCKS…
http://www.writersforum.org/opportunities/
***
Upcoming Literary Events
Do you need to attract a larger audience than those people on your e-mail list? Post your literary function on the Forum's Events calendar. Some 1500 book lovers receive Literary News each month, and a number of these readers check our calendar for literary events in their areas and beyond.
MORE READINGS, SIGNINGS, & BOOKMARK…
http://www.writersforum.org/events/
***
Alabama Arts Radio brings you outstanding interviews with your favorite authors
Each week on the Alabama Arts Radio Series, staff members of the Alabama State Council on the Arts visit with writers, musicians, visual artists, and other individuals who contribute to our state's rich artistic traditions. Recent literary interviews include Virginia Gilbert, John "Junebug Jabbo Jones" O'Neal, and Patricia White.
Listen Sundays 5-5:30 p.m. on WTSU 89.9 (Montgomery-Troy), WRWA 88.7 (Dothan), and WTJB 91.7 (Columbus-Phenix City). Those farther south may listen Saturdays, 2:30-3 p.m., on WHIL 91.3 (Mobile-Biloxi-Pensacola). Broadcasts are also streamed live and archived on the Web.
LISTEN HERE…
http://www.writersforum.org/podcasts/radio.html
***
Support the Arts, Support the Forum
Proceeds from the sale of the Alabama Support the Arts license plate help fund arts education programs. The next time your car tag needs renewal, purchase one of these colorful plates to help support the Forum and other arts education projects.
LEARN MORE…
http://www.arts.state.al.us/news/index-news.html#"Support the Arts" License Tag
***
Friend the Forum on Facebook and follow on Twitter
For late-breaking news, follow us on Twitter @ writersforum and friend us on Facebook @ Alabama Writers' Forum Friends.
***
The Alabama Writers' Forum
The Alabama Writers' Forum, a partnership program of the Alabama State Council on the Arts, promotes writers and writing in Alabama, with an emphasis on arts education programs for young writers.
Links:
***
The Alabama Writers' Forum
P.O. Box 4777
Montgomery, AL 36103-4777
334-265-7728
Toll Free: 866-901-1117
Fax: 334-265-7828
writersforum@bellsouth.net
www.writersforum.org
© 2012 The Alabama Writers' Forum, Inc.