November-December 2011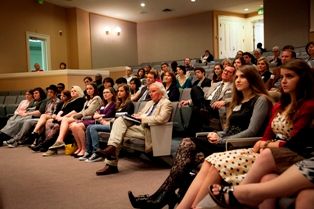 Forum announces 2012 HSLAA deadline
The Alabama Writers' Forum invites high school teachers to submit their students' creative writing to the 2012 High School Literary Arts Awards and Scholarship Competition (HSLAA). The postmark date is January 18, 2012.
The 2012 HSLAA is open to Alabama high school students in grades 9-12. Cash awards are available to high school seniors through the senior portfolio competition. Categories include poetry, short fiction, drama, creative nonfiction, portfolios, and literary magazines.
Published Alabama writers will choose the winning entries. Judges remain anonymous until the awards are announced.
Complete guidelines, including mailing address and entry forms, are available on the Forum's Web site. Please note: Each entry form must be completely filled out, including addresses, zip codes, and teacher's e-mail address. Incomplete entry forms may cause the entry to be disqualified.
COMPLETE GUIDELINES…
http://www.writersforum.org/programs/competition.html
Photo by Robin Cooper
***
Alabama Book Festival announces Student Readers Group
The Outreach/Education sub-committee of the Alabama Book Festival planning committee invites the state's high school students (grades 9–12) and university undergraduates to participate in the first Student Readers Group. This new program of the Alabama Book Festival (ABF) will select one Alabama-related book per year for student participants to read prior to meeting the author and discussing the book at the festival on April 21, 2012, at Montgomery's Old Alabama Town.
This interdisciplinary program seeks to engage high school and college students in Alabama's culture, literature and history by selecting and encouraging the reading of books (of nonfiction, fiction, or poetry) that connect to or discuss the realities of life in the state. Jim Crow and Me: Stories from My Life as a Civil Rights Lawyer by Solomon Seay Jr. is the inaugural selection for the Student Readers Group.
READ MORE…
http://www.writersforum.org/first_draft/newsroom.html/article/2011/11/30/alabama-book-festival-announces-student-readers-group
***
From Our Newsroom
First Draft Newsroom keeps you current on the people, events, and other topics of literary interest in the state and beyond. Top stories in November include:
USA's Jesmyn Ward wins the National Book Award for Fiction
Alabama Humanities Foundation executive director announces retirement
ACETA calls for submissions, nominations
Lillian E. Smith Foundation announces second Annual Writer-in-Service Award
New Big Read grants available
Vacca Campus welcomes Rep. Oliver Robinson for Writing Our Stories book release
Rep. Barbara Boyd inspires Writing Our Stories Chalkville students
VISIT THE FIRST DRAFT NEWSROOM…
http://www.writersforum.org/first_draft/newsroom.html
***
Black Warrior Review ad
Publishing the best in contemporary fiction, poetry, and nonfiction since 1974
advertisement
***
First Draft Blogs inform, enlighten, and entertain
Read what our members and other notable writers are blogging about. First Draft Blogs offer features and columns from people in the know. Recently posted blogs include Jeanie Thompson's essay on the founding of Black Warrior Review, "The Value of the Printed Word."
http://www.writersforum.org/first_draft/blogs/blog-archive.html/article/2011/08/31/the-value-of-the-printed-word-by-jeanie-thompson
More Blogs…
http://www.writersforum.org/first_draft/blogs/
***
Advertise with us
Digital ads on writersforum.org and in Literary News help you reach the literary audience you deserve. Our new, digital Advertise with Us feature is quick and easy. And our rate sheet offers advertising values to fit all budgets.
DIGITAL ADVERTISING RATES…
http://www.writersforum.org/first_draft/advertise_with_us.html
***
Deck the halls with books by Alabama writers
Stuck on what new books to give as gifts this holiday season? First Draft Reviews Online and our New Releases feature can help. Browse the page to see what your favorite Alabama authors are publishing this holiday season.
FIRST DRAFT REVIEWS ONLINE…
http://www.writersforum.org/first_draft/book_reviews.html
***
Kismet Ad
"Kismet" is a delightful book, and K.T. Archer left me looking forward to her next adventure. —Marianne Moates Webber, First Draft Reviews Online
advertisement
***
Upcoming Literary Events
Do you need to attract a larger audience than those people on your e-mail list? Post your literary function on the Forum's Events calendar. Some 1500 book lovers receive Literary News each month, and a number of these readers check our calendar for literary events in their areas and beyond.
READINGS, SIGNINGS, & BOOKMARK…
http://www.writersforum.org/events/
***
Alabama Arts Radio brings you outstanding interviews with your favorite Alabama authors
Each week on the Alabama Arts Radio Series, staff members of the Alabama State Council on the Arts visit with writers, musicians, visual artists, and other individuals who contribute to our state's rich artistic traditions. Recent literary interviews include Jim Hilgartner, Virginia Gilbert, and Jake Adam York.
Listen Sundays 5-5:30 p.m. on WTSU 89.9 (Montgomery-Troy), WRWA 88.7 (Dothan), and WTJB 91.7 (Columbus-Phenix City). Those farther south may listen Saturdays 2:30-3 p.m. on WHIL 91.3 (Mobile-Biloxi-Pensacola). Broadcasts are also streamed live and archived on the Web.
LISTEN HERE…
http://www.writersforum.org/podcasts/radio.html
***
Support the Arts, Support the Forum
Proceeds from the sale of the Alabama Support the Arts license plate help fund arts education programs. Next time your car tag needs renewal, purchase one of these colorful plates to help support the Forum and other arts education projects.
LEARN MORE…
http://www.arts.state.al.us/news/index-news.html#"Support the Arts" License Tag
***
Caroline Marshall Draughon ad
Promoting public engagement in the arts and humanities.
advertisement
http://media.cla.auburn.edu/cah/
***
Friend the Forum on Facebook and Twitter
For late-breaking news, follow us on Twitter @ writersforum and Facebook @ Alabama Writers' Forum Friends.
http://www.facebook.com/home.php#!/home.php?sk=group_95957334400
***
The Alabama Writers' Forum
The Alabama Writers' Forum, a partnership program of the Alabama State Council on the Arts, promotes writers and writing in Alabama, with an emphasis on arts education programs for young writers.
***
The Alabama Writers' Forum
P.O. Box 4777
Montgomery, AL 36103-4777
334-265-7728
Toll Free: 866-901-1117
Fax: 334-265-7828
writersforum@bellsouth.net
www.writersforum.org
© 2011 The Alabama Writers' Forum, Inc.