November 2012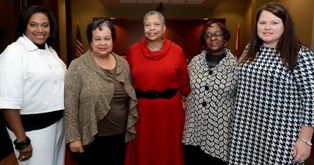 AWF, DYS fete Priscilla Hancock Cooper, Chalkville WOS team
In the early morning hours of January 23, 2012, an EF3 tornado roared down Old Springville Road in Clay. Its widespread path of destruction included the Alabama Department of Youth Services (DYS) Chalkville Campus. Though the students and staff there suffered no serious injuries, many of the campus buildings sustained irreparable damage. The young women there were transferred to group homes or other programs for troubled teens. Thus ended Writing Our Stories' fourteen-year run at Chalkville's Sequoya School.
On a bright, sunny morning on November 8, 2012, a group of DYS and Alabama Writers' Forum (AWF) administrators and staff, invited guests, and family members gathered in the administration building on the DYS Mt. Meigs Campus to celebrate the diligence of the Writing Our Stories (WOS) Chalkville team—teaching writer Priscilla Hancock Cooper, cooperating teacher Janet Dixon, and media specialist Mary Rencher—and the release of After the Storm, a compendium anthology of the work of WOS student writers from the fourteen-year Chalkville residency and the one semester that Cooper spent at the Working On Womanhood (W.O.W.) program in Tuscaloosa after the tornado.
CHALKVILLE CELEBRATION…
http://www.writersforum.org/news_and_reviews/newsroom.html/article/2012/11/09/dys-celebrates-wos-chalkville-team
Photo: (from left) Retired principal Cheryl Bufford, Mary Rencher, Priscilla Hancock Cooper, Janet Dixon, & former Sequoya School principal Stacey Crowell (photo by Julie Bennentt)
***
Broadcast journalist Jeh Jeh Pruitt applauds Vacca students
"I'm a huge fan," said Jeh Jeh Pruitt, Fox 6 broadcast journalist and co-founder of the Dannon Project, addressing a group of newly published student writers. Holding his copy of From Darkness to Light high, he said, "When I read this book I felt every word."
Pruitt gave the keynote address at the November 1 Writing Our Stories book release event in the Chapel of the Department of Youth Services (DYS) Vacca campus in Birmingham. From Darkness to Light is an anthology of poems and short stories from the students at the Adele Goodwyn McNeel School at the DYS facility. Teaching writer Tony Crunk edited the book. Harold Abram Jr. is the cooperating teacher.
JEH JEH PRUITT AT VACCA…
http://www.writersforum.org/news_and_reviews/newsroom.html/article/2012/11/02/broadcast-journalist-jeh-jeh-pruitt-applauds-vacca-students
***
2013 HSLAA deadline approaching
The Forum invites Alabama high school students to submit their work for the 2013 High School Literary Arts Awards and Scholarship Competition (HSLAA). The postmark deadline date is January 11, 2013.
The competition is open to Alabama high school students in grades 9-12 in public, private, and home schools. Categories include poetry, short fiction, drama, creative nonfiction, portfolios, and literary magazines. Cash awards are available to high school seniors through the senior portfolio competition.
Complete guidelines, including mailing address and entry forms, are available on the Forum's website. Please note: Each entry form must be completely filled out, including addresses, zip codes, and teacher's e-mail address. Incomplete entry forms may cause the entry to be disqualified.
COMPLETE GUIDELINES…
http://www.writersforum.org/programs/
***
What do you want out of life?
http://spalding.edu/academics/mfa/
advertisement
***
Governor Robert Bentley commissions Andrew Glaze as Poet Laureate of Alabama
"A few months before he signed the National Foundation on the Arts and Humanities Act," said Gov. Robert Bentley at the commissioning ceremony for Andrew Glaze on November 5 at the Alabama State Capitol. "President (Lyndon) Johnson spoke before a gathering of artists at the White House, saying, 'No people can afford to neglect the creative minds among it. They enrich the life of the nation. They reveal the farthest horizons of man's possibilities.'
"Alabama offers so much, whether it's our national resources, our industries, or our contributions to literature and the arts. Today I am honored to commission Andrew Glaze as our new Poet Laureate."
Some thirty people assembled in the Old Supreme Court Archives to honor the ninety-two-year-old poet, playwright, and journalist. Among the audience were Glaze's wife, Adriana Keatherly; his brother, Robert, and his wife, Barbara; and his son-in-law, Charles Searle. Also present were representatives from the Seasoned Performers and South City Theatre, and from the event sponsors, the Alabama Writers' Conclave, the Alabama State Poetry Society (ASPS), the Alabama State Council on the Arts, and the Alabama Writers' Forum (AWF).
GOV. BENTLEY COMMISSIONS ANDREW GLAZE…
http://www.writersforum.org/news_and_reviews/newsroom.html/article/2012/11/06/governor-robert-bentley-commissions-andrew-glaze-as-poet-laureate-of-alabama
***
Sonny Brewer's novel chosen for 2013 ABF Student Readers Group
The Outreach/Education sub-committee of the Alabama Book Festival (ABF) planning committee invites the state's high school students (grades 9 – 12) and university undergraduates to participate in the second annual Student Readers Group. This program selects one Alabama-related book each year for student participants to read prior to meeting the author and discussing the book at the Festival, held this year on April 20, 10 a.m.-4 p.m. at Montgomery's Old Alabama Town. The Student Readers Group seeks to engage high school and college students in Alabama's culture, literature, and history by encouraging the reading of books—nonfiction, fiction, or poetry—that connect to or discuss the realities of living in the state.
The sub-committee announces The Poet of Tolstoy Park by Sonny Brewer as this year's selection for the Student Readers Group. Published in 2005 by Ballentine, a division of Random House, the novel offers a fictional narrative based on the real life of Fairhope resident Henry Stuart. To join the group, contact Foster Dickson at foster.dickson@gmail.com.
THE ALABAMA BOOK FESTIVAL…
http://alabamabookfestival.org/welcome.html
***
Alabama students place first in 17th annual River of Words Youth Poetry and Art Contest
Blakely Berryhill, 7, of Vestavia Hills and Morgan Rozek, 13, of Madison won their age categories in the national River of Words Youth Poetry and Art Contest. Berryhill's poem, "The Guards," won First Place in Category 1: Grades K-12. Rozek's painting, Fishing With My Dad, placed first in Category III: Grades 7-9. The students received their honors at the Library of Congress in Washington.
Conducted in affiliation with the Center for the Book, the annual River of Words contest, which celebrates both National Poetry Month and Earth Day, is the largest youth poetry and art competition in the world. The River of Words International Youth Creativity Awards features award-winning children's poetry and art from around the world and recognizes educa¬tional leadership in environmental literacy. This year's event also featured a special musical performance of River of Words poems set to music.
The Guards
By Blakely Berryhill
The sun guards the daytime
treasure,
while the moon stands watch
over heaven's darkness.
The stars help the moon
until the puffy white
clouds come back.
RIVER OF WORDS…
http://www.stmarys-ca.edu/center-for-environmental-literacy/river-of-words
***
Promoting public engagement in the arts and humanities.
advertisement
http://www.cla.auburn.edu/cah/
***
Visit our Opportunities page
Our Opportunities page keeps you informed on publishers and organizations who want your work. Here you'll find Calls for Submission and Writing Contests. The page also includes links to Writers Groups, Writing Workshops, and National Conferences—excellent places to network and to meet fellow writers.
OPPORTUNITY KNOCKS…
http://www.writersforum.org/opportunities/
***
Upcoming Literary Events
Do you need to attract a larger audience than those people on your e-mail list? Post your literary function on the Forum's Events calendar. Some 1500 book lovers receive Literary News each month, and a number of these readers check our calendar for literary events in their areas and beyond.
MORE READINGS, SIGNINGS, & BOOKMARK…
http://www.writersforum.org/events/
***
Alabama Arts Radio brings you outstanding interviews with your favorite authors
Each week on the Alabama Arts Radio Series, staff members of the Alabama State Council on the Arts visit with writers, musicians, visual artists, and other individuals who contribute to our state's rich artistic traditions. Recent literary interviews include Virginia Gilbert, John "Junebug Jabbo Jones" O'Neal, and Patricia White.
Listen Sundays 5-5:30 p.m. on WTSU 89.9 (Montgomery-Troy), WRWA 88.7 (Dothan), and WTJB 91.7 (Columbus-Phenix City). Those farther south may listen Saturdays, 2:30-3 p.m., on WHIL 91.3 (Mobile-Biloxi-Pensacola). Broadcasts are also streamed live and archived on the Web.
LISTEN HERE…
http://www.writersforum.org/podcasts/radio.html
***
Support the Arts, Support the Forum
Proceeds from the sale of the Alabama Support the Arts license plate help fund arts education programs. The next time your car tag needs renewal, purchase one of these colorful plates to help support the Forum and other arts education projects.
LEARN MORE…
http://www.arts.state.al.us/news/index-news.html#"Support the Arts" License Tag
***
Friend the Forum on Facebook and follow on Twitter
For late-breaking news, follow us on Twitter @ writersforum and friend us on Facebook @ Alabama Writers' Forum Friends.
***
The Alabama Writers' Forum
The Alabama Writers' Forum, a partnership program of the Alabama State Council on the Arts, promotes writers and writing in Alabama, with an emphasis on arts education programs for young writers.
Links:
***
The Alabama Writers' Forum
P.O. Box 4777
Montgomery, AL 36103-4777
334-265-7728
Toll Free: 866-901-1117
Fax: 334-265-7828
writersforum@bellsouth.net
www.writersforum.org
© 2012 The Alabama Writers' Forum, Inc.