May 2013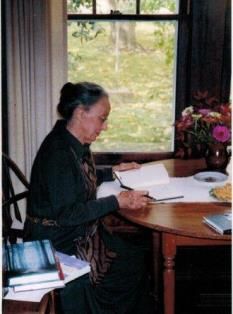 In Memoriam: Mary Ward Brown—June 18, 1917-May 14, 2013
The Alabama Writers' Forum is saddened to learn that celebrated author Mary Ward Brown, 95, died on May 14 in Marion, Ala. A native and longtime resident of Hamburg in Perry County, Brown was a graduate of Judson College. She is survived by her son, Kirtley Ward, his wife, Susannah, and their daughters, Helen and Mary Hays.
"On behalf of the Alabama Writers' Forum I want to express our sorrow over the passing of Mary Ward Brown," said Kirk Curnutt, Forum board president. "Not only was she an astonishing talent, but her career was comfort to a lot of us knowing that talent blooms later in life."
Kerry Madden has a conversation with Brown in the Forum's Blog section.
Mary Ward Brown photo by Nancy Anderson
MARY WARD BROWN…
http://www.writersforum.org/news_and_reviews/newsroom.html/article/2013/05/14/in-memoriam-mary-ward-brown-june-18-1917-may-14-2013
***
Two Harper Lee Award recipients to be honored at the Celebration of the Arts
Harper Lee Award recipients Sonia Sanchez (2004) and Rick Bragg (2009) are among nine outstanding Alabamians to be honored by the Alabama State Council on the Arts at the 2013 Celebration of the Arts awards ceremony on Tuesday, May 21, 2013, at 7:30 p.m. The event will take place at the Alabama Shakespeare Festival, located at 1 Festival Drive, Montgomery. A reception will immediately follow the awards ceremony in the lobby of the theatre. The event is free and open to the public but reservations and tickets are required.
The Council's Celebration of the Arts shines a spotlight on the arts and artists in Alabama. Individuals are recognized for their contributions to the arts in Alabama and beyond. Al Head, executive director of the Council stated, "This awards program is an opportunity for the state to showcase the work and support of individuals who are a significant part of our rich cultural landscape and bring great credit to our state through their achievements."
CELEBRATION OF THE ARTS…
http://www.writersforum.org/news_and_reviews/newsroom.html/article/2013/05/01/two-harper-lee-award-recipients-among-nine-special-alabamians-to-be-honored
***
Gay Talese receives 2013 Harper Lee Award
"Show up in person; never use a phone," said Gay Talese, recipient of the 2013 Harper Lee Award for Alabama's Distinguished Writer of the Year. "People have admiration for people who have the courtesy to show up in person. Dress well."
Dressed well in his tailored, double-breasted suit, custom Italian shoes, and Panama hat—"A man is not completely dressed without his hat on," he once said—Talese, the son of a tailor, was concluding an anecdote about getting his first job in journalism as a copyboy at The New York Times. The story also explained this Ocean City, N.J. native's connection to Alabama.
The creator of "the art of hanging out," author of the bestsellers Honor Thy Father and Thy Neighbor's Wife, and longtime contributor to Esquire and other top magazines, Talese was in Monroeville on April 26 to receive the honor at the annual Awards Luncheon during the Alabama Writers Symposium.
GAY TALESE…
http://www.writersforum.org/news_and_reviews/newsroom.html/article/2013/05/07/gay-talese-receives-2013-harper-lee-award
***
Sue Brannan Walker receives the Eugene Current-Garcia Award
"It's huge and it's heavy!" exclaimed Sue Brannan Walker as she received the Frank Fleming bronze, symbolic of the Eugene Current-Garcia Award for Alabama's Literary Scholar of the Year. Walker received the honor during the annual Awards Luncheon at the Alabama Writers Symposium on April 28 in Monroeville.
Introducing Walker from the dais, Judge John Rochester, Board Chairman of the Alabama Humanities Foundation, said, "Sue is an Alabama original—teacher, writer, poet, publisher."
"This place is very, very special to me," said Walker. "Before graduate school, I taught eighth grade English. To Kill a Mockingbird was the first novel I assigned." The Fleming sculpture is a replica of the old Monroe County Courthouse, a setting for Harper Lee's book.
SUE BRANNAN WALKER…
http://www.writersforum.org/news_and_reviews/newsroom.html/article/2013/05/10/sue-brannan-walker-receives-the-eugene-current-garcia-award
***
AWF board member Dr. Trudier Harris speaks in Washington
As part of American Women Writer's National Museum's 50-state project to showcase women writers from each state, the Alabama Center for the Book co-sponsored a presentation by Forum board member Dr. Trudier Harris on May 15 in the McLendon Room of the National Press Club. Harris' lecture, "Bama Bones: A Black Southerner Talks Place & Creativity," was free and open to the public.
Harris was introduced by Dr. Dana A. Williams, chair and professor of African American Literature in the Department of English at Howard University. "I met Dr. Harris when I was a graduate student at Howard. She has been a wonderful mentor and teacher for so many of us," Williams said.
"Alabama has dominated everything I've done and written," Harris said. "Greene and Tuscaloosa County farmers influenced my poetry. My mother's work as a domestic led to my first scholarly book. Alabama's weather, landscape, family tradition, and crop cultivation served as reference points, including in my memoir Summer Snow."
TRUDIER HARRIS…
http://www.writersforum.org/news_and_reviews/newsroom.html/article/2013/05/01/awf-board-member-dr-trudier-harris-to-speak-in-washington
***
Writing Our Stories concludes third year at Columbiana Middle School
On May 2, ceremonies were held at Columbiana Middle School to mark the conclusion of the 2013 Writing Our Stories program there. AWF partnered with the Shelby County Arts Council and the Shelby County School System to bring the program to the school for the third consecutive year.
This year, sixty-two students participated in WOS and published their work in an anthology, Into a New World. The program included ten weekly workshops in two seventh-grade classes, conducted by teaching writer Tony Crunk and hosted by cooperating classroom teachers Maite Miller and Richard Scott.
According to Miller, "Students discovered writing abilities and talents of which they were unaware." Scott adds that in the process they "created something that represents a significant step in confidence and maturity..., something they can take with them for the rest of their lives."
The concluding ceremony featured a number of students reading from their work and remarks by guest speaker Dr. Rachel Fowler, a member of the Shelby Council Arts Council Advisory Board and of the Alabama State Council on the Arts.
Writing Our Stories…
http://www.writersforum.org/programs/stories.html
***
In Memorium: Robert Levine Nance—02/11/1931-05/03/2013
Former First Draft graphic designer Robert Levine "Bob" Nance, 82, died on May 3 at home in Huntsville. He is survived by his wife, Faith, also a First Draft graphic designer, children Richard (Takako Kato), Robin Metz (Ted), Robert (Mary Catherine), Jennifer Thomas (Randal), brother Richard (Tereza), sister Carolyn Rucker, and sister-in-law Esther Nance.
In retirement Nance traveled, wrote, and enjoyed being with his grandchildren.
A member of the U.S. Navy, he served aboard the U.S.S. Wisconsin during the Korean War. He graduated from Auburn University in 1957 as a book and graphic designer. Nance retired from Southern Progress Corporation in 1993.
A memorial service will be held at Homewood Cumberland Presbyterian Church, 513 Columbiana Rd., Homewood, AL, Monday, May 27 at 1 p.m. Interment will be Tuesday, May 28, 11 a.m. at the Alabama National Cemetery, 3133 Hwy 119, Montevallo. In lieu of flowers, donations may be made to National MS Society, Alzheimer's Association, Gentiva Hospice or a charity of your choice.
First Draft
http://www.writersforum.org/news_and_reviews/ (FD)
***
MacAdam/Page founder David Poindexter dies
Just three months after being diagnosed with cancer, David Poindexter died on April 29 at the age of 59. In 1998, using the proceeds from a lucrative printing business, he founded MacAdam/Cage, a boutique publishing company dedicated to the discovery of new narrative voices. One of the company's debut books, the memoir Infidelity by Ann Pearlman, landed the author on Oprah's couch.
MacAdam/Cage has published Alabama authors such as Sonny Brewer, Rick Bragg, Suzanne Hudson, Frank Turner Hollon, Howard Bahr, and C. Terry Cline Jr. Brewer was named editor-in-chief of the press in 2012.
READ MORE…
http://macadamcage.com/news/#david-poindexter-a-true-champion-of-the-printed-word
***
Associates' News
Dan Albergotti's book Millennial Teeth was selected by Rodney Jones as one of the the winners of the Crab Orchard Series in Poetry's 2013 Open Competition. TJ Jarrett's collection Zion was also named a winner.
Board President Kirk Curnutt was on NPR's All Things Considered with Audie Cornish on May 8 to discuss the F. Scott Fitzgerald line, "There are no second acts in American lives."
AWF board member Steve Gierhart of the Huntsville Literary Association (HLA) recently announced the winners and runners-up of the HLA High School Short Story Competition.
Barry Marks' poetry collection Sounding (Negative Capability Press, 2012) was both a finalist for the Grand Prize and first runner up in the Poetry Category of the 2013 Eric Hoffer Awards. The awards recognize literary works published by small and academic presses. AWF board member Sue Brannan Walker is Negative Capability's founder and publisher.
Wendy Reed has been named winner of the 2013 Writer-in-Service Award by the Lillian E. Smith Foundation. The award includes a two-week residency during the summer of 2013, a cash honorarium, and a travel allowance. It is open to U.S. residents working to advance writing and the arts through public service careers or volunteer work.
***
Visit our Opportunities page
Wendy Reed learned of the 2013 Writer-in-Service Award from our Opportunities page. This page keeps you informed on publishers and organizations who want your work. Here you'll find Calls for Submission and Writing Contests. The page also includes links to Writers Groups, Writing Workshops, and National Conferences—excellent places to network.
OPPORTUNITY KNOCKS…
http://www.writersforum.org/opportunities/
***
Upcoming Literary Events
Attract a larger audience for your literary events with the Forum's Events calendar. Some 2200 book lovers receive Literary News each month, and a number of these readers check our calendar for literary events in their areas and beyond.
MORE LITERARY EVENTS…
http://www.writersforum.org/events/
Hear interviews with Alabama's literati on Alabama Arts Radio
In a recent installment of Alabama Arts Radio, Alabama Center for Traditional Culture Director Joey Brackner interviews Alan and Karen Jabbour about their book published in 2010, Decoration Day in the Mountains: Traditions of Cemetery Decorations in the Southern Appalachians
Each week on the Alabama Arts Radio Series, staff members of the Alabama State Council on the Arts visit with writers, musicians, visual artists, and other individuals who contribute to our state's rich artistic traditions. Recent literary interviews include Jeanie Thompson, Adam Vines, and Bonny Chen.
Listen Sundays 5-5:30 p.m. on WTSU 89.9 (Montgomery-Troy), WRWA 88.7 (Dothan), and WTJB 91.7 (Columbus-Phenix City). Those farther south may listen Saturdays, 2:30-3 p.m., on WHIL 91.3 (Mobile-Biloxi-Pensacola). Broadcasts are also streamed live and archived on the Web.
LISTEN HERE…
http://www.writersforum.org/podcasts/radio.html
***
Support the Arts supports the Forum
Proceeds from the sale of the Alabama Support the Arts license plate help fund arts education programs. The next time your car tag needs renewal, purchase one of these colorful plates to help support the Forum and other arts education projects.
LEARN MORE…
http://www.arts.state.al.us/news/index-news.html#"Support the Arts" License Tag
***
Friend the Forum on Facebook and follow on Twitter
For late-breaking news, follow us on Twitter @ writersforum and friend us on Facebook @ Alabama Writers' Forum Friends.
***
The Alabama Writers' Forum
The Alabama Writers' Forum, a partnership program of the Alabama State Council on the Arts, promotes writers and writing in Alabama, with an emphasis on arts education programs for young writers.
***
The Alabama Writers' Forum
P.O. Box 4777
Montgomery, AL 36103-4777
334-265-7728
Toll Free: 866-901-1117
Fax: 334-265-7828
writersforum@bellsouth.net
www.writersforum.org
© 2013 The Alabama Writers' Forum, Inc.