May 2012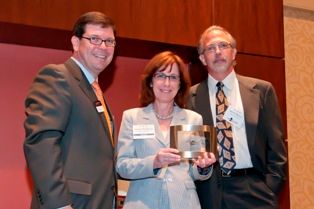 Writing Our Stories wins 2012 Government Program Innovation Award
Writing Our Stories, a partnership program of the Alabama Writers' Forum and the Alabama Department of Youth Services, won the State/Regional Government Program Innovation Award at a luncheon on May 10, 2012, at the sixth annual Innovative Alabama Governments Awards at the Renaissance Montgomery. Sponsored by the Auburn University at Montgomery Center for Government, the awards honor select recipients for their use of new and innovative methods to help state, county, and municipal government agencies in Alabama that reach new levels of efficiency and responsiveness.
Photo: Matthew Duke (l) presents the Government Program Innovation Award to Jeanie Thompson and Marlin "Bart" Barton. (photo by Frank C. Williams)
READ MORE…
http://www.writersforum.org/first_draft/newsroom.html
***
Fannie Flagg receives 2012 Harper Lee Award, namesake attends the award ceremony
Attendees at the Alabama Writers Symposium in Monroeville were joined at the annual Harper Lee Award luncheon by an unexpected guest. Nelle Harper Lee, long- time resident of Monroeville and author of the international bestseller To Kill a Mockingbird, attended the conference for the first time in its fifteen year history. Lee came to see Alabama-born author Fannie Flagg receive the award named in honor of the Pulitzer Prize recipient.
LEARN MORE…
http://www.writersforum.org/first_draft/newsroom.html/article/2012/04/29/writer-harper-lee-attends-award-ceremony-to-honor-fannie-flagg-2012-winner-of-the-harper-lee-award
***
First Draft Blogs enlighten & entertain
See what your favorite authors, scholars, and students are musing about in First Draft Blogs. Recent essays include "The Alabama Writers' Forum: A Source of Encouragement for Young Voices" by Emily Cutler in Young Voices; "Murder, He Wrote: Truman Capote and the Legacy of In Cold Blood by Ralph F. Voss in Miscellany; and "Blue Pen on Yellow Paper: A Pocketful of Advice for Young Writers" by Marlin Barton in Teaching the Craft.
FIRST DRAFT BLOGS…
http://www.writersforum.org/first_draft/blogs/
***
Plan your summer reading with First Draft Reviews Online
Planning a long weekend at the beach? A week in the Smokies? Find the perfect book for your vacation in First Draft Reviews Online. May features reviews of poetry by Hank Lazer and Sue Scalf, nonfiction by Albert Murray with Paul Devlin and Terry Kline Jr., and fiction by David Morgan. Search the archives to find the latest books by your favorite authors. Have a nice trip!
MAY REVIEWS…
http://www.writersforum.org/first_draft/book_reviews.html
***
Caroline Marshall Draughon ad
Promoting public engagement in the arts and humanities.
advertisement
http://www.cla.auburn.edu/cah/
***
Advertise with us
Digital ads on writersforum.org and in Literary News help you reach the literary audience you deserve. Our digital Advertise with Us feature is quick and easy. And our rate sheet offers advertising values to fit all budgets.
DIGITAL ADVERTISING RATES…
http://www.writersforum.org/first_draft/advertise_with_us.html
***
Alabama Arts Radio brings you outstanding interviews with your favorite authors
Each week on the Alabama Arts Radio Series, staff members of the Alabama State Council on the Arts visit with writers, musicians, visual artists, and other individuals who contribute to our state's rich artistic traditions. Recent literary interviews include Jack Solomon, Abraham Smith, and Barry Bradford.
Listen Sundays 5-5:30 p.m. on WTSU 89.9 (Montgomery-Troy), WRWA 88.7 (Dothan), and WTJB 91.7 (Columbus-Phenix City). Those farther south may listen Saturdays 2:30-3 p.m. on WHIL 91.3 (Mobile-Biloxi-Pensacola). Broadcasts are also streamed live and archived on the Web.
LISTEN HERE…
http://www.writersforum.org/podcasts/radio.html
***
Support the Arts, Support the Forum
Proceeds from the sale of the Alabama Support the Arts license plate help fund arts education programs. Next time your car tag needs renewal, purchase one of these colorful plates to help support the Forum and other arts education projects.
LEARN MORE…
http://www.arts.state.al.us/news/index-news.html#"Support the Arts" License Tag
***
Friend the Forum on Facebook and Twitter
For late-breaking news, follow us on Twitter @ writersforum and Facebook @ Alabama Writers' Forum Friends.
http://www.facebook.com/home.php#!/home.php?sk=group_95957334400
***
The Alabama Writers' Forum
The Alabama Writers' Forum, a partnership program of the Alabama State Council on the Arts, promotes writers and writing in Alabama, with an emphasis on arts education programs for young writers.
***
The Alabama Writers' Forum
P.O. Box 4777
Montgomery, AL 36103-4777
334-265-7728
Toll Free: 866-901-1117
Fax: 334-265-7828
writersforum@bellsouth.net
www.writersforum.org
© 2012 The Alabama Writers' Forum, Inc.