March-April 2015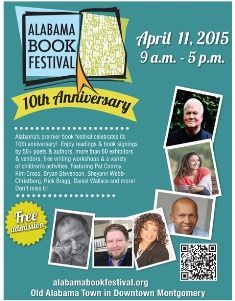 Alabama Book Festival Announces 2015 Author Lineup
More than thirty-five authors fill the lineup of the 10th Annual Alabama Book Festival April 11 in Montgomery's historic Old Alabama Town. Among them will be bestselling author Pat Conroy, festival organizers announced today. In addition to presenting at the festival, Conroy will accept the Hall-Waters Prize from Troy University in a private ceremony during the Festival. The award is given to individuals who have made significant contributions to Southern heritage and culture in history, literature or the arts.
The annual book festival is a family-friendly, free event that includes book-related activities for all ages. Among the sixty-plus exhibitors will be publishers, authors, schools, libraries and literary and arts organizations.
ABF 2015 AUTHORS…
http://www.writersforum.org/news_and_reviews/newsroom.html/article/2015/03/16/alabama-book-festival-announces-2015-author-lineup
***
AWF to host Reading and Writing with Students, a teacher workshop
On April 10, 2015, the day before the 10th annual Alabama Book Festival, Alabama teachers in grades 7-12 from public, private, and home schools are invited to join three festival authors, Harry Moore, Marlin Barton, and Reed Farrel Coleman, on the Troy University, Montgomery Campus for an exciting day of writing workshops free of charge. Two and four-year college teachers—both full and part-time—may register as space is available. These workshops are designed to introduce teachers to new strategies for integrating creative writing into language arts and English curricula. Teachers will write in both workshop sessions, share what they have written, and meet other educators teaching creative writing in Alabama.
ABF TEACHER WORKSHOP…
http://www.writersforum.org/news_and_reviews/newsroom.html/article/2015/03/25/awf-to-host-reading-and-writing-with-students-a-teacher-workshop
***
New from Judge Janice Law
advertisement
***
Join us at the beginning of an era!
Tickets are now on sale for the Inaugural Alabama Writers Hall of Fame event on June 8, 2015, at the Bryant Conference Center in Tuscaloosa. The celebration includes a reception and gala dinner, with presentation of the twelve inductees. Individual tickets are $125; sponsored tables are $1,500 (seats 10). Anyone interested in sponsoring an inductee's table should contact Jeanie Thompson at 334-354-0881.
If you would like to receive a printed invitation package with reply card, please e-mail jeaniethompson@bellsouth.net. Or phone 205-348-5543 for further information or to order tickets by phone using a credit card.
ALABAMA WRITERS HALL OF FAME…
http://www.writersforum.org/hall-of-fame/
***
Montgomery's alternative city newspaper
advertisement
***
Explore Red Dirt Roads & Feet of Clay at the 2015 Alabama Writers Symposium
The Alabama Writers Symposium celebrates its 18th anniversary in Monroeville, Alabama, Thursday, April 23 through Saturday, April 25, 2015. Exploring the theme Red Dirt Roads & Feet of Clay, the 2015 Alabama Writers Symposium program looks below the surface to see if things really are what they seem. Some of Alabama's most celebrated writers and scholars—including Rich Bragg, Chantel Acevedo, and Ravi Howard—will lead discussion sessions, readings, and workshops. Hank Lazer will receive the Harper Lee Award for Alabama's Distinguished Writer of the Year 2015. Participants should register for the event by April 3.
ALABAMA WRITERS SYMPOSIUM…
http://www.ascc.edu/?DivisionID=678
***
New from The Ardent Writer Press
advertisement (Tales of the 319th)
http://www.ardentwriterpress.com/
***
ASCA names State Champion for Poetry Out Loud
On Monday, February 16, 2015, students from high schools all over the state converged on Montgomery to compete in the Alabama finals of the Poetry Out Loud National Recitation competition. Students, teachers, and parents arrived at the Alabama Shakespeare Festival to recite and hear poetry. These students, already winners in their own regions, gave moving renditions of poetry from well-known poets such as Langston Hughes, C.S. Lewis, Henry Wadsworth Longfellow, and Jean Valentine. The students also performed their original poems about truth and friendship, personal identity, and tragic life experiences. It was a day filled with laughter, thoughtfulness, and tears, proving to all that Alabama students have the power to speak with voices very much worth hearing.
First place in the Alabama Poetry Out Loud National Recitation Competition went to Nicole Louw, a senior at Holy Spirit Catholic High School in Tuscaloosa and a student of Jonathan Loper. Elizabeth Balch-Crystal of Auburn High School, a student of Davis Thompson won the original poetry category, sponsored by the Forum.
POETRY OUT LOUD…
http://www.writersforum.org/news_and_reviews/newsroom.html/article/2015/03/02/asca-names-state-champion-for-poetry-out-loud
***
Warren St. John named recipient of UA Cason Award
The University of Alabama's College of Communication and Information Sciences, along with the journalism department, has named best-selling author Warren St. John winner of the 2015 Clarence Cason Award in Nonfiction Writing. St. John, a native of Birmingham, and a graduate of Columbia University, wrote the national bestsellers Rammer Jammer Yellow Hammer: A Journey into the Heart of Fan Mania and Outcasts United: An American Town, a Refugee Team and One Woman's Quest to Make a Difference.
CLARENCE CASON AWARD…
http://www.writersforum.org/news_and_reviews/newsroom.html/article/2015/02/27/warren-st-john-named-recipient-of-ua-cason-award
***
New from The Ardent Writer Press
advertisement (Hotel Monte Sano)
http://www.ardentwriterpress.com/
***
Associates News
Emma Bolden's essay, "Counting the Lovelies," appears in a recent issue of Tupelo Quarterly
http://www.tupeloquarterly.com/counting-the-lovelies-by-emma-bolden/
Jennifer Horne was recognized as Literary Artist of the Year by the Arts Council of Tuscaloosa at the 21st Druid Arts Awards on March 12.
http://tuscarts.org/2015daawinners.php
The documentary BaddDDD Sonia Sanchez will have its world premiere on April 11 at the 2015 Full Frame Documentary Film Festival in Durham, N.C..
http://soniasanchez.net/2015/03/baddddd-sonia-sanchez-documentary-premiere/
The American Advertising Federation Jackson (Miss.) honored AWF Board member Philip Shirley with its Silver Medal Award.
http://www.godwin.com/brandcentral/godwingroups-philip-shirley-bestowed-aafs-silver-medal/
***
Hear interviews with Alabama's literati on Alabama Arts Radio
Each week on the Alabama Arts Radio Series, staff members of the Alabama State Council on the Arts visit with writers, musicians, visual artists, and other individuals who contribute to our state's rich artistic traditions. Recent literary interviews include William Cobb, Kyes Stevens, and Brooke Bullman.
Listen Sundays 5-5:30 p.m. on WTSU 89.9 (Montgomery-Troy), WRWA 88.7 (Dothan), and WTJB 91.7 (Columbus-Phenix City). Those farther south may listen Saturdays, 2:30-3 p.m., on WHIL 91.3 (Mobile-Biloxi-Pensacola). Broadcasts are also streamed live and archived on the Web.
LISTEN HERE…
http://www.arts.state.al.us/radioseries.aspx
***
Support the Arts supports the Forum
Proceeds from the sale of the Alabama Support the Arts license plate help fund arts education programs. The next time your car tag needs renewal, purchase one of these colorful plates to help support the Forum and other arts education projects.
SUPPORT THE ARTS…
http://www.arts.state.al.us/licensetag.aspx
***
Friend the Forum on Facebook and follow on Twitter
For late-breaking news, follow us on Twitter @ writersforum and friend us on Facebook @ Alabama Writers' Forum Friends.
***
The Alabama Writers' Forum
The Alabama Writers' Forum, a partnership program of the Alabama State Council on the Arts, promotes writers and writing in Alabama, with an emphasis on arts education programs for young writers.
Links
http://www.razoo.com/story/Alabama-Writers-Forum
***
The Alabama Writers' Forum
P.O. Box 4777
Montgomery, AL 36103-4777
334-265-7728
Toll Free: 866-901-1117
Fax: 334-262-2150
writersforum@bellsouth.net
www.writersforum.org
© 2015 The Alabama Writers' Forum, Inc.