June-July 2014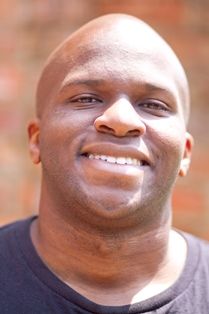 Chancellor, McCall named ASCA Literary Arts Fellows
At its June meeting in Montgomery, the Alabama State Council on the Arts (ASCA) awarded fifteen fellowship grants, including one arts administration fellowship, and five Arts and Cultural Facilities grants. This year's Literary Arts Fellowship recipients are Bryn Chancellor of Montevallo and Jason McCall of Tuscaloosa.
Chancellor's short fiction has appeared in Gulf Coast, Blackbird, Colorado Review, Crazyhorse, Phoebe, and elsewhere. She was recently selected as the winner in fiction for the 2014 Poets & Writers Maureen Egen Writers Exchange.
McCall's collections include Dear Hero, (winner of the 2012 Marsh Hawk Press Poetry Prize), Silver (Main Street Rag), I Can Explain (Finishing Line Press), and Mother, Less Child (winner of the 2013 Paper Nautilus Vella Chapbook Prize).
(photo of Jason McCall by David A. Smith)
ASCA LITERARY ARTS FELLOWS…
http://www.writersforum.org/news_and_reviews/newsroom.html/article/2014/06/13/chancellor-mccall-named-asca-literary-arts-fellows
***
Landmarks Foundation appoints new interim director
Marion Baab, an active board member of the Landmarks Foundation, has been appointed to serve as interim director of Landmarks. Baab will be taking over the duties of longtime director Bob McLain following his recent retirement.
Baab will have a range of duties, including coordinating upcoming special events, such as the Alabama Book Festival, TavernFest, City Loft Tours, Vicarious Vacations, and Diamond Princess. She will also oversee Old Alabama Town's historic structures, coordinate educational and group tours, and manage commercial tenants.
READ MORE…
http://www.writersforum.org/news_and_reviews/newsroom.html/article/2014/06/20/landmarks-foundation-appoints-new-interim-director
***
Student Voices from North Alabama
advertisement
http://www.amazon.com/Expressions-2014-Student-Voices-Alabama/dp/1938667255/ref=sr_1_1?s=books&ie=UTF8&qid=1401286957&sr=1-1&keywords=Expressions+2014
***
AHF SUPER Teacher Program to host All About the Bird
As a part of Alabama Humanities Foundation's (AHF) 2014 SUPER Teacher Program, Mockingbird Moments, the public is invited to a free concert, All About the Bird, at the Monroe County Museum (the old Monroe County Courthouse) on July 16 at 7 p.m.
This one-of-kind concert will feature Grammy-nominated singer and songwriter Davis Raines and award-winning Alabama writer Frye Gaillard. Raines, an Alabama native now writing and performing out of Nashville, will present songs from his new CD, Mockingbird. Raines wrote the title cut of this southern-themed CD with Alabama author Frye Gaillard, who will read from his own work and discuss the background of the title song, inspired by Harper Lee's classic novel.
MONROE COUNTY MUSEUM…
http://www.monroecountymuseum.org/
***
New Fiction from Philip Shirley
advertisement
***
See what's new in summer reading
This month's Reviews Online features fiction by Philip Shirley, Carolyn Haines, and Joe Formichella; nonfiction by Chervis Isom, Tim Parrish, and Nimrod Frazer; and others. AWF Reviews Online features books by Alabama writers and publishers or books about our state.
REVIEWS ONLINE…
http://www.writersforum.org/news_and_reviews/book_reviews.html
***
Southern Humanities Review
advertisement
http://www.southernhumanitiesreview.com/auburn-witness-poetry-prize.html
***
Visit our Opportunities page
Our Opportunities page keeps you informed on publishers and organizations who want your work. Here you'll find Calls for Submission and Writing Contests. The page also includes links to Writers Groups, Writing Workshops, and National Conferences—excellent places to network.
OPPORTUNITY KNOCKS…
http://www.writersforum.org/opportunities/contests.html
***
Keep in touch with fellow writers through AWF Blogs
AWF Blogs feature essays and interviews by Alabama writers both well-known and not-so-well-known. Recent blogs include an interview with poet Jim Murphy by Sue Brannan Walker, an informative essay on digital inscriptions for eBooks by Michael Patton, and musings on life after print and broadcast journalism by Jacquie Wee Brasher.
AWF BLOGS…
http://www.writersforum.org/news_and_reviews/blogs/
***
The largest independent book festival in the country
advertisement
https://www.decaturbookfestival.com/2014/index.php
***
Upcoming Literary Events
Attract a larger audience for your literary events with the Forum's Events calendar. Some 2200 book lovers receive Literary News each month, and a number of these readers check our calendar for literary events in their areas and beyond.
MORE READINGS, SIGNINGS, & BOOKMARK…
MORE LITERARY EVENTS…
http://www.writersforum.org/events/
***
Hear interviews with Alabama's literati on Alabama Arts Radio
Each week on the Alabama Arts Radio Series, staff members of the Alabama State Council on the Arts visit with writers, musicians, visual artists, and other individuals who contribute to our state's rich artistic traditions. Recent literary interviews include Ted Rosengarten, Randall Horton, and Jeanie Thompson.
Listen Sundays 5-5:30 p.m. on WTSU 89.9 (Montgomery-Troy), WRWA 88.7 (Dothan), and WTJB 91.7 (Columbus-Phenix City). Those farther south may listen Saturdays, 2:30-3 p.m., on WHIL 91.3 (Mobile-Biloxi-Pensacola). Broadcasts are also streamed live and archived on the Web.
LISTEN HERE…
http://www.arts.state.al.us/radioseries.aspx (New site)
***
Support the Arts supports the Forum
Proceeds from the sale of the Alabama Support the Arts license plate help fund arts education programs. The next time your car tag needs renewal, purchase one of these colorful plates to help support the Forum and other arts education projects.
SUPPORT THE ARTS…
http://www.arts.state.al.us/licensetag.aspx (NEW)
***
Friend the Forum on Facebook and follow on Twitter
For late-breaking news, follow us on Twitter @ writersforum and friend us on Facebook @ Alabama Writers' Forum Friends.
***
The Alabama Writers' Forum
The Alabama Writers' Forum, a partnership program of the Alabama State Council on the Arts, promotes writers and writing in Alabama, with an emphasis on arts education programs for young writers.
Links:
***

The Alabama Writers' Forum
P.O. Box 4777
Montgomery, AL 36103-4777
334-265-7728
Toll Free: 866-901-1117
Fax: 334-262-2150
writersforum@bellsouth.net
www.writersforum.org
© 2014 The Alabama Writers' Forum, Inc.