June 2013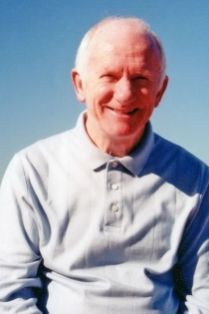 In Memoriam: C. Terry Cline Jr.—July 14, 1935-May 21, 2013
C. Terry Cline Jr. died in his sleep at home in Fairhope on May 21. Born in Birmingham, he grew up in various places, including Belle Glade, Florida; Longmont, Colorado; and Atlanta. The author of nine novels, he also had a successful career in radio and television. Cline is best remembered as a generous teacher and loyal friend.
Cline donated his body for medical research to UAB's Alabama Organ Center. A memorial service will be held out of doors in Fairhope's Henry George Park, overlooking Mobile Bay, on June 30 at 10:30 a.m. Everyone is invited and should bring a lawn chair or blanket to sit on.
C. Terry Cline (Photo courtesy of MacAdam/Cage)
SUZANNE HUDSON & JOE FORMICHELLA TRIBUTE …
http://www.writersforum.org/news_and_reviews/blogs/blog-archive.html/article/2013/05/24/sailing-into-the-ever-ever-remembering-terry-cline
***
Nine Alabamians honored at Celebration of the Arts Awards
The Alabama State Council on the Arts held its biannual Celebration of the Arts Awards ceremony on May 21 at the Alabama Shakespeare Festival in Montgomery. The event recognizes and honors Alabama artists and individuals for their contribution to the arts in Alabama and beyond. Al Head, executive director of the Council said, "This awards program is an opportunity for the state to recognize special individuals who make the arts happen and bring great credit to our state through their work."
This year's recipients included a Pulitzer Prize winning author, an internationally recognized poet, a professor emeritus and cultural historian, a university president and his wife, a dance instructor and artistic director, a playwright, a traditional band, a community arts volunteer and arts patron, and a long-time leader in the state legislature. Their contributions to the arts are diverse and far-reaching. Their impact on the entire state has been profound and sustained for many years.
CELEBRATION OF THE ARTS AWARDS…
http://www.writersforum.org/news_and_reviews/newsroom.html/article/2013/06/12/nine-alabamians-honored-at-celebration-of-the-arts-awards
***
Former BWR editor makes 10 Best Millennial Authors List
Flavorwire.com recently chose former Black Warrior Review editor Alissa Nutting as one of the 10 Best Millennial Authors You Probably Haven't Read (Yet). BWR editor for 2007-08, Nutting will release her debut novel, Tampa (Ecco-HarperCollins), next month. She earlier gained acclaim following publication of Unclean Jobs for Women and Girls, a collection of short stories.
ALISSA NUTTING…
http://www.writersforum.org/news_and_reviews/newsroom.html/article/2013/06/18/former-bwr-editor-makes-10-best-millennial-author-list-
***
Alabama's literary journal
advertisement
***
Trussville resident wins Lookout Alabama/SELTI Writing Contest
Lookout Alabama magazine and the Southeastern Literary Tourism Initiative are proud to announce that Natalie Cone of Trussville, Ala., is the winner of the Lookout Alabama/SELTI Writing Contest for her short story, "The Totem," spotlighting Fort Payne and Desoto State Park. The contest drew twenty entries from writers across the country.
Alabama Sen. Clay Scofield (R-District 9, Blount, Madison, Marshall), chair of the Alabama Senate Tourism and Marketing Committee, presented Cone with a $500 check from the Alabama Tourism Department at Lookout 2013, a dinner event held on May 10 at Cook Castle, the Lookout Mountain home of Jeff Cook of the country music group Alabama. The event, hosted by Lookout Alabama, featured New York Times bestselling author Homer Hickam, who was a judge of the writing contest, University of Alabama Center for Economic Development Director Nisa Miranda, and local and state tourism and economic development officials.
On a similar note, the State Senate recently passed Joint Resolution 25, which expresses "support for authors and publishers who produce works of fiction set in real Alabama tourism attractions"
LOOKOUT ALABAMA/SELTI WRITING CONTEST…
http://www.al.com/entertainment/index.ssf/2013/05/event_featuring_homer_hickam_a.html#incart_river_entertainment
***
TRELLIS is coming to Tuscaloosa
Graduates of The University of Alabama (UA), Abraham Smith and Jessica Peterson, have built a literary happening centered around the florid landscapes of the Yellowhammer State. TRELLIS is a creative writing and letterpress printing weekend workshop intensive, to be held October 30-November 3 in Tuscaloosa. Through nature and town walks and oral performance practicum, participants will realize the eternalizing truths of their imaginations. Through guided hands-on letterpress studio time, Trellisers will actualize the fruits of the mind.
Peterson, independent owner and operator of The Southern Letterpress, notes: "My community is full of like-minded creators who have inspired me and pushed me deeper into my own craft. These people use the open space, economy, and relative isolation of the Deep South to focus on their own making. At TRELLIS, you will discover the visceral power of imprinting metal letters into high quality cotton rag paper on a printing press. It is a transformative experience, especially when the words you print are your own."
UA English instructor and avid, active national performer of his poetry, Smith is quick to acknowledge his experiences at UA: "Much of the writing side of TRELLIS is a result of my experiments as a teacher at The University of Alabama. I've taken what's worked there, refined it, polished it, and now I'd like to offer it to people."
TRELLIS…
http://www.trellisyourvoice.org/
***
Auburn Writers' Conference OCTOBER 18-19, 2013
Advertisement
http://www.cla.auburn.edu/awc/
***
J.D. Wilson joins UA Press
The University of Alabama Press, founded in 1945 and the largest publisher in the state, announced recently that it has hired John "J.D." Wilson as sales and marketing director. A professional with twenty-four years' experience in publications and marketing, Wilson will contribute his expertise in traditional areas of publicity, advertising, direct marketing, exhibits, and sales as well as in the rapidly growing areas of database and metadata management and social media. He will work in the Press's Tuscaloosa office.
A native of Decatur, Alabama, Wilson comes to the Press from the Charles E. Tuttle Publishing Company, a 65-year-old publishing house based in Rutland, Vermont; Tokyo, Japan; and Singapore, where he served as Academic Sales Manager. Previously, he served as director of marketing at the Cheng & Tsui Company of Boston, as well as an earlier stint in Tuttle's Tokyo office as sales manager.
READ MORE…
http://www.writersforum.org/news_and_reviews/newsroom.html/article/2013/06/13/j-d-wilson-joins-ua-press
***
David Ivey receives a National Heritage Fellowship
Huntsville resident David Ivey recently received a National Heritage Fellowship from the National Endowment for the Arts (NEA). A master of Sacred Harp singing, Ivey is a leader in reinvigorating this unique vocal tradition for the 21st century by leading singing schools all over the country and creating the first summer camp dedicated to Sacred Harp singing.
Sacred Harp, or "shape note," singing traces its legacy back to colonial New England. From there it spread to other parts of the early United States through the work of itinerant singing masters. The Sacred Harp hymnbook was published in Georgia in 1844 and gives the tradition its name.
As part of its efforts to honor and preserve our nation's diverse cultural heritage, the NEA annually awards one-time-only National Heritage Fellowships for master folk and traditional artists. These fellowships are intended to recognize the recipients' artistic excellence and support their continuing contributions to our nation's traditional arts heritage.
NATIONAL HERITAGE FELLOWSHIPS…
http://www.nea.gov/honors/heritage/fellows/fellow.php?id=2013_08&type=bio
***
Associates' News
Emily Sheera Cutler of Indian Springs was named a winning playwright in the 2013 Young Playwrights, Inc. National Playwriting Competition for her play, The Road Trip.
http://www.youngplaywrights.org/national-competition/
Joy Ross Davis was recently interviewed by Alex Zuffoletti of the University of Phoenix about her new novel, Countenance.
http://onlinehumnewsletter.blogspot.com/2013/04/faculty-recognition-debut-novelist-joy.html
AWF board member Trudier Harris delivered a lecture, "Bama Bones: A Black Southerner Talks Place & Creativity," at the National Press Club as part of the American Women Writer's National Museum's 50-state project to showcase women writers.
http://www.writersforum.org/news_and_reviews/blogs/blog-archive.html/article/2013/05/20/bama-bones-a-black-southerner-talks-place-creativity
Irene Latham's book Please Don't Feed the Boy was selected by the Alabama Center for the Book to represent the state at the National Book Festival in Washington, September 21-22. The book was also named a 2013 Bank Street College Best Children's Book of the year.
Daniel Wallace's book Big Fish has been adapted into a musical. It had its preview run in Chicago this past spring, and it will debut on Broadway at the Neil Simon Theater on September 5.
http://www.bigfishthemusical.com/index.php
***
Visit our Opportunities page
Our Opportunities page keeps you informed on publishers and organizations who want your work. Here you'll find Calls for Submission and Writing Contests. The page also includes links to Writers Groups, Writing Workshops, and National Conferences—excellent places to network.
OPPORTUNITY KNOCKS…
http://www.writersforum.org/opportunities/
***
Upcoming Literary Events
Attract a larger audience for your literary events with the Forum's Events calendar. Some 2200 book lovers receive Literary News each month, and a number of these readers check our calendar for literary events in their areas and beyond.
MORE LITERARY EVENTS…
http://www.writersforum.org/events/
***
Hear interviews with Alabama's literati on Alabama Arts Radio
Each week on the Alabama Arts Radio Series, staff members of the Alabama State Council on the Arts visit with writers, musicians, visual artists, and other individuals who contribute to our state's rich artistic traditions. Recent literary interviews include Chantel Acevedo, Alan and Karen Jabbour, and Adam Vines.
Listen Sundays 5-5:30 p.m. on WTSU 89.9 (Montgomery-Troy), WRWA 88.7 (Dothan), and WTJB 91.7 (Columbus-Phenix City). Those farther south may listen Saturdays, 2:30-3 p.m., on WHIL 91.3 (Mobile-Biloxi-Pensacola). Broadcasts are also streamed live and archived on the Web.
LISTEN HERE…
http://www.arts.state.al.us/actc/1/radioseries.html
***
Support the Arts supports the Forum
Proceeds from the sale of the Alabama Support the Arts license plate help fund arts education programs. The next time your car tag needs renewal, purchase one of these colorful plates to help support the Forum and other arts education projects.
LEARN MORE…
http://www.arts.state.al.us/news/index-news.html#"Support the Arts" License Tag
***
Friend the Forum on Facebook and follow on Twitter
For late-breaking news, follow us on Twitter @ writersforum and friend us on Facebook @ Alabama Writers' Forum Friends.
***
The Alabama Writers' Forum
The Alabama Writers' Forum, a partnership program of the Alabama State Council on the Arts, promotes writers and writing in Alabama, with an emphasis on arts education programs for young writers.
***
The Alabama Writers' Forum
P.O. Box 4777
Montgomery, AL 36103-4777
334-265-7728
Toll Free: 866-901-1117
Fax: 334-262-2150
writersforum@bellsouth.net
www.writersforum.org
© 2013 The Alabama Writers' Forum, Inc.