June 2011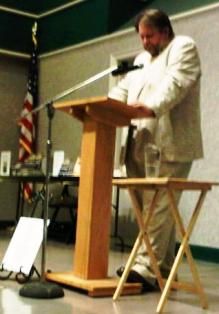 Literary News takes a vacation
Literary News is taking a summer hiatus while we continue to add content to our dynamic new Web site. If you haven't seen the Forum's fresh look, visit often at writersforum.org.
Here you will discover our First Draft Newsroom, an events calendar, monthly book reviews, and our revised, digital Contemporary Alabama Authors Directory, complete with a convenient registry.
At writersforum.org, you may also listen to Alabama Arts Radio, watch video readings by some of our favorite authors, and read what our member bloggers have to say about the writing craft.
The Forum encourages you to continue forwarding your literary news, and we will spread the word through our Newsroom, Twitter, and the Alabama Writers' Forum Friends page on Facebook.
The Forum values your continued support. At writersforum.org, you will discover convenient links to electronically join, renew your membership, or donate to the Forum and its many literary programs.
We'll see you in September with a new issue of Literary News!
(Rick Bragg reads at an event to benefit the Forum at Centennial Hall in Fairhope on June 21. Photo by Melly Wirtes)
***
Caroline Marshall Draughon ad
Promoting public engagement in the arts and humanities.
advertisement
http://www.cla.auburn.edu/cah/
***
The Alabama Writers' Forum
The Alabama Writers' Forum, a partnership program of the Alabama State Council on the Arts, promotes writers and writing in Alabama, with an emphasis on arts education programs for young writers.
Links
***
The Alabama Writers' Forum
P.O. Box 4777
Montgomery, AL 36103-4777
334-265-7728
Toll Free: 866-901-1117
Fax: 334-265-7828
writersforum@bellsouth.net
www.writersforum.org
© 2011 The Alabama Writers' Forum, Inc.
***
Footers:
The Alabama Writers' Forum
The Year of Alabama Music
http://www.yearofalabamamusic.com/
The Alabama State Council on the Arts