January-February 2015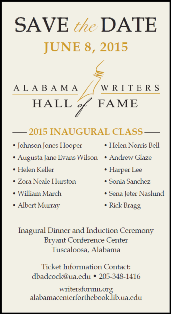 Alabama Writers Hall of Fame to induct inaugural class on June 8
The state's first comprehensive Alabama Writers Hall of Fame will induct its first class of twelve during a gala dinner at the Bryant Conference Center in Tuscaloosa on June 8, 2015. According to Lou Pitschmann, Dean of Libraries at the University of Alabama and director of the Alabama Center for the Book, and Jeanie Thompson, executive director of the Alabama Writers' Forum, the time has come for significant recognition of Alabama's literary talent in creative writing. For ticket information, contact Donna Adcock at 205-348-1416 or dbadcock@ua.edu.
ALABAMA WRITERS HALL OF FAME…
http://www.writersforum.org/news_and_reviews/newsroom.html/article/2014/12/11/newly-established-alabama-writers-hall-of-fame-to-induct-12-authors
****
Hank Lazer named 2015 Harper Lee Award recipient
Hank Lazer of Tuscaloosa has been selected to receive the Harper Lee Award for Alabama's Distinguished Writer of the Year for 2015. The award is made to a living, nationally recognized Alabama writer who has made a significant, lifelong contribution to Alabama letters.
"When I received the phone call telling me that I had been named the recipient of the 2015 Harper Lee Award, I was stunned, shocked, and very pleased," said Lazer. "Honestly, it was difficult for me to believe this good news."
http://www.writersforum.org/programs/harper_lee.html
http://www.writersforum.org/news_and_reviews/newsroom.html/article/2015/02/19/poet-hank-lazer-chosen-as-2015-harper-lee-award-recipient
***
New from The Ardent Writer Press
Advertisement (Hotel Monte Sano)
http://www.ardentwriterpress.com/
***
ABF celebrates 10th anniversary on April 11
Alabama's largest literary event will celebrate its 10th anniversary on April 11, 2015. The Alabama Book Festival will host more than thirty-five authors and exhibitors in Montgomery's historic Old Alabama Town. The family-friendly, free event includes book-related activities for children and adults. Among the exhibitors will be publishers, authors, schools, and literary and arts organizations. In keeping with the Alabama Tourism Department's designation of 2015 as the Year of Alabama Barbecue, some books and vendors will be barbecue-related.
ALABAMA BOOK FESTIVAL…
http://www.writersforum.org/news_and_reviews/newsroom.html/article/2015/02/03/alabama-book-festival-to-celebrate-10th-anniversary
***
Arts Advocacy Day set for March 10-11
Join arts advocates from across the state and make your voice heard on March 10-11, 2015, at the Embassy Suites in Montgomery for Arts Advocacy Day 2015. The event will bring together a broad cross section of Alabama's cultural and civic organizations, along with grassroots advocates from across the state, to underscore the importance of developing strong public policies and appropriating increased public funding for the arts.
INFORMATION & REGISTRATION…
https://alaaeorg.presencehost.net/arts-advocacy-day.html
***
MLF scheduled for March 20
Set for Friday, March 20 from noon to 6:00 p.m. at the University of Montevallo's Carmichael Library, this year's Montevallo Literary Festival (MLF) will feature readings, signings, and discussion from four dynamic women poets: Nickole Brown, Jessica Jacobs, Amy Lemmon, and Catherine Wing. Individually, they teach at universities from Arkansas to Ohio to New York and have published in the finest venues in the country, including multiple editions of The Best American Poetry anthology. Together, they promise an outstanding afternoon, a true celebration of some of the finest writing the country has to offer. And thanks to UM and the Friends of the Montevallo Literary Festival, the MLF is free and open to the public.
MONTEVALLO LITERARY FESTIVAL…
http://www.montevallo.edu/arts-sciences/college-of-arts-sciences/departments/english-foreign-languages/student-organizations/montevallo-literary-festival/
***
Southern Humanities Review
advertisement
http://www.southernhumanitiesreview.com/
***
Alabama readers, writers weigh-in on Go Set a Watchman
Alabama readers and writers have expressed surprise and delight over HarperCollins' recent announcement that it will release Harper Lee's novel Go Set a Watchman, a sequel of sorts to her Pulitzer Prize-winning and only novel, To Kill a Mockingbird. The book will be released on July 14 and already tops Amazon's best-seller list.
"I think the discovery of Harper Lee's new novel is incredible, wonderful, magnificent," said eminent historian Wayne Flynt, who visited the author in her Monroeville assisted living facility the day before the announcement. "To have such an event constitutes a minor literary earthquake."
GO SET A WATCHMAN…
http://www.writersforum.org/news_and_reviews/newsroom.html/article/2015/02/06/alabama-readers-writers-weigh-in-on-go-set-a-watchman-
***
AWF contributes to GQ Humanitarian Achievement Awards
The Alabama Writers' Forum donated a basket of best-selling books for the silent auction to benefit the Common Ground Institute (Montgomery) at the Gentleman Quarterly (GQ) Humanitarian Achievement Awards on December 18, 2014. Presented by BMW of Montgomery and inMontgomery.us, the awards program honored twelve men for their humanitarian work.
GQ HUMANITARIAN ACHIEVEMENT AWARDS….
http://in-montgomery.com/gq-humanitarian-achievement-award-highlights/
***
ASCA Literary Arts Fellowships deadline approaches
The Alabama State Council on the Arts (ASCA) reminds writers that the deadline for Literary Arts Fellowships is rapidly approaching. Applications must be submitted electronically via eGRANT by 4:45 p.m. on March 2, 2015.
ASCA makes cash awards to individual writers based on merit of work, career achievement, career potential, and service to the state. The award recognizes artistic excellence, professional commitment, and maturity. It is intended to contribute to the further development of the literary artist and the advancement of his or her professional career. Applicants are encouraged to be as specific as possible about the proposed use of fellowship funds.
LITERARY ARTS FELLOWSHIPS…
http://www.writersforum.org/news_and_reviews/newsroom.html/article/2015/02/09/asca-literary-arts-fellowships-deadline-approaches
eGrant
https://alabamaarts.egrant.net/login.aspx?PIID=147&OID=43
***
Al Head celebrates thirty years as ASCA executive director
Albert B. "Al" Head celebrated thirty years as executive director of the Alabama State Council on the Arts (ASCA) on February 4, 2015. Long hailed as a visionary arts leader, he is responsible for groundbreaking initiatives that have made ASCA one of the foremost state arts councils in the U.S. His leadership has provided funding growth, long-range planning, support for individual artists, and innovative services to its constituents in all arts disciplines.
AL HEAD…
http://www.writersforum.org/news_and_reviews/newsroom.html/article/2015/01/23/al-head-to-celebrate-thirty-years-as-asca-executive-director
***
AHF names new chair, board members
Alabama Humanities Foundation (AHF) has elected its new chair and three new members to its board of directors. Nancy Sanford, executive director of the Florence-Lauderdale Public Library, is chair of the board. New members are: Edgar Welden, chairman of Alabama Sports Hall of Fame; Ann Florie, executive director of Leadership Birmingham; and Sally Greenhaw, retired Montgomery County circuit judge.
AHF BOARD…
http://www.writersforum.org/news_and_reviews/newsroom.html/article/2015/02/17/ahf-names-new-chair-board-members
***
Associates News
Chantel Acevedo's novel A Falling Star is the February 2015 Book of the Month for the Las Comadres and Friends National Book Club.
http://lascomadres.com/latinolit/0215-book-of-the-month-a-falling-star/
Marlin "Bart" Barton's forthcoming short story collection, Pasture Art, was recently reviewed by Kirkus Reviews.
https://www.kirkusreviews.com/book-reviews/marlin-barton/pasture-art/
Eleanor Benz, matron of Mobile's Termite Hall, Haunted Bookstore, & McGill-Toolen HS Library, died recently in Winter Park, Fla.
http://obits.al.com/obituaries/mobile/obituary.aspx?n=eleanor-benz&pid=173766831&
Emma Bolden's poem, "House Is An Enigma," was selected for the 2015 edition of The Best American Poetry anthology.
http://bestamericanpoetry.com/
Gillis Theater at Virginia Military Institute will stage Marianne M. Weber's play, Jonathan Myrick Daniels: The Martyr of Lowndes County on Feb. 26-28 and March 1.
http://www.vmi.edu/content.aspx?tid=19967&id=36483
Kathryn Tucker Windham will be inducted into the Alabama Women's Hall of Fame at Judson College on March 5.
http://www.al.com/entertainment/index.ssf/2015/01/kathryn_tucker_windham_to_be_i.html
***
New from The Ardent Writer Press
Advertisement (Tales of the 319th)
http://www.ardentwriterpress.com/
***
See what's new from Alabama writers
This month's Reviews Online features fiction by Tim Parrish, memoir by Jesmyn Ward, philosophy by Edward O. Wilson, and poetry by Harry Moore and Allen Berry. AWF Reviews Online features books by Alabama writers and publishers or books about our state.
BOOK REVIEWS ONLINE…
http://www.writersforum.org/news_and_reviews/book_reviews.html
***
Visit our Opportunities page
Our Opportunities page keeps you informed on publishers and organizations who want your work. Here you'll find Calls for Submission and Writing Contests. The page also includes links to Writers Groups, Writing Workshops, and National Conferences—excellent places to network.
OPPORTUNITY KNOCKS…
http://www.writersforum.org/opportunities/
***
Upcoming Literary Events
Attract a larger audience for your literary events with the Forum's Events calendar. Some 2200 book lovers receive Literary News each month, and a number of these readers check our calendar for literary events in their areas and beyond.
MORE LITERARY EVENTS…
http://www.writersforum.org/events/
***
Hear interviews with Alabama's literati on Alabama Arts Radio
Each week on the Alabama Arts Radio Series, staff members of the Alabama State Council on the Arts visit with writers, musicians, visual artists, and other individuals who contribute to our state's rich artistic traditions. Recent literary interviews include Kyes Stevens, Brooke Bullman, and Ted Rosengarten.
Listen Sundays 5-5:30 p.m. on WTSU 89.9 (Montgomery-Troy), WRWA 88.7 (Dothan), and WTJB 91.7 (Columbus-Phenix City). Those farther south may listen Saturdays, 2:30-3 p.m., on WHIL 91.3 (Mobile-Biloxi-Pensacola). Broadcasts are also streamed live and archived on the Web.
Photo: Kyes Stevens (contributed)
LISTEN HERE…
http://www.arts.state.al.us/radioseries.aspx
***
Support the Arts supports the Forum
Proceeds from the sale of the Alabama Support the Arts license plate help fund arts education programs. The next time your car tag needs renewal, purchase one of these colorful plates to help support the Forum and other arts education projects.
SUPPORT THE ARTS…
http://www.arts.state.al.us/licensetag.aspx
***
Friend the Forum on Facebook and follow on Twitter
For late-breaking news, follow us on Twitter @ writersforum and friend us on Facebook @ Alabama Writers' Forum Friends.
***
The Alabama Writers' Forum
The Alabama Writers' Forum, a partnership program of the Alabama State Council on the Arts, promotes writers and writing in Alabama, with an emphasis on arts education programs for young writers.
Links:
http://www.razoo.com/story/Alabama-Writers-Forum
***
The Alabama Writers' Forum
P.O. Box 4777
Montgomery, AL 36103-4777
334-265-7728
Toll Free: 866-901-1117
Fax: 334-262-2150
writersforum@bellsouth.net
www.writersforum.org
© 2015 The Alabama Writers' Forum, Inc.