January 2013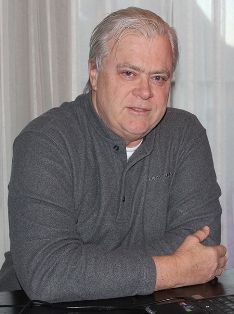 Steve Gierhart joins the Forum's board of directors
Dale "Steve" Gierhart of Huntsville recently joined the Alabama Writers' Forum's board of directors. His term will cover FY 2013-2015.
"Membership on the board of directors of the Alabama Writers' Forum is not only exciting but brings Huntsville and North Alabama into planning and discussions of the literary arts for the state," said Gierhart. "It also enables stronger ties with other like-minded organizations in the North Alabama region, such as the Huntsville Literary Association. I welcome the opportunity to speak for our region and help support events and plans that not only support the arts, but also help bring about a greater awareness of literacy and the need for strong writing as a backbone of any career, especially our youth, our legacy."
Author of the gothic fantasy novel, Shadow of the Conjurer, and editor of The Ardent Writer Press, Gierhart is a retired business manager for the United States Army. Based in Huntsville on Redstone Arsenal, his career lasted from 1975 to 2010, during which he was the business director for several missile and radar defense systems. Gierhart twice received the Army's Superior Civilian Service Award as well as the Commander's Award for Civilian Service, and he was recognized for his support to Operation Desert Storm and Operation Desert Shield.
Linda Spalla and Lynne Berry most recently represented the Huntsville area on the Forum's board.
Steve Gierhart (photo courtesy of The Ardent Writer Press)
STEVE GIERHART…
http://www.writersforum.org/about/board.html/title/dale-steve-gierhart-huntsville
***
Trudier Harris also accepts nomination to the Forum's board
Trudier Harris of Tuscaloosa also accepted a position on the Forum's board for FY 2013-15.
"This morning, January 29, 2013, I informed a local high school counselor about an opportunity for students to enroll in the Creative Writing Club at the University of Alabama, and I offered to transport enrollees from the school to the workshops," said Harris. "It was my first official act as a new member of the Alabama Writers' Forum board. My second act, also this morning, was to agree to help induct Zora Neale Hurston into the Alabama Women's Hall of Fame at Judson College in March. Joining the Board for me, therefore, means advocacy—encouraging and assisting in the process of cultivating writing and writers, wherever those opportunities may occur. I look forward eagerly to continuing on this path."
A Professor of English at the University of Alabama, Harris was formerly the J. Carlyle Sitterson Professor of English at the University of North Carolina at Chapel Hill, from which she retired in July 2009. There she taught courses in African American literature and folklore at undergraduate and graduate levels. In her thirty-six years of full-time teaching, she also served on the faculties of The College of William and Mary and Emory University. In addition to lecturing throughout the United States and in Jamaica, Canada, France, Germany, Poland, Spain, Italy, England, Northern Ireland, and South Africa, she has written and edited twenty-four academic volumes.
TRUDIER HARRIS…
http://www.writersforum.org/about/board.html/title/trudier-harris-tuscaloosa
***
National Book Award-winner Nikky Finney to read in Montgomery
Nationally renowned poet Nikky Finney will read and discuss her work during an appearance at Troy University's Rosa Parks Museum in Montgomery on Tuesday, February 5 at 6 p.m. Winner of the National Book Award for poetry in 2011 for her fourth book of poetry, Head Off & Split, Finney will read and discuss selections from that work, including "Red Velvet," her poem about Rosa Parks. The reading is free and open to the public.
In addition to her reading, Finney will lead a workshop for high school creative writing students at Booker T. Washington Magnet High in Montgomery, also on February 5.
Finney will present a reading of "Red Velvet" on Monday, February 4, during the museum's celebration of Rosa Parks' 100th Birthday. The event will be held at 6 p.m. inside the Gold Room in Whitley Hall on the Troy University Montgomery Campus. The event is free and open to the public.
Nikky Finney (photo by David Flores)
READ MORE…
http://www.writersforum.org/news_and_reviews/newsroom.html/article/2013/01/11/national-book-award-winner-nikky-finney-to-read-in-montgomery-
***
HLA announces its Young Writers Contest
The Huntsville Literary Association (HLA) has announced the Young Writers Contest for elementary, middle, and high school students in Huntsville and Madison County to encourage creative writing and the literary arts. As many as 900 local students per year have participated in grade-based poetry and short story divisions. The reading period is February 1-March 22, 2013.
This year HLA announces an expansion of the Senior Short Story Division to include additional high schools outside of Madison County. The new major additions are the public high schools in the cities of Decatur, Athens, Cullman, Arab, Guntersville, Scottsboro, Albertville, and Boaz and county schools in Limestone, Morgan, and Cullman counties. This opportunity is made possible by a new partnership with North Alabama's The Ardent Writer Press (AWP), a local small independent publishing company operated by HLA member and AWF board member Steve Gierhart.
The high school Short Story Division award has been renamed the Dorothy Diemer Hendry Award. Gierhart and his wife, Bonny, daughter of Hendry, are underwriting the increased cash prizes for the award. Other contest divisions (e.g. poetry-all ages or short stories for middle school) remain unchanged from previous years.
SUBMIT HERE…
http://hlahsv.org/Programs/Young-Writers-Contest
***
March writing workshop coming to Pelham Public Library
The Pelham Public Library in cooperation with the Shelby County Arts Council is bringing award winning author Robert Inman to the Pelham Public Library March 4-7. Participants will have the opportunity for instruction in the full range of topics for writing fiction whether short stories or novels. Topics will include character and plot development and creating effective dialogue. Information about how to get works published will also be covered including publishing in electronic formats. Participants will share up to fifteen (15) pages of written materials to be critiqued by Inman prior to the workshop with suggestions for improvement. During the workshop participants will be instructed in improving their work or in creating new work.
There are two opportunities to participate. An "Early Bird Special" is being offered Tuesday, Wednesday, and Thursday from 3–5 p.m. for $79 per person limited to the first twenty people to register. The longer regular workshop will be offered Monday, Tuesday, and Thursday from 6– 9 p.m. for $99 for the first twenty people to register. For more information please contact Barbara Roberts, 620-6419 or e-mail broberts@pelhamonline.com. This program is provided in part by grants from SouthArts and the Alabama Humanities Foundation.
REGISTER HERE…
http://www.shelbycountyartscouncil.com/classes.php?classCat=ARTCETERA_ADULT
***
Richard Blanco reads poem at Pres. Obama's inauguration
Richard Blanco read his poem "One Today" at the second inauguration of President Barack Obama on January 21 in Washington. Blanco, the son of Cuban exiles, is the fifth person to be chosen to write an inaugural poem, and the youngest person to be given that honor. Previous inaugural poets include Robert Frost, Miller Williams, Maya Angelou, and Elizabeth Alexander.
In an article by Sheryl Gay Stolberg in The New York Times on January 8, 2013, Blanco said, "Since the beginning of the campaign, I totally related to [Pres. Obama's] life story and the way he speaks of his family, and of course his multicultural background. There has always been a spiritual connection in that sense. I feel in some ways that when I'm writing about my family, I'm writing about him."
RICHARD BLANCO…
***
Resolve to be prepared in 2013 with ArtsReady
SouthArts and ArtsReady wants to make sure that you and your organization are prepared for the unexpected. The beginning of the year is the best time to make small, yet important changes to ensure that you are ready to face whatever might come your way during the next year. Prepare for whatever 2013 might bring!
ARTSREADY…
***
Associates' News
Vanessa Jackson Austin of Huntsville appeared on Fisk University' radio program "Health Watch Show" on January 17 to discuss her book Cries In the Wind. The inspirational book chronicles Austin's battle with cancer.
Clarence "C.D." Bonner of Camp Hill recently joined The Dadeville Reporter as a news columnist.
Joy Ross Davis recently signed with the Sullivan Maxx Agency and sold her novel manuscript, Countenance. A sequel will follow.
Carolyn Haines (as R.B. Chesterton) of Semmes will have a new book, The Darkling, published by Pegasus Books on April 1. Her Daddy's Girl Weekend—with authors, agents, and publishers—will take place April 5-7 at the Battle House Hotel in Mobile.
Anne Whitehouse of New York, N.Y., published a poem, "High Summer," in the recent issue of The Front Porch Review. Her book, One Sunday Morning, was reviewed in Creating Van Gogh; she is interviewed in Miriam's Well: Poetry, Land, Art, and Beyond; and she will read at St. Francis College on February 6.
http://www.annewhitehouse.com/
Contemporary Alabama Authors Directory…
http://www.writersforum.org/resources/authors/
***
Visit our Opportunities page
Our Opportunities page keeps you informed on publishers and organizations who want your work. Here you'll find Calls for Submission and Writing Contests. The page also includes links to Writers Groups, Writing Workshops, and National Conferences—excellent places to network.
OPPORTUNITY KNOCKS…
http://www.writersforum.org/opportunities/
***
Upcoming Literary Events
Do you need to attract a larger audience than those people on your e-mail list? Post your literary function on the Forum's Events calendar. Some 2200 book lovers receive Literary News each month, and a number of these readers check our calendar for literary events in their areas and beyond.
MORE READINGS, SIGNINGS, & BOOKMARK…
http://www.writersforum.org/events/
***
Hear interviews with your favorite Alabama authors
Each week on the Alabama Arts Radio Series, staff members of the Alabama State Council on the Arts visit with writers, musicians, visual artists, and other individuals who contribute to our state's rich artistic traditions. Recent interviews include Al Head, Rick Bragg, & Virginia Gilbert.
Listen Sundays 5-5:30 p.m. on WTSU 89.9 (Montgomery-Troy), WRWA 88.7 (Dothan), and WTJB 91.7 (Columbus-Phenix City). Those farther south may listen Saturdays, 2:30-3 p.m., on WHIL 91.3 (Mobile-Biloxi-Pensacola). Broadcasts are also streamed live and archived on the Web.
LISTEN HERE…
http://www.writersforum.org/podcasts/radio.html
***
Support the Arts, Support the Forum
Proceeds from the sale of the Alabama Support the Arts license plate help fund arts education programs. The next time your car tag needs renewal, purchase one of these colorful plates to help support the Forum and other arts education projects.
LEARN MORE…
http://www.arts.state.al.us/news/index-news.html#"Support the Arts" License Tag
***
Friend the Forum on Facebook and follow on Twitter
For late-breaking news, follow us on Twitter @ writersforum and friend us on Facebook @ Alabama Writers' Forum Friends.
***
The Alabama Writers' Forum
The Alabama Writers' Forum, a partnership program of the Alabama State Council on the Arts, promotes writers and writing in Alabama, with an emphasis on arts education programs for young writers.
Links:
***
The Alabama Writers' Forum
P.O. Box 4777
Montgomery, AL 36103-4777
334-265-7728
Toll Free: 866-901-1117
Fax: 334-265-7828
writersforum@bellsouth.net
www.writersforum.org
© 2013 The Alabama Writers' Forum, Inc.