February 2014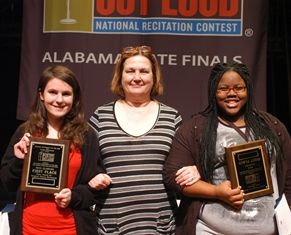 POL announces new State Champion
On Presidents' Day, when most of Alabama's high school students were home taking a well- deserved break from studies and classes, a group of thirty-one highly dedicated students traveled from all over the state with their teachers and supportive family members to the Alabama Shakespeare Festival in Montgomery to participate in the state finals of Poetry Out Loud (POL). This year's State Champion is Khadijah L. Thompson. Mary C. Butgereit took first place in the State Original Poetry Recitation contest. Both are students of Sheila Hadden at Bob Jones High School in Madison County.
Photograph: (l-r): Mary C. Butgereit, Sheila Hadden, and Khadijah L. Thompson. (Photo by Julian.)
POETRY OUT LOUD…
http://www.writersforum.org/news_and_reviews/newsroom.html/article/2014/02/19/pol-announces-new-state-champion
***
HSLAA 2014 ceremony date set
The Alabama High School Literary Arts Awards & Scholarship Competition (HSLAA) ceremony will be held on Wednesday, March 12, 11 a.m.-1 p.m. in the State Capitol in Montgomery. Celebrating its 19th anniversary, the annual HSLAA is one of the Alabama Writers' Forum's flagship programs. Since 1995, the Forum has awarded over $80,000 in prizes to young writers. Open to all Alabama students enrolled in grades 9-12, the competition recognizes outstanding creative writing students in the state's public, private, and home schools. For more information, phone the AWF office at 334-265-7728.
HSLAA 2014…
http://www.writersforum.org/news_and_reviews/newsroom.html/article/2014/02/05/hslaa-2014-ceremony-date-set
***
17th Annual Alabama Writers Symposium
advertisement
http://www.ascc.edu/?DivisionID=678
***
The Alabama Book Festival needs you
The Alabama Book Festival (ABF) seeks volunteers for this year's event. The Festival will take place on Saturday, April 19, 9 a.m.-4 p.m. at Old Alabama Town in downtown Montgomery. Volunteers are needed throughout the day.
ABF 2014 will showcase some sixty authors and presenters, including nationally recognized writers, book artists, printers, publishers, book sellers, and performers. As always, the Book Fest will feature books about history, music, and other nonfiction subjects. It will also showcase fiction, poetry, children's books, and other genres. The theme for 2014 is The Year of Alabama Parks. For more information, contact Robby Cole, Volunteer Coordinator, Alabama Book Festival at 667-777-2793 or alabamabookfestival@gmail.com.
VOLUNTEER HERE…
http://www.alabamabookfestival.org/volunteers.html
***
The 9th annual Alabama Book Festival
advertisement
http://www.alabamabookfestival.org/welcome.html
***
H. Chervis Isom joins Forum's board of directors
H. Chervis Isom, senior counsel in Baker Donelson's Birmingham office, has joined the Alabama Writers' Forum board of directors. A graduate of the Cumberland School of Law of Samford University (1967) and Birmingham-Southern College (1962), Isom formerly served as Chair of the Real Estate Practice Group.
"I'm impressed with the mission of the Forum to improve the reading and writing skills of the youth in the care of the Department of Youth Services (DYS) through its Writing Our Stories initiative," said Isom. "I think this is a timely program and that all the students in the public schools of Alabama could benefit from such a program. That program alone proved to me the importance of the mission of AWF."
H. CHERVIS ISOM…
http://www.writersforum.org/news_and_reviews/newsroom.html/article/2014/01/26/h-chervis-isom-joins-forum-s-board-of-directors
***
Alabama's Premier Literary and Critical Journal
The Southern Humanities Review—Alabama's premier literary and critical journal—publishes fiction, poetry, critical essays, and book reviews on the arts, literature, philosophy, religion, and history. New subscribers receive an $8 discount. Order your copy today.
advertisement
http://cla.auburn.edu/shr/index.cfm
***
Deadline for ASCA Fellowships quickly approaches
The Alabama State Council on the Arts makes cash awards to individual writers in the literary arts based on merit of work, career achievement, career potential, and service to the state. The award recognizes artistic excellence, professional commitment, and maturity. It is intended to contribute to the further development of the literary artist and the advancement of his or her professional career. Applicants are encouraged to be as specific as possible about the proposed use of fellowship funds. Applications must be submitted electronically via eGRANT by 4:45 p.m. March 3, 2014.
APPLY HERE…
http://www.arts.alabama.gov/grants/egrant.aspx
***
Call for Submissions: AWC 2014 Contest
Submissions are now open for the Alabama Writers Conclave (AWC) 2014 competition. Awards of $100, $75, $50, and $25 will be awarded for first through fourth places in the following categories (maximum word count is listed for each category): First Novel Chapters (1,500 wds.); Short Story (1,500 wds.); Flash Fiction (500 wds); Juvenile Fiction (1,500 wds); Creative Nonfiction (1,500 wds); Poetry (1,000 wds. may include more than one poem, but total word count may not exceed 1,000 wds.) Deadline: April 30, 2014; entry fee per category— $5 for AWC members, $8 for nonmembers.
COMPLETE GUIDELINES…
http://www.alabamawritersconclave.org/pdf/2014_guidelines.pdf
***
Pres. Obama nominates new NEA chairman
President Barak Obama has nominated Dr. Jane Chu to lead the National Endowment for the Arts (NEA).
"Jane's lifelong passion for the arts and her background in philanthropy have made her a powerful advocate for artists and arts education in Kansas City," said Pres. Obama. "She knows firsthand how art can open minds, transform lives, and revitalize communities, and [she] believes deeply in the importance of the arts to our national culture. I'm proud to nominate her as chairman of the National Endowment for the Arts."
READ MORE…
http://www.writersforum.org/news_and_reviews/newsroom.html/article/2014/02/14/pres-obama-nominates-new-nea-chairman
***
Associates News
Roger Bull is running a sale of his e-books from February 21-May 4.
http://www.amazon.com/Roger-C.-Bull/e/B008MJUMSG/ref=sr_ntt_srch_lnk_1?qid=1392854318&sr=8-1
Cathi Gunter has written a stage adaptation of Ted Dunagan's YA novel, A Yellow Watermelon. The play will premiere for the public on March 8 at 7 p.m.—for one night only—at the old Coffeeville High School Auditorium.
http://www.newsouthbooks.com/pages/2014/02/20/play-based-on-award-winning-ya-novel-a-yellow-watermelon-to-premiere/
The Shoe Burning: Stories of Southern Soul contains stories by many Forum friends, including Marlin Barton, Joe Formichella (ed.), Jennifer Horne, Suzanne Hudson, Michael Knight, Wendy Reed, George Singleton, and others.
http://www.riversedgemedia.com/the-shoe-burnin.html
Kathleen Thompson has written an insightful eulogy for Helen Norris.
http://www.writersforum.org/news_and_reviews/blogs/blog-archive.html/article/2014/02/07/remembering-helen-norris-bell-june-22-1916-november-18-2013-
***
Visit our Opportunities page
Our Opportunities page keeps you informed on publishers and organizations who want your work. Here you'll find Calls for Submission and Writing Contests. The page also includes links to Writers Groups, Writing Workshops, and National Conferences—excellent places to network.
OPPORTUNITY KNOCKS…
http://www.writersforum.org/opportunities/
***
Upcoming Literary Events
Attract a larger audience for your literary events with the Forum's Events calendar. Some 2200 book lovers receive Literary News each month, and a number of these readers check our calendar for literary events in their areas and beyond.
MORE LITERARY EVENTS…
http://www.writersforum.org/events/
***
Hear interviews with Alabama's literati on Alabama Arts Radio
Each week on the Alabama Arts Radio Series, staff members of the Alabama State Council on the Arts visit with writers, musicians, visual artists, and other individuals who contribute to our state's rich artistic traditions. Recent literary interviews include Joseph D. Trimble, Xan Morrow, and Frank "Doc" Adams and Burgin Mathews.
Listen Sundays 5-5:30 p.m. on WTSU 89.9 (Montgomery-Troy), WRWA 88.7 (Dothan), and WTJB 91.7 (Columbus-Phenix City). Those farther south may listen Saturdays, 2:30-3 p.m., on WHIL 91.3 (Mobile-Biloxi-Pensacola). Broadcasts are also streamed live and archived on the Web.
LISTEN HERE…
http://www.arts.state.al.us/radioseries.aspx (New site)
***
Support the Arts supports the Forum
Proceeds from the sale of the Alabama Support the Arts license plate help fund arts education programs. The next time your car tag needs renewal, purchase one of these colorful plates to help support the Forum and other arts education projects.
SUPPORT THE ARTS…
http://www.arts.state.al.us/licensetag.aspx (NEW)
***
Friend the Forum on Facebook and follow on Twitter
For late-breaking news, follow us on Twitter @ writersforum and friend us on Facebook @ Alabama Writers' Forum Friends.
***
The Alabama Writers' Forum
The Alabama Writers' Forum, a partnership program of the Alabama State Council on the Arts, promotes writers and writing in Alabama, with an emphasis on arts education programs for young writers.
***
The Alabama Writers' Forum
P.O. Box 4777
Montgomery, AL 36103-4777
334-265-7728
Toll Free: 866-901-1117
Fax: 334-262-2150
writersforum@bellsouth.net
www.writersforum.org
© 2014 The Alabama Writers' Forum, Inc.