Fall 2014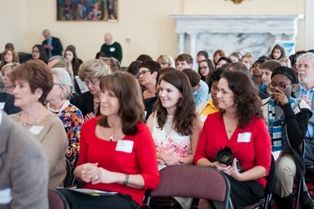 HSLAA 2015 deadline announced
The Alabama Writers' Forum invites Alabama high school students to submit their work for the 2015 High School Literary Arts Awards and Scholarship Competition (HSLAA). The competition is open to Alabama high school students in grades 9-12 in public, private, and home schools. Categories include poetry, short fiction, drama, creative nonfiction, portfolios, and literary magazines. Cash awards are available to high school seniors through the senior portfolio competition. New this year, senior portfolio applications will be submitted online. The Awards postmark deadline date is January 12, 2015.
Photo: The 2014 audience awaits the roll call of HSLAA winners. (Terry Bruno-fotowerks)
COMPLETE GUIDELINES…
http://www.writersforum.org/programs/competition.html
***
Newly-established Alabama Writers Hall of Fame to induct twelve authors
The Alabama Writers' Forum and the Alabama Center for the Book have announced the first class of inductees into Alabama Writers Hall of Fame. The twelve Alabama authors will be inducted during a gala dinner at the Bryant Conference Center in Tuscaloosa on June 8, 2015. Tickets will go on sale in January.
ALABAMA WRITERS HALL OF FAME…
http://www.writersforum.org/news_and_reviews/newsroom.html/article/2014/12/11/newly-established-alabama-writers-hall-of-fame-to-induct-12-authors
***
Alabama literary arts. Made in Alabama. For the World.
Please consider the Alabama Writers' Forum as you make year-end donations to nonprofit organizations. The Forum's work with young people through the Writing Our Stories programs makes our state a better place for all as we teach young people the gift of creative writing and positive critical thinking. Donate online at one of our giving levels or the amount you choose. Your donation may be made in honor of a friend as a holiday gift. For further information, contact 334- 265-7728.
DONATE TODAY…
http://www.razoo.com/story/Alabama-Writers-Forum
***
Poet Stephen Bray challenges Mt. Meigs students
"'Adversity introduces a man to himself,'" said poet and educator Stephen Bray, addressing the assembled students, guests, faculty, and staff in the Chapel on the Department of Youth Services Mt. Meigs Campus on October 23 for the seventeenth annual Writing Our Stories anthology release. "Many people argue that Albert Einstein said that; others say differently. The fact is that it really doesn't matter who said it. Every man and woman who's faced some type of adversity in their lives knows this statement to be true."
STEPHEN BRAY AT MOUNT MEIGS…
http://www.writersforum.org/news_and_reviews/newsroom.html/article/2014/10/28/poet-to-students-write-through-adversity
***
ASCA Fellowship winner Jason McCall encourages young writers
"This is important work," said Jason McCall, leafing through his copy of The Long Road Home. "The message I wanted to bring you today is 'Keep your head up.' We hear this expression when we're in a bad situation. What people are really saying is to be proud of [the outcome of] that situation. No matter what happened, be proud of yourself."
JASON MCCALL AT VACCA…
http://www.writersforum.org/news_and_reviews/newsroom.html/article/2014/11/01/asca-fellowship-winner-encourages-young-writers
***
Southern Humanities Review
Published quarterly since 1967
advertisement
http://www.southernhumanitiesreview.com/
***
ASPS meets, holds workshops, elects officers
The Alabama State Poetry Society (ASPS) held its Fall Meeting on October 24-25 on the campus of the University of Montevallo (UM). The weekend's activities included workshops, poetry readings, contest awards, games, networking, food, and fun. ASPS also installed its new officers for 2015-2016, and outgoing president Barry Marks received recognition for his past work with the group.
ASPS FALL MEETING…
http://www.writersforum.org/news_and_reviews/newsroom.html/article/2014/11/21/asps-meets-holds-workshops-elects-officers
***
Get your community on the same page! Big Read grants available
The Big Read is accepting applications from non-profit organizations to develop community-wide reading programs between September 2015 and June 2016. The Big Read is a national program designed to revitalize the role of literature in American culture and to encourage reading for pleasure and enrichment. Organizations selected to participate in The Big Read receive a grant, educational and promotional materials, and access to online training resources and opportunities. Approximately 75 organizations from across the country will be selected. Funding ranges from $2,500 to $20,000. Application deadline is January 28, 2015 by 4 pm CST.
GUIDELINES AND APPLICATION INSTRUCTIONS…
http://www.neabigread.org/application_process.php
***
Nine Alabama organizations receive NEA grants
Nine Alabama arts & culture organizations have received grants from the National Endowment for the Arts (NEA) totaling $160,000. These organizations include the Alabama Dance Council, Magic City Smooth Jazz, Space One Eleven, Studio (Centreville), Marshall County Retired Senior Volunteer Program, Centre for the Living Arts, Alabama Shakespeare Festival, Montgomery Museum of Fine Arts Association, and Coleman Center for the Art.
NEA AWARDS…
http://arts.gov/news/2014/national-endowment-arts-awards-29-million-arts-projects
***
In Memoriam: Alice Lee
From AL.com, Nov. 18, 2014—Alice Lee, sister of To Kill a Mockingbird author Harper Lee and trailblazing Alabama lawyer, died on [Nov. 17, 2014] at the age of 103. As Harper Lee's attorney, Alice Lee was well-known as the gatekeeper for her reclusive sister. She was also celebrated as a trailblazer, one of the few women who practiced law in Alabama before World War II, and a church leader.
Historian Wayne Flynt eulogized Ms. Lee on November 28 in AL.com.
ALICE LEE…
http://www.al.com/news/mobile/index.ssf/2014/11/alice_lee_sister_of_to_kill_a.html
***
In Memoriam: Elise Ayers Sanguinetti
Writing in the Anniston Star, Bill Edwards said, "She inhaled the life of the South through the people she observed and breathed it back out as poignant prose. Along the way, Elise Ayers Sanguinetti charmed guests, friends, and fellow writers with her love for the art."
ELISE AYERS SANGUINETTI…
http://www.annistonstar.com/news/article_c46bc70e-6e91-11e4-9534-cf4791761d71.html
***
Associates News
Douglas Ray was named poet laureate of the recent Alabama Launchpad conference. Irene Latham and Jennifer Horne were runners-up.
http://alabamalaunchpad.com/sbir/
Recent Auburn graduate Gabby Bates had an elegy for Robin Williams selected by Rattle in its weekly Poets Respond competition.
http://www.rattle.com/poetry/of-the-lamp-by-gabrielle-bates/
John Bush's book Patriots and Rebels was a finalist in the EPIC eBook Awards in Historical Fiction.
http://www.writersforum.org/resources/authors/listing/john_c_bush_fiction.html
AWF intern Mary Katherine Calderini was named Senior Elite in English at the University of Montevallo.
http://www.writersforum.org/news_and_reviews/blogs/blog-archive.html/article/2014/12/04/and-so-i-come-to-the-end-at-the-beginning-again
Capitol Book & News was nominated in the Small Business category for the 2014 Montgomery Area Business Committee for the Arts Awards.
Gregg Swem covered the UA Gorgas Library literary exhibit, Wade Hall's Library: The Poetry of History, for the Union Springs Herald.
http://www.unionspringsherald.com/news/article_31ee9118-741d-11e4-80c9-db5044ea4159.html
UA Press has issued a 25th Anniversary Edition of Marianne Moates Weber's book, Truman Capote's Southern Years.
http://www.uapress.ua.edu/Catalog/ProductSearch.aspx?search=Truman+Capote%27%27s+Southern+Years
***
Deck the halls with books by Alabama writers
Stuck on what new books to give this holiday season? Book Reviews Online can help. Last-minute shoppers may browse the page to see what their favorite Alabama authors are publishing this holiday season. Recent reviews include poetry by Jim Murphy, fiction by Jennifer Horne, and memoir by Mike Mahan with Norman McMillan. Scheduled reviews include poetry by Hank Lazer, fiction by Suzanne Hudson, and biography by Rick Bragg.
BOOK REVIEWS ONLINE…
http://www.writersforum.org/news_and_reviews/book_reviews.html
***
Visit our Opportunities page
Our Opportunities page keeps you informed on publishers and organizations who want your work. Here you'll find Calls for Submission and Writing Contests. The page also includes links to Writers Groups, Writing Workshops, and National Conferences—excellent places to network.
OPPORTUNITY KNOCKS…
http://www.writersforum.org/opportunities/
***
Upcoming Literary Events
Attract a larger audience for your literary events with the Forum's Events calendar. Some 2200 book lovers receive Literary News each month, and a number of these readers check our calendar for literary events in their areas and beyond.
MORE READINGS, SIGNINGS, & BOOKMARK…
http://www.writersforum.org/events/
***
Hear interviews with Alabama's literati on Alabama Arts Radio
Each week on the Alabama Arts Radio Series, staff members of the Alabama State Council on the Arts visit with writers, musicians, visual artists, and other individuals who contribute to our state's rich artistic traditions. Recent literary interviews include Brooke Bullman, Ted Rosengarten, and Randall Horton.
Listen Sundays 5-5:30 p.m. on WTSU 89.9 (Montgomery-Troy), WRWA 88.7 (Dothan), and WTJB 91.7 (Columbus-Phenix City). Those farther south may listen Saturdays, 2:30-3 p.m., on WHIL 91.3 (Mobile-Biloxi-Pensacola). Broadcasts are also streamed live and archived on the Web.
LISTEN HERE…
http://www.arts.state.al.us/radioseries.aspx
***
Support the Arts supports the Forum
Proceeds from the sale of the Alabama Support the Arts license plate help fund arts education programs. The next time your car tag needs renewal, purchase one of these colorful plates to help support the Forum and other arts education projects.
SUPPORT THE ARTS…
http://www.arts.state.al.us/licensetag.aspx
***
Friend the Forum on Facebook and follow on Twitter
For late-breaking news, follow us on Twitter @ writersforum and friend us on Facebook @ Alabama Writers' Forum Friends.
http://www.facebook.com/home.php#!/home.php?sk=group_95957334400
***
The Alabama Writers' Forum
The Alabama Writers' Forum, a partnership program of the Alabama State Council on the Arts, promotes writers and writing in Alabama, with an emphasis on arts education programs for young writers.
Link:
http://www.razoo.com/story/Alabama-Writers-Forum
***
The Alabama Writers' Forum
P.O. Box 4777
Montgomery, AL 36103-4777
334-265-7728
Toll Free: 866-901-1117
Fax: 334-262-2150
writersforum@bellsouth.net
www.writersforum.org
© 2014 The Alabama Writers' Forum, Inc.