December 2012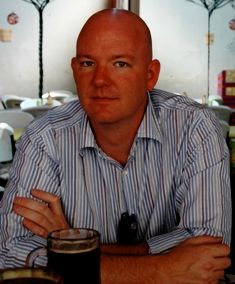 In memorium—Jake Adam York, 1972-2012
Poet and former Gadsden resident Jake Adam York, 40, passed away on December 16 in a Denver hospital after suffering a stroke. The author of three volumes of poetry and a literary history, he was an associate professor of English and creative writing at the University of Colorado Denver. In 2011-2012, York was the Visiting Faculty Scholar at Emory University's James Weldon Johnson Institute for the Study of Race and Difference, and he recently received a Creative Writing Fellowship from the National Endowment for the Arts (see following story).
A memorial service will take place on Saturday, December 22, at 11:00 a.m. at the Episcopal Church of the Holy Comforter, 156 S. 9th Street, Gadsden, AL 35901-3646. A reception will follow. In lieu of flowers, please send donations to the Jake Adam York Memorial Fund at Holy Comforter.
Photo: Jake Adam York (photo by Sarah Skeen)
Jake Adam York…
***
Elizabeth Hughey, Jake Adam York named NEA Creative Writing Fellows
The National Endowment for the Arts (NEA) recently announced the recipients of the 2013 Creative Writing Fellowships. Elizabeth Hughey of Birmingham and Jake Adam York, a Gadsden native, were among the forty writers honored. The annual grants, given in alternating genres, were awarded this year to poets.
The NEA received 1,137 eligible fellowship applications this year, which were narrowed down to 110 finalists by a panel of twenty-two professionals from the literary field. Final selections are made each year by the chairman of the NEA. The application deadline for 2013 translation fellowships is January 3; the 2014 creative writing fellowships, whose deadline has not yet been set, will be given in fiction and creative nonfiction. For more information, visit the NEA website.
READ MORE…
http://www.writersforum.org/news_and_reviews/newsroom.html/article/2012/12/07/elizabeth-hughey-jake-adam-york-named-nea-creative-writing-fellows
***
What do you want out of life?
http://spalding.edu/academics/mfa/
advertisement
http://www.writersforum.org/support/advertise_with_us.html
***
APAEP receives NEA grant
The Alabama Prison Arts + Education Project (APAEP) recently received its sixth grant from the National Endowment for the Arts (NEA) to support visual arts classes. The $50,000 grant will support Alabama artists who teach in correctional facilities and a pilot project in the visual arts.
"The continued support from the NEA allows the Alabama Prison Arts + Education Project to support engaged artists to teach visual arts within a population who profoundly benefits from the experience," said poet Kyes Stevens, director of the program.
APAEP students of all skill levels attend visual arts classes, with much of their work displayed in APAEP's traveling art exhibit, Art on the Inside. Programming for APAED depends on grant funding and the strong partnership between Auburn University and the Alabama Department of Corrections.
APAEP students at work. (photo courtesy of APAEP)
APAEP…
http://www.cla.auburn.edu/apaep/index.cfm
***
Associates' News
Karen Bonvillain Bull recently published Keys, Clef & Redemption, the third book in her Crescent City Crime series.
http://www.amazon.com/Karen-Bonvillain-Bull/e/B008TYURCK
Year of the Pig author Mark Hainds and Roger Reid, author of Longleaf and director of the APT series Discovering Alabama, have been traveling the state discussing longleaf pine forest ecosystems in classrooms at various schools.
http://www.goodreads.com/author/show/4970011.Mark_J_Hainds
Carolyn Haines's most recent Sarah Booth Delaney mystery, Bonefire of the Vanities, has been selected as one of the best books of 2012 by Suspense Magazine! Bones of a Feather received the honor in 2011.
Thomas Perez's new satire, Don't Frack with Society Shell, will premiere on January 10 at the Mobile Theatre Guild. Reserve tickets at 251-433-7513.
http://www.facebook.com/pages/South-of-the-Salt-Line-Theatre/472035326161345
Anne Whitehouse has recently had poems published in Boston Literary Magazine, Vermont Literary Review, Jerseyworks, and Vine Leaves Literary Journal. Her poetry collection, The Refrain, is now available for purchase from Dos Madres Press.
http://www.annewhitehouse.com/
http://www.writersforum.org/resources/authors/
Contemporary Alabama Authors Directory…
http://www.writersforum.org/resources/authors/
***
Deck the halls with books by Alabama writers
Stuck on what new books to give this holiday season? Book Reviews Online and New Releases can help. Last-minute shoppers may browse the page to see what your favorite Alabama authors are publishing this holiday season.
BOOK REVIEWS ONLINE…
http://www.writersforum.org/news_and_reviews/book_reviews.html
***
Visit our Opportunities page
Our Opportunities page keeps you informed on publishers and organizations who want your work. Here you'll find Calls for Submission and Writing Contests. The page also includes links to Writers Groups, Writing Workshops, and National Conferences—excellent places to network and to meet fellow writers.
OPPORTUNITY KNOCKS…
http://www.writersforum.org/opportunities/
***
Upcoming Literary Events
Do you need to attract a larger audience than those people on your e-mail list? Post your literary function on the Forum's Events calendar. Some 1500 book lovers receive Literary News each month, and a number of these readers check our calendar for literary events in their areas and beyond.
MORE READINGS, SIGNINGS, & BOOKMARK…
http://www.writersforum.org/events/
***
Alabama Arts Radio brings you outstanding interviews with your favorite authors
Each week on the Alabama Arts Radio Series, staff members of the Alabama State Council on the Arts visit with writers, musicians, visual artists, and other individuals who contribute to our state's rich artistic traditions. Recent literary interviews include Rick Bragg, Virginia Gilbert, & Sonia Sanchez.
Listen Sundays 5-5:30 p.m. on WTSU 89.9 (Montgomery-Troy), WRWA 88.7 (Dothan), and WTJB 91.7 (Columbus-Phenix City). Those farther south may listen Saturdays, 2:30-3 p.m., on WHIL 91.3 (Mobile-Biloxi-Pensacola). Broadcasts are also streamed live and archived on the Web.
LISTEN HERE…
http://www.writersforum.org/podcasts/radio.html
***
Support the Arts, Support the Forum
Proceeds from the sale of the Alabama Support the Arts license plate help fund arts education programs. The next time your car tag needs renewal, purchase one of these colorful plates to help support the Forum and other arts education projects.
LEARN MORE…
http://www.arts.state.al.us/news/index-news.html#"Support the Arts" License Tag
***
Friend the Forum on Facebook and follow on Twitter
For late-breaking news, follow us on Twitter @ writersforum and friend us on Facebook @ Alabama Writers' Forum Friends.
***
The Alabama Writers' Forum
The Alabama Writers' Forum, a partnership program of the Alabama State Council on the Arts, promotes writers and writing in Alabama, with an emphasis on arts education programs for young writers.
Links:
***
The Alabama Writers' Forum
P.O. Box 4777
Montgomery, AL 36103-4777
334-265-7728
Toll Free: 866-901-1117
Fax: 334-265-7828
writersforum@bellsouth.net
www.writersforum.org
© 2012 The Alabama Writers' Forum, Inc.