August 2015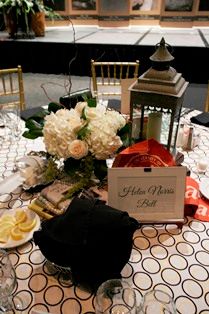 The Luster of Pearls: The Alabama Writers Hall of Fame Gala
Feature writer Edward Reynolds takes readers inside the Alabama Writers Hall of Fame Gala Dinner.
The Writers Hall of Fame ceremony was a world-class extravaganza. Many of the dining tables represented an inductee, replete with silver inkwells and feather quills, complemented by books and ornamental displays that heralded the spirit of each inductee's written work. The necklace of pearls draping across Helen Norris Bell's books glimmered in the candlelight on her table. The table settings for inductees led to the stage, set with oversized posters of each inductee. Printed programs at each seat provided a condensed biography and photo of the authors.
READ THE COMPLETE ARTICLE…
http://www.writersforum.org/news_and_reviews/blogs/blog-archive.html/article/2015/07/15/the-luster-of-pearls-alabama-writers-hall-of-fame-inducts-twelve
Photo: Helen Norris Bell table (Elizabeth Limbaugh)
***
ASCA announces $172,000 in Fellowships and Cultural Facilities Grants
At its June meeting in Montgomery, the Alabama State Council on the Arts (ASCA) awarded fourteen fellowship grants including one arts administration fellowship totaling $70,000 and five Arts and Cultural Facilities grants totaling $102,000 for a grand total of $172,000. Fellowship grants are awarded to individual artists and are based on merit of work, career achievement, professional development, and service to the state. The next deadline for the submission of Fellowship and Arts and Cultural Facilities applications is March 1, 2016.
Keetjie Kuipers and Jesseca Cornelson received Literary Fellowships. Kuipers is an assistant professor of English at Auburn University's Creative Writing Program where she has organized a number of public poetry projects and readings including: #BlackPoetsSpeak Out, the Poetry Month Reading Series, Aubie's Poem-of-the-Day, and the Third Thursday Poetry Series at the Jule Collins Smith Museum.
Cornelson is an assistant professor of English at Alabama State University. Her poems, which have been published in national and regional literary journals, have been called "compelling," "articulate," and "memorable in their phrasing and impact."
COMPLETE LIST OF FELLOWSHIP RECIPIENTS…
http://www.arts.state.al.us/news_detail.aspx?ID=9700
***
Seven Alabamians honored at the Celebration of the Arts
The Alabama State Council on the Arts (ASCA) honored seven outstanding Alabamians at the Celebration of the Arts awards ceremony on May 20 at the Alabama Shakespeare Festival. The Council's program shines a spotlight on the arts in Alabama and individuals who have made important contributions to our state's rich cultural landscape. Al Head, ASCA Executive Director, said, "These individuals represent the scope and breadth of artistic diversity, talent, leadership and generosity that is an integral part of the cultural landscape of Alabama."
This year's recipients are Winston Groom, Mobile/Point Clear—Governor's Arts Award; Theresa Harper Bruno, Birmingham—Jonnie Dee Riley Little Lifetime Achievement Award; Dr. Everett McCorvey, Montgomery/Lexington, KY—Alabama's Distinguished Artist Award; Rick Hall, Florence/Muscle Shoals—Governor's Arts Award; Mack Gibson, Troy—Governor's Arts Award; Herb Trotman, Birmingham—The Alabama Folk Heritage Award; and Jim Hudson, Huntsville—The Special Council Legacy Award.
In offering his congratulations to this year's recipients Governor Robert Bentley noted, "The arts make our state a better place to live for all citizens. They play an important role in our economic development efforts, in our enhancement of education both for in-school students and in the process of life-long learning, in stimulating community revitalization, and in efforts to promote cultural tourism."
Celebration of the Arts Awards…
http://www.arts.state.al.us/news_detail.aspx?ID=9611
Links:
http://www.montgomeryadvertiser.com/story/life/2015/06/07/ceremony-spotlights-alabamas-rich-arts-culture/28578201/
***
New from Judge Janice Law
advertisement
***
Hank Lazer receives 2015 Harper Lee Award
Poet Hank Lazer of Tuscaloosa received the Harper Lee Award for Alabama's Distinguished Writer of the Year for 2015 at the Alabama Writers Symposium on April 24. The award is made to a living, nationally recognized Alabama writer who has made a significant, lifelong contribution to Alabama letters.
"When I received the phone call telling me that I had been named the recipient of the 2015 Harper Lee Award, I was stunned, shocked, and very pleased," said Lazer. "Honestly, it was difficult for me to believe this good news. Local and regional recognition for my writing has been scarce, and this prestigious award is to be cherished because it represents acceptance and honor bestowed by my home state."
In his acceptance speech, Lazer acknowledged his special appreciation for recognition as an experimental poet. "I think also that I am perhaps the first avant-garde writer to receive this award," he said. "Experimentalism itself constitutes a kind of diversity. It's a different way of expressing oneself, it's a different engagement with language and it too provides a test of and a challenge to one's ability to accept what is different."
HANK LAZER…
http://www.writersforum.org/news_and_reviews/newsroom.html/article/2015/02/19/poet-hank-lazer-chosen-as-2015-harper-lee-award-recipient
***
Trudier Harris named University Distinguished Research Professor at UA
Forum Board member Dr. Trudier Harris, professor of English at The University of Alabama, was named a University Distinguished Research Professor by the UA Board of Trustees. This designation recognizes UA faculty members who have achieved international accomplishments in their field and have been given extensive peer recognition for their scholarly contributions and noteworthy academic service.
An Alabama native, Harris is one of the nation's top scholars in African-American and Southern literature and cultural theory. To date, Harris has ten single authored, original monographs; five edited books; nine co-edited works; and nearly 100 articles and essays in journals or books.
TRUDIER HARRIS…
http://uanews.ua.edu/2015/04/harris-named-university-distinguished-research-professor-at-ua/
***
New from The Ardent Writer Press
advertisement (Hotel Monte Sano)
http://www.ardentwriterpress.com/ardent-writer-authors/charles-farley/
***
Alabama celebrates Go Set a Watchman
On July 14, people from around the Birmingham metro area gathered at two locations to celebrate the release of Harper Lee's novel, Go Set a Watchman. At Alabama Booksmith in Homewood, owner Jake Reiss set up a display table that included stacks of Go Set a Watchman and To Kill a Mockingbird alongside prints representing scenes and themes from Lee's two books by the artist Nall. Customers browsed and bought, the store never emptying as people came and went.
People of all ages mingled, nibbled on heavy hors d'oeuvres, and listened to the blues of Gip Gipson inside Iron City on Birmingham's Southside on July 14 for The Second Chapter, a celebration for the release of Lee's novel. Books-a-Million and the Alabama Media Group, cosponsors of the event, received 400 reservations prior to the evening and accepted non-ticketed walk-ups as they arrived. A panel discussion followed the reception.
"This is the biggest literary event in Alabama in a very long time," said David Magee, director of news for the Alabama Media Group. "Book sales have been extremely dense."
The Next Chapter also held events in Huntsville and Mobile. Monroeville, Lee's hometown, held a day-long celebration of its most popular resident.
GO SET A WATCHMAN…
http://www.writersforum.org/news_and_reviews/review_archives.html/article/2015/07/28/go-set-a-watchman
Links:
http://www.writersforum.org/news_and_reviews/newsroom.html/article/2015/07/20/alabama-booksmith-celebrates-harper-lee-with-literature-and-art
http://www.writersforum.org/news_and_reviews/newsroom.html/article/2015/07/20/the-next-chapter-brings-hundreds-to-birmingham-s-southside
http://marketing.acsalhosting.com/watchman/
http://wiat.com/2015/07/14/harper-lee-fans-gather-in-monroeville-for-go-set-a-watchman-release/
***
Rocket City Lit Fest to bring bestselling authors to Huntsville
The Rocket City Lit Fest, coming to the Von Braun Center South Hall on October 10-11, is billed as North Alabama's first large-scale literary festival, and its organizers are promising fun for the whole family. This entirely indoor festival has a dual mission: to celebrate storytelling in all forms with bestselling and popular authors and to help make reading accessible to all with programs targeting the removal of barriers to reading such as poverty, learning disabilities, and language. Homer Hickam and Jenny Lawson will headline the event.
ROCKET CITY LIT FEST…
http://www.rocketcitylitfest.com/
***
Auburn Writers Conference to celebrate Literary Harvests: Creativity and Sustainability
At the 6th annual gathering of writers and readers, the Auburn Writers Conference will celebrate Literary Harvests: Creativity and Sustainability. With poets Jennifer Chang and Martha Serpas, nonfiction writers David Gessner and Janisse Ray, fiction writer Michael Martone, and many other award-winning authors, the conference will rediscover that enduring intersection of words and the dirt they grow from. The conference is scheduled for October 16-17, 2015 at the Auburn University Student Center.
THE AUBURN WRITERS CONFERENCE…
***
New from The Ardent Writer Press
advertisement (Tales of the 319th)
http://www.ardentwriterpress.com/tales-319th-joseph-w-connaughton-published/
***
Associates News
HudsonAlpha Institute for Biotechnology has announced the appointment of former AWF Board member Lynne Berry as the new Director for Advancement. Berry has served the Institute since December 2013 as Director of External Relations.
http://hudsonalpha.org/press-releases/huntsville-native-direct-hudsonalpha-fundraising-efforts
Ramey Channell's almost-all-true novel, Sweet Music on Moonlight Ridge, has gone into a second printing.
http://www.writersforum.org/news_and_reviews/review_archives.html/article/2010/11/05/sweet-music-on-moonlight-ridge
Foster Dickson was recently awarded one of nine Community Legacy Project grants.
http://myemail.constantcontact.com/Community-Legacy-Project-Announcement-.html?soid=1102312320879&aid=JibK7_4JH3k
Forum Board member Steve Gierhart published a feature story, "The Bootleg Wars," in the May 2015 issue of Old Huntsville Magazine.
http://www.ardentwriterpress.com/wp-content/uploads/2015/06/267-Bootleg-Wars-Reduced-Size.pdf
Janice Law's biography, American Evita: Lurleen Wallace, has been accepted into the physical and online collection of the Library of Congress after review by an LOC curator.
http://www.writersforum.org/news_and_reviews/review_archives.html/article/2015/06/10/american-evita
Bryan Stevenson's Just Mercy: A Story of Justice and Redemption has won a NAIBA Book of the Year Award.
http://www.naiba.com/?page=BooksoftheYear
Forum Executive Director Jeanie Thompson was recently honored as a Woman in Business by inMontgomery Media Group.
http://in-montgomery.com/category/business/
***
See what's new in Alabama literature
This month's Reviews Online features fiction by Harper Lee, poetry by Andrew Glaze, baseball history by William J. Plott, and more. AWF Reviews Online features books by Alabama writers and publishers or books about our state.
BOOK REVIEWS ONLINE…
http://www.writersforum.org/news_and_reviews/book_reviews.html
***
Hear interviews with Alabama's literati on Alabama Arts Radio
Each week on the Alabama Arts Radio Series, staff members of the Alabama State Council on the Arts visit with writers, musicians, visual artists, and other individuals who contribute to our state's rich artistic traditions. Recent literary interviews include William Cobb, Kyes Stevens, and Bryn Chancellor.
Listen Sundays 5-5:30 p.m. on WTSU 89.9 (Montgomery-Troy), WRWA 88.7 (Dothan), and WTJB 91.7 (Columbus-Phenix City). Those farther south may listen Saturdays, 2:30-3 p.m., on WHIL 91.3 (Mobile-Biloxi-Pensacola). Broadcasts are also streamed live and archived on the Web.
LISTEN HERE…
http://www.arts.state.al.us/radioseries.aspx
***
Support the Arts supports the Forum
Proceeds from the sale of the Alabama Support the Arts license plate help fund arts education programs. The next time your car tag needs renewal, purchase one of these colorful plates to help support the Forum and other arts education projects.
SUPPORT THE ARTS…
http://www.arts.state.al.us/licensetag.aspx
***
Friend the Forum on Facebook and follow on Twitter
For late-breaking news, follow us on Twitter @ writersforum and friend us on Facebook @ Alabama Writers' Forum Friends.
***
The Alabama Writers' Forum
The Alabama Writers' Forum, a partnership program of the Alabama State Council on the Arts, promotes writers and writing in Alabama, with an emphasis on arts education programs for young writers.
Links
http://www.writersforum.org/support/
***
The Alabama Writers' Forum
P.O. Box 4777
Montgomery, AL 36103-4777
334-265-7728
Toll Free: 866-901-1117
Fax: 334-262-2150
writersforum@bellsouth.net
www.writersforum.org
© 2015 The Alabama Writers' Forum, Inc.