August 2013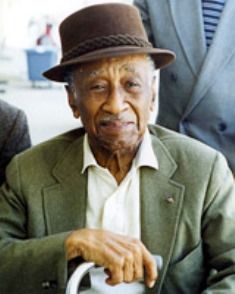 In Memoriam: Albert Murray, May 12, 1916-August 18, 2013
Noted writer and Nokomis, Alabama, native, Albert Murray, 97, died Sunday, August 18, 2013, at his home in New York. Recipient of the inaugural Harper Lee Award for Alabama's Distinguished Writer of the Year in 1998, Murray earned his reputation writing about social justice, particularly in the South. An authority on the blues and jazz, Murray often incorporates the cadence of the music into his writing.
"The passing of Albert Murray, a native son of Alabama, marks the end of a life that produced an abundance of written and oral perspective regarding the cultural landscape of America that will become increasingly significant over time," said Al Head, executive director of the Alabama State Council on the Arts (ASCA). "Murray, an internationally respected scholar, author, and story-teller reflective of his southern roots, ranks in the upper tier of luminaries from Alabama. While living the majority of his life in Harlem among his artist friends and the ever present sound of the jazz he loved, Murray always fondly remembered Alabama as home and return visits were special occasions for him, family, and old friends."
Albert Murray (photo by Jeanie Thompson)
ALBERT MURRAY…
http://www.writersforum.org/news_and_reviews/newsroom.html/article/2013/08/19/in-memoriam-albert-murray-may-12-1916-august-18-2013
***
ASFA ad
Public education with passion.
Advertisement
***
Birmingham's Michael Morris to join AWF board of directors
Michael Morris of Birmingham has accepted a position on the Forum's board of directors for fiscal years 2014-2016. The 2014 fiscal year begins October 1, 2013. FY 2014 will also mark the Forum's 20th Anniversary.
"Alabama has such a rich literary history, and I see the Alabama Writers' Forum as a way of bridging that legacy with new voices across our state," said Morris. "It's an honor to join the board. I look forward to spreading the word about the Forum not only with other writers but also with corporations and elected officials."
MICHAEL MORRIS…
http://www.writersforum.org/about/board.html/title/michael-morris-birmingham
***
From the Forum's President
Thank you for taking the time to read the Alabama Writers' Forum Literary News. We're honored to have you as a subscriber. I'd like to take just a moment and ask that if you receive the newsletter but aren't yet an AWF member that you consider joining. I'm entering my 12th year as a member, and I'm living proof of the benefits of membership. AWF has allowed me to network with peers in ways I wasn't able to before I signed up. That includes not only meeting great writers because I have a handy-dandy guide to all the literary goings-on in Alabama. It also means participating in readings and conferences through the AWF contacts I've made. I've had opportunities to publish reviews, participate in the Alabama Book Festival, organize literary events, and serve as a reader for scholarships. None of these things would have happened had I not written that first check so long ago.
More importantly than self-interest, however, I've also had the pleasure of supporting the literary arts in Alabama. I've been able to donate to the High School Literary Arts Awards, recognizing mentors and peers while rewarding deserving students. I've been able to offer my opinion regarding who receives the Harper Lee Award. Most importantly, I've had the distinct pleasure of learning through AWF's Writing Our Stories program how authorship empowers young people and changes lives. If I hadn't decided to join AWF a decade ago, I would be a far poorer man in terms of appreciating how the literary arts enrich our everyday lives.
So if you're not yet a member, please consider joining. You, too, can enjoy the excitement of watching the community of writers and readers thrive in Alabama.
Kirk Curnutt—President, Alabama Writers' Forum
JOIN TODAY…
http://www.writersforum.org/support/

***
Stupid Alabama Ad
New from The Ardent Writer Press.
Advertisement
http://www.ardentwriterpress.com/
***
AHF to honor Horton, Noble, & Books-A-Million
Alabama Humanities Foundation (AHF) Annual Awards Luncheon will feature an all-star cast October 7 at noon at Birmingham's The Club. Best-selling author and Harper Lee Award recipient Winston Groom will offer the keynote address. Renowned multi-instrumentalist Bobby Horton will receive the 2013 Alabama Humanities Award. AHF will also award Don Noble with the Wayne Greenhaw Service Award and Books-A-Million with the Charitable Organization Award.
To purchase tickets phone Paul Lawson at 205-558-3992. Please RSVP by September 30, 2013.
AHF ANNUAL AWARDS LUNCHEON…
http://www.writersforum.org/news_and_reviews/newsroom.html/article/2013/08/05/ahf-to-honor-horton-noble-books-a-million
***
Poets & Writers Selects Alabama for 2014 Maureen Egen Writers Exchange Award
Poets & Writers, the nation's largest nonprofit organization serving creative writers, invites Alabamian writers to apply for the 2014 Maureen Egen Writers Exchange Award. Deadline is December 1, 2013.
Each year, Poets & Writers invites poets and fiction writers from a selected state to apply for the award. This year, those who are residents of Alabama are eligible, provided that they have published no more than one full-length book in the genre in which they are applying. The judges for 2014 are Victor LaValle for fiction and Evie Shockley for poetry.
MAUREEN EGEN WRITERS EXCHANGE AWARD…
http://www.writersforum.org/news_and_reviews/newsroom.html/article/2013/08/06/poets-writers-selects-alabama-for-2014-maureen-egen-writers-exchange-award
***
Decatur Book Fest ad
The largest independent book festival in the country
Advertisement
http://www.decaturbookfestival.com/2013/index.php
***
Youth poets from Birmingham compete at Chicago poetry festival
A team of six Birmingham-area teens competed in the Brave New Voices International Youth Poetry Festival held August 7-11, 2013, in Chicago. #KnowDisclaimer is the first team to represent Alabama in the competition. The Birmingham team finished in the top twenty out of a total of fifty teams—rare for a first time team.
#KnowDisclaimer began when Birmingham Public Library Arts Literature and Sports Department Head Haruyo Miyagawa and John Paul Taylor, Founder and Executive Director of Real Life Poets, discussed ways to take an annual poetry competition, titled WORD UP!, to another level and decided to set their sights on Brave New Voices, a competition for youth poets in existence since 1998.
#KNOWDISCLAIMER…
http://bplolinenews.blogspot.com/2013/08/youth-poets-from-birmingham-prove.html?utm_source=feedburner&utm_medium=feed&utm_campaign=Feed%3A+BirminghamPublicLibrarysLatestNews+%28Birmingham+Public+Library%27s+Latest+News%29&from=feedblitz_38465_4633355
***
Havana Requiem Wins 2013 Harper Lee Prize for Legal Fiction
The 2013 Harper Lee Prize for Legal Fiction goes to Stanford law professor Paul Goldstein for his novel Havana Requiem. Not to be confused with the Harper Lee Award for Alabama's Distinguished Writer of the Year, selected by the Forum, The Legal Fiction Prize, sponsored by ABA Journal and the University of Alabama School of Law, is intended to recognize a work of fiction that "best exemplifies the role of lawyers in society."
The award jury included bestselling authors Michael Connelly (winner of the prize in 2012 for his murder thriller, The Fifth Witness, about the collapse of the U.S. mortgage industry) and Richard North Patterson; U.S. talk show host Katie Couric; Morris Dees, co-founder of the Southern Poverty Law Center, and Dr. Sharon Malone, a physician married to U.S. Attorney General Eric Holder.
2013 HARPER LEE PRIZE FOR LEGAL FICTION…
http://www.abajournal.com/news/article/paul_goldsteins_havana_requiem_wins_harper_lee_prize_for_legal_fiction/
***
Auburn Writers' Conference ad
Auburn Writers' Conference: OCTOBER 18-19, 2013
Advertisement
http://www.cla.auburn.edu/awc/
***
Associates' News
Emily Sheera Cutler's play, The Road Trip, recipient of the 2013 Judy Lee Award for Dramatic Writing at the University of Pennsylvania Creative Writing Program, will be staged April 4-5, 2014, at the Bruce Montgomery Theatre on campus. A multiple winner of various Alabama High School Literary Arts Awards, Cutler is a sophomore at Penn.
Dr. Valerie Gribben published an essay, "Take Two Photos and Call Me in the Morning," in the August 12 issue of The Wall Street Journal. Gribben also is a multiple winner of various Alabama High School Literary Arts Awards
http://online.wsj.com/article/SB10001424127887323477604579004723209295470.html?KEYWORDS=gribben#articleTabs%3Darticle
Lindsay Hodgens, AWF intern, tied for 2nd place in the Humanities Division of the 19th Annual SAEOPP McNair/SSS Scholars Research Conference with her paper "Wait, I'm Blonde, so I Have to Bottom?—Physical Representations of the Gender Binary in Yaoi Manga." Held recently in Atlanta, the conference explored the theme A Beacon of Hope for Scholars to Conduct and Promote Research.
http://www.uberlit.wordpress.com
Joshilyn Jackson's novel, gods in Alabama, was recently selected as one of the "25 Best Debuts of the 2000s" by First Fiction.
http://www.joshilynjackson.com/jj/splash/
http://www.bookpage.com/the-book-case/2013/08/06/first-fiction-the-25-best-debuts-of-the-2000s/
Filming wrapped in June on Blood and Circumstance, a movie based on a novel by Frank Turner Hollon.
http://www.imdb.com/name/nm2060468/
Publisher's Weekly recently interviewed John Mantooth about his new novel, The Year of the Storm. Deep South Magazine also named the book a top five end of summer read.
http://www.publishersweekly.com/pw/by-topic/authors/interviews/article/58467-pw-talks-with-john-mantooth-about-the-year-of-the-storm.html
***
Advertise with Us
Reach writers and readers at writersforum.org!
Digital ads in Literary News and writersforum.org help you reach a diverse literary audience of writers and readers. Our Advertise With Us feature is quick and easy. Place a low-cost ad for your publication or service with a few simple clicks.
Our special fall rates offer advertising values to fit all budgets.
For more information, contact Danny Gamble at gambledanny@bellsouth.net or the Forum toll free at 334-866-901-1117.
ADVERTISE WITH US …
http://www.writersforum.org/support/advertise_with_us.html
***
BWR AD
Alabama's literary journal.
advertisement
***
See what's new in Alabama literature
Summer is waning, and autumn will soon send us inside to light fires and kick back with a good read. See what's new from your favorite Alabama author in the Forum's Book Reviews Online.
RECENT BOOK REVIEWS…
http://www.writersforum.org/news_and_reviews/book_reviews.html
***
Visit our Opportunities page
Our Opportunities page keeps you informed on publishers and organizations who want your work. Here you'll find Calls for Submission and Writing Contests. The page also includes links to Writers Groups, Writing Workshops, and National Conferences—excellent places to network.
OPPORTUNITY KNOCKS…
http://www.writersforum.org/opportunities/
***
Upcoming Literary Events
Attract a larger audience for your literary events with the Forum's Events calendar. Some 2200 book lovers receive Literary News each month, and a number of these readers check our calendar for literary events in their areas and beyond.
MORE LITERARY EVENTS…
http://www.writersforum.org/events/
***
Hear interviews with Alabama's literati on Alabama Arts Radio
Each week on the Alabama Arts Radio Series, staff members of the Alabama State Council on the Arts visit with writers, musicians, visual artists, and other individuals who contribute to our state's rich artistic traditions. Recent literary interviews include Chantel Acevedo, Alan and Karen Jabbour, and Adam Vines.
Listen Sundays 5-5:30 p.m. on WTSU 89.9 (Montgomery-Troy), WRWA 88.7 (Dothan), and WTJB 91.7 (Columbus-Phenix City). Those farther south may listen Saturdays, 2:30-3 p.m., on WHIL 91.3 (Mobile-Biloxi-Pensacola). Broadcasts are also streamed live and archived on the Web.
LISTEN HERE…
http://www.writersforum.org/podcasts/radio.html
***
Support the Arts supports the Forum
Proceeds from the sale of the Alabama Support the Arts license plate help fund arts education programs. The next time your car tag needs renewal, purchase one of these colorful plates to help support the Forum and other arts education projects.
LEARN MORE…
http://www.arts.state.al.us/news/index-news.html#"Support the Arts" License Tag
***
Friend the Forum on Facebook and follow on Twitter
For late-breaking news, follow us on Twitter @ writersforum and friend us on Facebook @ Alabama Writers' Forum Friends.
http://www.facebook.com/home.php#!/home.php?sk=group_95957334400
***
The Alabama Writers' Forum
The Alabama Writers' Forum, a partnership program of the Alabama State Council on the Arts, promotes writers and writing in Alabama, with an emphasis on arts education programs for young writers.
***
The Alabama Writers' Forum
P.O. Box 4777
Montgomery, AL 36103-4777
334-265-7728
Toll Free: 866-901-1117
Fax: 334-262-2150
writersforum@bellsouth.net
www.writersforum.org
© 2013 The Alabama Writers' Forum, Inc.