August 2012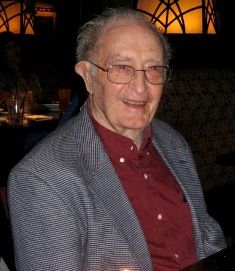 Andrew Glaze selected as next Poet Laureate of Alabama
Andrew Glaze was selected as the eleventh Poet Laureate of Alabama during the Alabama Writers' Conclave's annual meeting in Huntsville, July 20-22. Glaze will be officially appointed by Governor Robert Bentley during a ceremony in November. His four-year term will begin in 2013.
Glaze is the author of eight books of poetry, and he has published two collections of selected works. Glaze initially won critical acclaim with the publication of his first book, Damned Ugly Children: Poems (Trident Press, 1966). According to the Encyclopedia of Alabama, "Glaze has received Poetry magazine's Eunice Tietjens Award, and the American Library Association included his book Damned Ugly Children in its Notable Books List for 1966. Library Journal chose I Am the Jefferson County Courthouse as one of the best small press titles of 1981. He has won a National Hackney Award, and his selected poems, Someone Will Go On Owing, received the Best Book of the Year Award from the Southeastern Booksellers' Association in 1998. He was also the first recipient of the ABA Online Award the same year."
Photo of Andrew Glaze by Robert P. Glaze.
LEARN MORE…
http://www.writersforum.org/news_and_reviews/newsroom.html/article/2012/07/25/andrew-glaze-selected-as-next-poet-laureate-of-alabama-

***
Noted author Madison Jones dies
Award-winning author and longtime Auburn resident Madison Jones died on July 10. The recipient of the Harper Lee Award for Alabama's Distinguished Writer of the Year in 1999, Jones received many honors during his long career, including a Guggenheim Fellowship, the T.S. Elliot Prize for Fiction, and the Michael Shaara Prize for Excellence in Civil War Fiction. Among his novels, An Exile was made into the movie, I Walk the Line in 1970.
READ MORE…
http://www.writersforum.org/news_and_reviews/newsroom.html/article/2012/07/19/madison-jones-dies

***
Save the date for the 2012 Auburn Writers Conference
On October 12-13, 2012, the Auburn University College of Liberal Arts' Caroline Marshall Draughon Center for the Arts and Humanities and Department of English, in partnership with the College of Education's Truman Pierce Institute, will host the third annual Auburn Writers Conference.
"The Winding Road: Travel, Identity and the Search for Voice" invites writers and readers who hear the beckoning call of discovery and of new cultures, as well as those who believe that perhaps the greatest voyage is an exploration of the places we call home. The Auburn Writers Conference offers instruction, practice, perspective, and community for both established and emerging writers.
This year's conference will feature Judith Ortiz Cofer (The Latin Deli, Call Me Maria), Nick Taylor (Sins of the Father), R.A. Nelson (Days of Little Texas, Teach Me), and Myra McEntire (Hourglass), among others.
REGISTER TODAY…
http://www.cla.auburn.edu/awc/

***
Caroline Marshall Draughon ad
Promoting public engagement in the arts and humanities.
advertisement
http://www.cla.auburn.edu/cah/

***
Upcoming Literary Events
Do you need to attract a larger audience than those people on your e-mail list? Post your literary function on the Forum's Events calendar. Some 1500 book lovers receive Literary News each month, and a number of these readers check our calendar for literary events in their areas and beyond.
MORE READINGS, SIGNINGS, & BOOKMARK…
http://www.writersforum.org/events/

***
Alabama Arts Radio brings you outstanding interviews with your favorite authors
Each week on the Alabama Arts Radio Series, staff members of the Alabama State Council on the Arts visit with writers, musicians, visual artists, and other individuals who contribute to our state's rich artistic traditions. Recent literary interviews include Patricia White, Joey Brackner, and 2012 Alabama Poetry Outloud winners Peggy Payne, Doris-Anne Darbouze, & Bonnie Chen.
Listen Sundays 5-5:30 p.m. on WTSU 89.9 (Montgomery-Troy), WRWA 88.7 (Dothan), and WTJB 91.7 (Columbus-Phenix City). Those farther south may listen Saturdays 2:30-3 p.m. on WHIL 91.3 (Mobile-Biloxi-Pensacola). Broadcasts are also streamed live and archived on the Web.
LISTEN HERE…
http://www.writersforum.org/podcasts/radio.html

***
Visit our Opportunities page
Our Opportunities page keeps you informed on publishers and organizations who want your work. Here you'll find Calls for Submission and Writing Contests. The page also includes links to Writers Groups, Writing Workshops, and National Conferences—excellent places to network and to meet fellow writers.
OPPORTUNITY KNOCKS…
http://www.writersforum.org/opportunities/

***
Advertise with us
Digital ads on writersforum.org and in Literary News help you reach the literary audience you deserve. Our digital Advertise with Us feature is quick and easy. And our rate sheet offers advertising values to fit all budgets.
DIGITAL ADVERTISING RATES…
http://www.writersforum.org/support/advertise_with_us.html

***
Support the Arts, Support the Forum
Proceeds from the sale of the Alabama Support the Arts license plate help fund arts education programs. The next time your car tag needs renewal, purchase one of these colorful plates to help support the Forum and other arts education projects.
LEARN MORE…
http://www.arts.state.al.us/news/index-news.html#"Support the Arts" License Tag

***
Friend the Forum on Facebook and follow on Twitter
For late-breaking news, follow us on Twitter @ writersforum and friend us on Facebook @ Alabama Writers' Forum Friends.

***
The Alabama Writers' Forum, a partnership program of the Alabama State Council on the Arts, promotes writers and writing in Alabama, with an emphasis on arts education programs for young writers.
***
The Alabama Writers' Forum
P.O. Box 4777
Montgomery, AL 36103-4777
334-265-7728
Toll Free: 866-901-1117
Fax: 334-265-7828
writersforum@bellsouth.net
www.writersforum.org
© 2012 The Alabama Writers' Forum, Inc.