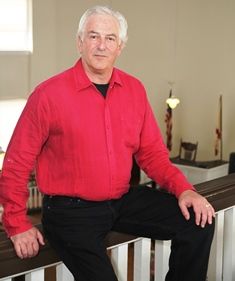 Editor's Note: Hank Lazer accepted the Harper Lee Award for Alabama's Distinguished Writer of the Year at the 18th annual Alabama Writers Symposium Awards Luncheon held in Monroeville on April 24, 2015.
Good afternoon. What do you say after [Jackie Trimble's introduction]? I think I was told what to do. I was supposed to channel Sally Field. I'm just not capable of that, so let me try to channel myself for a little bit. First of all I want to thank Alabama Southern Community College for its very, very warm reception here and for an absolutely amazing organization of the conference. And from working with Creative Campus, I deeply appreciate good organization. It's not something that happens everywhere. I want to thank George Landegger for his generous support. It means a great deal. I want to thank Don Noble for a superb and engaging TV interview. I'm deeply appreciative of your preparation for the interview and for our interactions and friendship.
When Jackie called to tell me about this award, she had a very serious tone during the conversation. She didn't tell me about the award for a while. And I remember thinking as she was talking, "She's going to tell me she's sick...or that she needed a recommendation." Something was dire. There was this pause in the conversation and she said, "I have some good news for you." Well, I couldn't believe the good news, quite honestly. It's something that's still sinking in. Again, [after] hearing [this year's Current-Garcia Award for Alabama's Literary Scholar of the Year] Eric [Sterling's] remarks you will hear a strong Jewish inflection to my thinking and a rather warped sense of humor. So I immediately thought of my father's rather twisted remark: "You have to learn to take the good with the bad." And that is true because this is really profoundly shocking. It's especially sweet for this to be the 18th award. Hebrew letters are also numbers, and the number 18 is a magical, mystical number. The Hebrew letters are the words for life—חַי . You'll hear someone make a toast—"l'chaim" (to life)—and the corresponding Hebrew letters are also the number 18.
I arrived in Alabama in 1977. I had long, dark hair, a beard, and the expectation that I would stay for about two to three years. I think that when Jane married me she had similar expectations—That we'd be heading out to California. Friends that I talk to now after retiring ask (and assume), "Oh, so you're moving?" No, absolutely not. I love it in Alabama. I love living in Tuscaloosa. It has very much grown on me and in terms of daily living. It's a wonderful place.
But when I first arrived, my life as a poet at the University of Alabama was actually horrific and tormented. The first poet that welcomed me there indicated that he had opposed my hiring and promised to make my life hell. But at least I knew the lay of the land. And so really—and I mean this sincerely—I want to thank the people when I first arrived in Alabama—and for some many successive years—who made my life extremely difficult. One has to have something like that to develop a certain fortitude and attachment to such an essentially worthless activity. You may want to explore that a little—the benefits of such an initially negative response to something you care about, and care about deeply. That initial difficulty makes one [ask], Why am I doing this and for whom or what sort of public sense and what internal motivations. I try to remind students when I interact with [those] interested in writing that I really didn't publish my first big book of poetry until I was 42. So many writers now feel like by the time they're 24 or 25 if some sort of success hasn't happened that they are failures. Something awful is occurring, but it's also a significant opportunity to develop internal resources and find out why you want to do that and if you really want to.
Another odd turn in my career: I spent twenty years doing academic administration. I want to thank the UA administration for its support of my activity as a writer. For me [working in the administration] was very congenial and calming. It took me outside of my discipline, gave me a different view of the University, and even though the days were longer and I had to dress differently, it really gave me a significant energy for reading and writing. In a very counterintuitive way, that was a much more productive location for me as a writer. So I say that to those who didn't have the luck to be born with a big trust fund or win the lottery: We all have to kind of [ask ourselves], "What can I do to earn a living and find time to read and write?"
In acknowledging this award I do want to mention something that you're not supposed to mention, and that's money. That's deeply appreciated by writers and scholars. And especially in poetry. It's a very precarious and unique financial position. I have a poet/publisher/ businessman friend of mine who claims that the quickest way to reduce the value of a blank sheet of paper is to begin writing a poem on it. That's kind of a chastening thought. Also, looking at the Harper Lee Award [I realize] that I'm carrying the name of someone whose first book sold over 40 million copies. I haven't been able to track down the data—and if someone would I would be deeply grateful—my guess is that all original books of American poetry for the last fifty years have not sold 40 million copies combined. I'm also a big fan of [sculptor] Frank Fleming's work. (Fleming cast the bronze sculpture of the old Monroe County Courthouse that symbolizes the Harper Lee Award.) There is at least one major piece of his on UA's campus, but also in Five Points Birmingham. I'm always drawn to his work, and I am deeply appreciative of that as well.
So poetry itself is a life and a product. In my opinion, a very wonderful life. It's not something that's a big money maker. No one's planning for the movie rights for the next book of poetry. It's just not going to happen. When someone says "agent," we think James Bond, not a literary agent, because it's not a word that's in our vocabulary or domain.
Another word that occurs to me is a Hebrew word, leeshma, which means "for its own sake." And that's what poetry become. It's a gesture, an activity, a centering life activity done for its own sake, and also for the love of the book, which again delights me to see the University of Alabama Press director Curtis Clark present here today. I remind people that the press is the press for the state of Alabama, and it's a very important activity to continue in the scholarly and creative domains.
I also am thankful for the richness of Alabama culture, particularly—as were mentioned—outsider folk artists, self-taught artists. In Tuscaloosa I had the good fortune of getting to know Robert Cargo, who had a superb folk art collection and gallery in downtown Tuscaloosa. When my wife and I were struggling to pay our bills, Robert would always let us purchase folk art on an installment plan. So I would give him fifty dollars, and he had a wonderful Southern way of saying, "Hank, Jane, whenever you take a notion…." That was the payment plan.
The music of the state means a great deal to me, from Sun Ra's incredible [music] to blues, jazz, and rock & roll. When I mention to you my series of law poems, it might not immediately come to mind, but that principle of collage is essentially the same principle you're seeing in the activity of making quilts. So again, I don't sense a big separation from innovative, mystical, experimental art and the visionary art of the state.
But of course, with food, I'm really a follower of my stomach, whether it's Frank Stitt or Dreamland or classic "meat and threes," or Maggie's in Tuscaloosa. And the other factor that for me has been tremendously important about the state of Alabama: It's a compelling place in terms of spirituality and self-definition. So in a book I called The New Spirit, I didn't really understand its origins, but a person from UA's office of advancement one day looked at that book said, "So when did your father die?" I replied "1996." That was one factor calling for definition, but also as a Jewish Buddhist I feel compelled in Alabama. If I moved to New York or California I would just be the same as everyone else, and I wouldn't feel any compulsion, I think, for self-definition. But seriously, the state of Alabama has a strong and very spiritual set of traditions, and I think it compelled me to seek out my own sort of definition in that regard.
Also, I got to see Rob Gray's film [Mobile In Black and White] this morning. It did inspire us to learn things we didn't know. I'd not seen the film before. It moves me a great deal, and so what I'm saying about the nature of poetry: This life and language, if it doesn't inspire us also, implicitly and explicitly, to be advocates of justice—the study and love of language—then I'm not sure what the value really is. And the film reminded me of that really strongly, and seeing poets discussing those issues as well. I hope that connection exists between our love of language and that it leads us toward a love of justice.
I think also that I am perhaps the first avant-garde writer to receive this award. Experimentalism itself constitutes a kind of diversity. It's a different way of expressing oneself, it's a different engagement with language and it too provides a test of and a challenge to one's ability to accept what is different.
I give thanks to the life possible with and through and in poetry. I have a worldwide network of intimate kinships with other people doing similar things. I am retired as I have been reminded before. You don't retire from poetry. Poetry is a particular exploration of our life and language and the nature of human consciousness, I think. And truly the human miracle of listening, which is something I also picked up from Phillip [Shirley's] talk last night—the importance of careful listening. I really think that one of the things that poetry reveals to us, as does music [is that] we hear, listen differently. It almost has a genetic specificity to it. We listen to and like different music. We hear different things in the poetry we read. It's about as specific as your fingerprints or your genetic makeup. It also increasingly strikes me [that] it's a very strange thing, listening. Like I think now of an outside perspective: You see somebody driving down the road listening to music or a group of us listening to music. Think of what's actually going on. We're having these emotional and cognitive experiences based on slight variations of sound waves. It sounds very odd and miraculous and, very importantly—human.
I also want to thank the students from whom I continue to learn. This year in the fall I taught a class on John Coltrane's A Love Supreme—Jazz as Spiritual Quest. [I had] marvelous students in that class. And I'm teaching a class now on Zen Buddhism and radical approaches to the arts, and I continue to learn from students. I think my favorite remark this semester, after two sessions of meditation, a couple of students remarked: "Well, I haven't yet achieved a deep sense of peace." I know I thought it, but I don't think I said, "Give it ten or twenty years." But one learns a lot from the reactions that come back.
I also want to thank my grandparents, all no longer alive but all Russian Jews for whom English was not a first or even a second language. They had very odd, interesting, rich, adventurous lives. I think I stole my bad sense of humor from them. But also the way I hear English comes through my close relationship with them. [Other teachers include] my wife Jane, who did say "What do they know?"—a good, stern reality test always present. My son, Alan, who has come back to Tuscaloosa after he went to Los Angeles and earned an MFA in screenwriting from USC, where he very quickly learned that he didn't like Los Angeles. He is now teaching at the University of Alabama. I'm very proud of that. Other major teachers I'd acknowledge—my next book is dedicated to them—[are] my dogs, Walt and Emmie. [I had] a good conversation with them last night. I'm completely fond of dogs, and we also have a cat. I do think they're better than we are, and I continue to learn a great deal with them.
Awards are a strange way to legitimize us. I was just visiting my 84-year-old mother in Honolulu, and having an award eases the heat of the kind of statement that "Hank could have been a doctor...could've been a lawyer." In the law poems there's a debate about when new life begins, which is clearly a hot debate topic still in Alabama. In Jewish lore the fetus is considered to be viable after medical school. So I'm not that kind of doctor, but the Harper Lee Award gives me a leg to stand on in conversations with my mother.
Poetry itself I find to be a strangely purifying activity. It's something that in the short run and long run I think will teach one gratitude. I would also thank Alabama and Alabamians for being patient with me and for nurturing me. My mother says that living in Alabama has helped me.
Thank you for honoring my work as a transplanted Californian who truly considers himself a Southerner with nearly 45 years in the South and 40 in Alabama. This moment of acceptance and recognition for me is rejuvenating, exhilarating, unexpected, and deeply appreciated. Thank you.
(Photo courtesy of the Alabama Center for the Literary Arts)