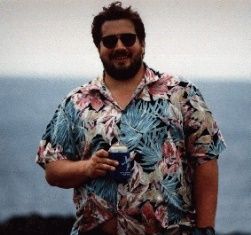 By Michael Patton
Recently, Alabama native and beloved author William "Bill" Cobb read from his collection of short fiction Sweet Home: Stories of Alabama (SixFinger Publishing, 2013) at Eclipse Coffee & Books, the bookstore I own with my wife Cheryl, in Montevallo, Alabama.
We've hosted Bill there many times before in the thirteen years we've been open, but this time was different in one important way that I've been thinking about ever since. This time, Bill was also selling his book as an eBook. This is the first of Bill's nine books to be available as an eBook, and, as the owner of a small bookstore, the prospect of people buying his work online caused me some not inconsiderable consternation.
Don't get me wrong—it's not only about the money. Bill is a long-time friend and colleague, and I treasure his readings at our store. Don't tell him, but I'd probably pay him to do them. And, to some degree, I get the whole eBook thing. Although I'm enough of a curmudgeon to cram several books into my suitcase and carry-on when I travel, I sometimes look enviously at people with Kindles and the like. But, honestly, they're killing bookstores in general and small bookstores especially. So I was worried about sales of Bill's physical book at his reading at our place.
About a week before the reading, Bill's publisher put me in touch with Autography, a company that promises to bridge the divide between brick-and-mortar stores and the eBook empire. In short, the Autography representative explained, as long as readers bought the book at our event or indicated their affiliation with our bookstore when making their purchase, Bill could use an iPad and a stylus to customize a signature page for each customer that would then be permanently inserted into their eBook, no matter what platform the reader was using. And, to make things better, my store would receive a small percentage of the sale price of that and every other book the reader purchased so long as Eclipse was listed at their home bookstore.
As I spoke with John from Autography (perhaps his real name, I cannot remember), he explained that his company was founded by book lovers who were looking to find a solution for the seemingly inevitable demise of the local bookstore. Autography, their eBook signature program, was their brainchild. With this app, readers who were irrevocably wedded to their Kindles, iPads, and the like could support local stores, come to hear author's readings and, perhaps most intriguingly, get personalized, signed copies of the books they had purchased. I must admit that, over the course of the phone call, my skepticism (which is strong) was overcome to the point that I signed up. This was before John explained that there were no costs to me, the bookstore owner. He probably should have led with that, but it all worked out in the end.
After our account was set up, all I had to do was download the free Autography app to my iPad and then enter a code for the readers who wanted Bill to sign their eBook. With a stylus, Bill could write whatever he wanted and then, with the push of a virtual button, the page appeared in the reader's eBook, right before our eyes.
The app worked well, and once Bill was comfortable with the stylus and the iPad screen, he signed half a dozen or so eBooks and about the same number of real books (pardon my prejudice, but like I said, I'm a curmudgeon).
I'm still not sure how much we made from the signed eBooks. The accounts are settled quarterly, but I'm not holding my breath. But then again, in the age of WalMart and Amazon.com, we don't make that much on real books, either. I think Autography is a promising approach to keeping bookstores more relevant, but, in the end, I fear the handwriting may be on the digital wall. I suspect that Autography will keep book readings and signings alive, but that it won't do much for the bottom lines of independent bookstores. For that, I'll just have to rely on the other people like myself who will let go of their real, batteries not included or needed, books when someone pries them out of our warm, sleeping-by-the-fire-after-an-evening-of-reading hands.
(Photo courtesy of the University of Montevallo Department of English and Foreign Languages.)
Michael Patton is Professor of Philosophy and Religion at the University of Montevallo. His graphic text, The Cartoon Introduction to Philosophy (illustrated by Kevin Cannon), is forthcoming from Farrar, Straus and Giroux.