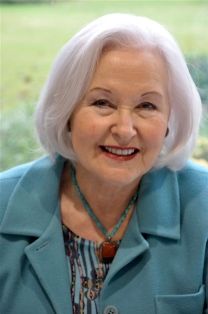 by Kathleen Thompson
Author's Note: This remembrance was first presented on January 25, 2014, at the Chapel at Highland Farms, Black Mountain, N.C. Some anecdotes were published in an essay for the Book Page, Mobile Press Register.
Good afternoon. I bring you greetings and condolences from the state of Alabama, from the many friends who knew Helen and loved her and her work.
The Writers Conclave is the oldest writers organization in Alabama. Current President Sue Brannan Walker emailed this note: "The Conclave would like to express their esteem for what Helen Norris Bell has meant to the Alabama Writers Conclave through the years. The President, Sue Walker, says she will never forget the support that Helen offered to all poets and writers. Her presence at Conclave meetings was memorable and expressed her support of Alabama writers—poets, fiction writers, and students. She was an inspiration to all of us. (As is Sue...) I hope that Kathleen Thompson will publish her work on our Helen Norris Bell so that her wit and wisdom will continue to motivate us to believe in creative writing and in ourselves."
Alabama State Poetry Society President Barry Marks e-mailed: "Helen was not only a great talent but a great soul. Her poems and stories remain among the best work written by any Alabama author, the famous and the forgotten alike. Despite her remarkable talent, she remained a warm, welcoming, caring friend. On behalf of the Alabama State Poetry Society, I say that we will miss her very much and that her work lives on. As one of the many who loved her and learned from her, I know that I will never forget her."
My husband, Tommy, and I, too, have lost a dear friend. Our deepest condolences to you, Tommy and Martha, and to you, Helen's grandchildren and great-grands. Helen would think it just grand to see all of us gathered here today to have a little chat about her, and she would also think that you children are the grandest things on the planet. And to you, Pat, wife of Helen's brother, Roger, and to your children.
Before I was born, Helen Norris had already earned enough graduate hours for a Masters Degree in English at the University of Alabama. She had served as a teaching assistant to Dr. August Mason, who was still the "terror" of grad students when I studied the 19th Century essayists with him in 1964. Before I was born, Helen Norris had been convinced by Thomas Marc Parrott, the be-all and end-all of Shakespeare text editors, and by Hudson Strode, legendary writing teacher at the University of Alabama, that she should stay on to study creative writing with Strode. Strode was teaching summers in Illinois, Helen said. He knew and constantly reminded people that Archibald MacLeish had earned his masters by writing a book of poetry instead of a thesis at Harvard. If Harvard could do it with a book of poetry, why not Alabama with a novel? If MacLeish, then why not Helen Norris? Parrott, Helen's professor for Stuart plays advised her that she already knew how to write critical papers. So in 1940, still two years before my birth at home on a dirt road in Tuscaloosa County, Helen Norris had written a novel under Strode. Something More Than Earth placed second in Atlantic Monthly Press's $10,000.00 biennial novel contest and was published by Atlantic/Little Brown. At a publicity luncheon at one of the then-biggest department stores in Atlanta, Davison's (later Macy's), Helen signed her novel for Margaret Mitchell, already famed for Gone With the Wind (1936). A photo of Helen signing for Margaret Mitchell was in the Atlanta paper the next day.
Strode's dream had been realized: Helen was granted her Master of Arts with this novel in lieu of a thesis. She was the first writer in a Southern college or university, if not the country, to do so. I could stop with that fact. Such a stellar accomplishment in a lifetime would be enough.
But Helen's biography, her teaching, her writing, and her writing awards fill up a legal pad-sized single-spaced page and spill over at the edges and onto the back. (See sidebar.)
The sheer volume of Helen's work is even more impressive when you consider that she also taught at Huntingdon College, Montgomery, Ala., from 1966-1979. How well teachers know the difficulty of having one's creative energies zapped daily. (Helen had an uncanny way of imitating voices. I can still hear her in a deep gravelly voice quoting Emily Stone, her teaching colleague, who offered up a suggestion for someone who wanted to write but who also needed a job: "We ought to get a job selling shirts.")
So, here we, Helen and I, were in the '80s, separated only by the Alabama River. She lived in Montgomery and we in Prattville—the famed writer and the novice. I had written a short story whole cloth on the night of February 14, 1982, after attending my first meeting of Prattville Creative Writers. Later Helen would be asked to do a program for our group and critique our work. She judged that story of mine best. It would become the first chapter of my first novel. I immediately liked this judge.
It was Helen's timelessness, I think, and her generosity that made the two of us fast friends in spite of our differences in age and our disparate backgrounds. While I was experiencing a literary awakening, she declared in the '90s, tongue-in-cheek, that the "literary renaissance in Alabama was about to kill her."
Helen wrote with humor and pathos. That combo is the very best of writing. She had us belly-laughing and crying alternately the day of our eating/meeting in my home as she read both "The Happy Reaper" (still unpublished, to my knowledge) and "The Singing Well" (The Christmas Wife: Stories, unpublished at that time. In the first a woman's son donates sperm to a sperm bank for $100 "a rap" and the woman obsesses in looking for her family's features, for little "rappers," in every child she encounters; the second story, in contrast, is one of her most heartbreaking. A grandfather who has served in World War I comes to live with Emilu's family. He struggles to remember something very important. Young Emilu, "named for two dead aunts, their names rammed head-on like trains," may have had something of Helen in her. Helen's first memory, as set down in Remembered Gate, edited by Jay Lamar and Jeanie Thompson, involves being at a very noisy train station, first holding her mother's hand and then her grandfather holding her. Helen would later learn that the hubbub at the station in Miami was all about the ending of World War I.
Helen's publications continued with four collections of short stories with numerous awards and accolades under each. I'll mention the one you are probably most familiar with because of its title story "The Christmas Wife" being an HBO special in which Jason Robards and Julie Harris starred. Robards wrote to Helen, "I, too, felt you and I shared a life in the 'desires peace and measure of joy' of Mr. Tanner. I still think the impact of your story was much deeper and more delicate than our adaptation and wish we could have realized it as you so beautifully did. Thanks again and much love, Jason Robards. April 25, 1990."
Helen's one-act plays have won ten awards and had two productions. During the '80s I also heard Helen read from an unpublished manuscript for children. Later she told me in letters about submitting that manuscript to some of the major publishing houses for children.
Writing poetry was not such a big leap for Helen. Her prose is as lyrical as any poem. Helen was elected Alabama's Poet Laureate in 1999. Her two published books of poetry are Whatever Is Round and Rain Pulse. I must tell you two stories here: her poems are sometimes outtakes from her fiction. She has said herself that she mostly writes prose in iambic meter with an occasional anapest thrown in. Her favorite form was iambic tetrameter. Now, if you've been out of English classes for a while and if you don't write metrically, those terms won't mean much, but iambic is our natural talking meter—one unstressed syllable followed by a stressed syllable, and the anapest speeds things up a bit with two unstressed syllables followed by one stressed. So, yes, her prose is rhythmic. If you read her novels and short stories you'll be hard-pressed to pinpoint an exact setting, a specific place and time, in them. Publisher's Weekly said it best when Water Into Wine came out: "Norris's enchanting narrative voice transmutes ordinary, undramatic events and lives into the magical, rich and strange. While her stories all seem to be situated in the contemporary U.S. a degree of imprecision as to setting coupled with the mellifluous, lyrical quality of the narration lends a timeless, otherworldly quality."
All these qualities serve both the fiction writer and the poet well. When then Poet Laureate Sue Walker and poet/editor John Chambers were putting together an anthology of Alabama poets (Whatever Remembers Us: An Anthology of Alabama Poetry), they wanted to include Helen. Sue asked me if I would help secure a poem or two from Helen. Well, you might guess how difficult that task would have been for Helen. She didn't have her books and papers here. She couldn't write very well. But I copied some poems from her two books and mailed them to her for her affirmation/ selection. (I dared not do otherwise.) Trouble was, the poems had to be related to Alabama, even in an oblique way—not so easy with her "timeless, otherworldly" poems. I chose a few poems and made some suggestions as to how she could make the task simple by just changing a title. She took suggestions from me about as cheerfully as she had from Strode years ago or from her short story editor, George Core. Helen said, "This is what he (Strode) gave me. He would say to me, 'That's fine but I wanted something more here. Can't you have her think this or that?' and I would think that's too corny or sentimental. But if I don't come up with something, I'll have to do what [Strode] says."
Apparently my suggested poem titles were also too corny or sentimental. She renamed an old poem of hers about a triangular building that split two streets, changing it from "Sacrament" to "Capitol City Yesteryear." The final stanza reads, "You know those women who will stop / Bewildered like a city street / And break in two." Note how that core emotion is so universal that it could be any capitol.
And one more story about poetry: Helen had always wanted her first poetry book to be named Speak Like Rain. Helen was a great fan of Karen Blixen, aka Isak Dinesen, who was very much a favorite of Hudson Strode. Dinesen did have a farm in Africa and Strode said that she would stand in the coffee fields and read aloud from British poets. The African workers called this "Speak Like Rain." But when Helen checked Books In Print, there were dozens of books already named that, so she settled for Rain Pulse.
I also cannot fail to mention that Helen has told me of at least three unpublished novels among her manuscripts. One she named The Encounter and the other The Eve of Departure. As late as December 1994, Helen had yet another novel "bee in her bonnet." She wrote to me in Savannah that she was writing a romance. A romance, as in the genre Romance!
Remember, she had turned 78 the June before she took up this new challenge. This is after writing some of the most literary stories I've ever read, after writing novels and poetry and plays and at least one, probably more, children's story. Father Richard Rohr, a Franciscan priest, suggests in his book Falling Upward that our lives consist of two halves, the latter quite different from the first. Although a romance was as far away from Helen's literary stories as traditional journalism is from creative nonfiction, she attended a conference of romance writers in Atlanta with two poets, Donna Tennis and Mary Haliburton. Sleeping with Embers was Helen's resulting novel. It was set to come out in Spring 2004, and certain enough for her to have penciled it in on her vita when she gave it to me in 2003, but somehow publication went awry. I never saw/heard any portion of that novel, but I'm certain that for a writer who was as fastidious about her syntax and about every single word she wrote as Helen was, she must have had great difficulty conforming to the conventions of romance writing.
Helen said in a letter, "When it comes to getting a story right I seem to lose my inhibitions, approach entire strangers, ask them pointed questions, insist upon answers, sit on their chests if I must." Every word had to be right. George Core changed a word in "Mrs. Moonlight" in The Sewanee Review.
Helen wrote, "'Please don't die,' he pled."
Core changed her pled to pleaded. Now, pled is a perfectly respectable, if old, past tense of the verb to plead. Helen objected, and her verb choice pled was put back into the collection itself.
Imagine the irony of Helen's writing a romance. This ingénue at twenty-two had a plot so prim that when she put a baby on the scene, she needed help. Helen's protagonist in that story, Sara, says at one point, "I am old. I am thirty-five." (Helen also confessed in our interview about Strode, "I didn't want to say anything because he was forty-two and I didn't want to hurt his feelings.") Her fellow classmates had tried to tell her she had to have something happen between the man and the woman before there could be a baby. When that didn't help much, Strode invited Helen to his home for dinner so that his wife, Therese (he called her Tuh rez), might enlighten Helen more specifically about the process of procreation.
Helen said she arrived wearing her little school skirt, her school shoes, and they were in full evening dress, he in a handsome smoking jacket and she, in a long black gown. "Hudson found a convenient excuse to leave the room," Helen said. Helen simplified it for me: "That book had the sum total of what I, Therese, and my mother knew about sex to that point."
And then along comes this romance. Neither time nor propriety allows an in-depth description of the fun Helen had with writing that final book. Remember, she's in that second half of life; her diploma is printed. By then I was back in Savannah but she continued to educate me on vocabulary choices of words for the romance. "I have openly drawn the line against growling, I tell the girls. I can't imagine anything less romantic. Groaning, yes / growling, no. They were a little surprised that I took a stand at Country's Barbecue."
Helen was born old and would die young. I know she was born old; she told me she wrote her first little poem when she was eight. And the book jacket of the first edition of Something More Than Earth confirms, "This is her first book, not counting a novel written at the age of nine." She also knew something about any subject brought up. She made it her business to know things.
Whether Helen died young is another matter. But Helen was the most curious person I've ever met. I'm betting her curiosity as keen as a child's remained to some degree. And I do know a part of her was still young when I last visited her here in September 2009. She objected to taking a picture with Tommy and me because she was in a wheelchair and not properly dressed. She was a real looker as a young person (a beauty pictured on that first book jacket) and she never stopped wanting to look good. She went through a period of buying new suits and jewelry during her literary "renaissance."
If you knew Helen much at all, you knew she was not going to "go gentle into that good night." She was always working assiduously to maintain her brain and to slow any mental decline by whatever means she could. That last day we visited we brought her McIntosh apples. She had received some "pills" for her brain that day. Like the apples, she assured us, they would increase acetylcholine that would improve memory and slow mental decline. So when we convinced her that we really did have to leave, she wheeled her chair over to the bookcase, and demanded, "What are you doing for your brain, Kathleen?" And I replied, "Not a single thing, Helen." This tickled us both. "Here," she said. She held out two bars from a gift package of European dark chocolates. "These will help," she said, flashing her wry and knowing smile.
So much more could be said about Helen.
 On Helen, the teacher: Like Chaucer's Oxford Clerk "Gladly wolde he lerne and gladly teche." As excellent as she was in the classroom, she declared teaching a kind of Siberia for her.
 On Helen, the excellent student: Strode chose her to be the one to write that first novel in lieu of a thesis. And he includes her in his book The Eleventh House with other notable acquaintances such as King Gustav of Norway and Hemingway.
 On Helen, the encourager; Helen, the competitive and feisty.
 On Helen, dreamer and mystic: Helen in our interview cited the imagist poet H.D. as saying, "I don't write the story. The story writes me." Helen believed this. One example of this (and she had many) was a novel she wrote that she felt paralleled the events of the life of a priest in Sylacauga before he ever came to town.
Once I heard a young woman in Monroeville asking Helen questions for a newspaper article. After she left, Helen lamented, "They never get it right."
That said, you may understand why at the last moment this morning I decided to conclude with Helen's own voice: I want to get it right. The day I interviewed Helen all day including lunch at Sinclair's with her favorite she-crab soup, she called me that evening. She was afraid she might not have given me enough information for my Extended Critical Essay. She wanted to further explain what she and H.D. meant by telling me about the genesis and development of her story "The Cormorant" (Water Into Wine). I asked her if I might record the telephone conversation.
HN: I was at Yaddo and I was complaining that I didn't have a typewriter, and Rosie said we have one, we have one in the office, a little manual portable that you could use. It didn't have a tape and I went to town to get one. I bought a plastic tape. I don't know if they still have those anymore. I had holes in my writing. I mentioned that at supper that night and the man sitting beside me, this was his first day there, a man who had taught in college, quite brilliant, a published poet in SR and places, and had written books. He and I got very well acquainted in the two weeks. I mentioned this thing, what it had done to my paper. I said to him, 'The keys are just like little cormorants—eating up my work.'
'What do you conceive of cormorants as being?' he said.
'A little rat of some sort.'
He just howled with laughter.
'Well I don't know. Don't leave me in ignorance.'
'Well, it's a bird.'
He thought this was so funny. Every time he saw me he began to laugh about this cormorant thing. When he left after two weeks, he came by to see me; he laughed, you know. 'All right,' I said. 'Just for that I'm going to write a story about cormorants.' I said, 'Well, what color are they?' And he said, 'Black.' And I said, 'Well, black is hard but I'm going to write it.' So he went away. Have you ever seen a cormorant?
KT: No, but we had a bird in Savannah that I always thought they might look like. Sea crows, I think.
HN: I've never seen one but that didn't stop me from writing. They've got a lot of books scattered around Yaddo at the various houses—I found a cache of books on birds—and I read those, and the Britannica, and I read the dictionary. Then I was going to write this story, come hell or high water. I always choose the worst things, things I know nothing about...
Helen goes on to tell about her research: she contacted a Vietnam veteran to help her because she has a veteran in the story suffering from clinical depression. She makes her character a wood carver, so she goes to observe some wood carvers at a mall:
So I buy an Audubon SE bird book and I study all birds in it, and I want to get this right and what they sound like when they make their noises. I go into this scientifically. And I do a lot of research. And these academics who look down on you because you don't do any research, that is all wrong!
Helen continues talking for two pages worth of transcription about the research and then says, "At some point in the story in which you are deeply involved, the story takes control of you. It writes what it wants to write, what it needs. You're at the mercy of the tale."
Helen relates how she had a boy born blind in the story before she knew that cormorants are also born blind. She related the several endings she wrote because George Core didn't like the first one she sent. Core said, "The right ending is like a ripe fruit falling off the tree. When it's ripe it falls."
And as she always did, Helen herself discovered that "ripe fruit" ending.
After that phone call from Helen, and her detailed explanation, I truly began to feel a little like Emilu with her grandfather who kept asking her, "Did you get it, little girl? Did you get it?" Emilu was to remember what her grandfather had forgotten, to serve as his memory. Emilu did get it, and she got it right. I think I get it, Helen. And I hope—if you're listening, and I know you are—you'll think I got it right.
(Photo of Kathleen Thompson by Stephen Thompson)
Kathleen Thompson has three published books of poetry, but she also writes essays, short stories, and novels. Contact her at kat42thompson@gmail.com.
Remembering Helen Norris Bell / Sidebar
Helen Norris (June 22, 1916—November 18, 2013)
EDUCATION:
A.B., University of Alabama, 1938
M.A., University of Alabama, 1940
Doctoral work at Duke University, 1965
Further doctoral work at University of Alabama, 1970
ASSISTANT PROFESSOR OF ENGLISH:
Huntingdon College, Montgomery, AL 1966-1979
NOVELS:
Something More Than Earth, 1940
For the Glory of God, 1958; a second edition as a book club collection, 1959
More Than Seven Watchmen, 1985; made into an audio book; was a Gold Medallion Book Award by the Christian Book Association for best religious book of the year
Walk with the Sickle Moon, Birch Lane Press, 1985; Thorndike Press, large print edition, 1985; paperback edition, Warner Books, 1986; winner of Pen Women's biennial fiction prize.
SHORT STORY COLLECTIONS:
The Christmas Wife: Stories, University of Illinois Press, 1985
Water into Wine, University of Illinois Press, 1988
The Burning Glass, Louisiana State University Press, 1992
One Day in the Life of a Born Again Loser and Other Stories, University of Alabama Press, 2000
INDIVIDUAL STORIES:
Won four O. Henry Awards, a Pushcart Prize, two Andrew Lytle Awards, Hackney Award
Included in some dozen and a half anthologies, the latest being in India
Stories translated into Chinese, Polish, Dutch, and Tamil and appearing in numerous literary magazines, and read on National Public Radio; three stories selected for videotaped reading for archives of Library of Congress; two filmed: "Christmas Wife" for HBO and "Cracker Man" for National PBS and various other awards.
ONE-ACT PLAYS:
Ten awards; two productions
POETRY:
Whatever Is Round, Curbow Publications, 1994
Rain Pulse, Timberline Press, 1997
Poet Laureate of Alabama, elected 1999
FIRST PERSON in a Southern college or university to have a piece of creative writing (a novel) accepted in lieu of a thesis for the Master of Arts degree.
THE HARPER LEE AWARD FOR ALABAMA'S DISTINGUISHED WRITER OF THE YEAR—2000.