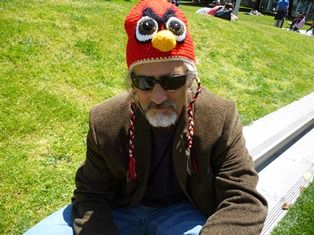 By Christopher Chambers
Yo ye pharaohs let us walk through this barren desert in search of truth….
— Southern Culture on the Skids
The other day while I was driving past the wharves and warehouses and colorful stacked metal shipping containers that line the river side of Tchoupitoulas Street, a song came on the radio and I suddenly remembered that I had not yet replied to an e-mail from an old friend regarding an upcoming book tour which will be bringing him to New Orleans in October. The song, "Camel Walk." The band, Southern Culture on the Skids. The friend, Tim Parrish, a writer originally from Baton Rouge, upriver, though now in Connecticut, where he has taught and lived for many years. I made a mental note to e-mail him when I got home. I have not seen him in years. I usually only see him at the massive annual literary conference which for the past few years I have not attended, unable to muster whatever it takes to brave the cold weather and the frenetic literary mob. What I do miss about the conference is meeting up with old pals, most of them from my days in Tuscaloosa. Tim is one of these.
I was puzzled though, sitting in traffic at the stoplight at Jackson Avenue. Why had this song made me think of Parrish? I was tired and hungry and could almost feel the synapses sluggishly firing in my brain. Tim and I both went through the writing program at the University of Alabama, though he left the summer I arrived. I'd driven up to Tuscaloosa from south Florida in August 1994, expecting to work with Allen Wier. When I arrived, I was told he'd left for the University of Tennessee. Some of the old guard remained, but had decamped to Manly Hall where the Black Warrior Review had, and may still have, the fine cluttered offices where I spent many hours over the next five years, learning to read and to edit. These were rough years, the program in transition, before Michael Martone's influence, both serious and playful, transformed the program with an invigorating blurring of genres and a fresh gentility (I was fortunate to still be lingering in Tuscaloosa when Martone arrived). I had a sense of having missed the boat, that the bad old good times were over, the gunsmoke and whiskey, the feeling that the great ones had all departed, or died. Barry Hannah had been gone over ten years, but his spirit and stories still haunted the place. Richard Yates died a couple years earlier. Steve Featherstone, a former student in the program, once came back to town and recounted stories to a group of us of his last days. I have a vivid image in my mind of the man himself at a gas pump with his oxygen tank and a cigarette, as if I'd seen him there myself. Parrish and Dick Yates had been close. Yates stayed with him for a week or so while he was homeless and Don Hendrie, who was on the writing faculty at that time, was finding him a place to live. I arrived in Tuscaloosa after the passing of Yates, and of Hendrie, but the loss was palpable in the reminiscences of those who'd known them and worked with them. George Starbuck was still in town then, though sadly in declining health. I'd not known of him before Tuscaloosa, but had since found and bought in the little used bookstore downtown (what was that place called, a book-filled old house with an enclosed front porch?) a copy of his Talkin' B. A. Blues with a nice red letterpress cardstock cover. I read it and again had the feeling of arriving too late, of missing another one of the great old writer-teachers. I was there for fiction, but Starbuck's smart and funny rhyming epic grabbed me. I'd picked up a side job soon after arriving, rebuilding a porch on Queen City Boulevard. I'd worked as a carpenter the previous nine years or so and had brought my tools. The homeowner, Alexander Sartwell, was the historian for the state geological society, given to seersucker and gossip, and one of the great, generous characters of Tuscaloosa in those days. He hosted epic, gin-fueled dinner parties for writers and locals and expatriates, never the same group or stories twice. One day that first hot August I was standing waist deep inside the gutted porch, on the ground that is, having removed the rotten tongue-and groove floorboards, with only my head and torso appearing above the top steps. A man was making his way slowly down the heat-shimmered sidewalk toward me. As he passed, I realized it was Mr. Starbuck. He looked over and might have smiled. He might have been startled, but I recall him more like amused. I said hello and he said hello. I wanted to say something more, something about his book, about writing, but I was just a carpenter and not at all ready to presume to call myself a writer. And I felt a little foolish standing inside a floorless porch. I only saw him again once or twice, from a distance, and he passed away in August two years later. I worked on Alex's porch for a week or ten days, heading downtown when the sun set to drink cold beer and shoot pool in the feeble air conditioning at The Chukker. Ah, the Chukker. Another piece fell into place.
The traffic on Tchoupitoulas began to move, and I made the sweeping curve at the old Cotton Mill warehouse and the bridge came into view. The night of the day I arrived in Tuscaloosa I ended up, with a few other student writers, at The Chukker, a place to which we naturally gravitated. There's an apocryphal story, one of many, about Barry Hannah shooting holes in the floorboards of his MG to drain the water that accumulated when he left the top down during a rainstorm while he drank in The Chukker. That night we sat in the Chukker's back courtyard in the shadow of the Alta Apartment building next door, a great decaying monument of pre-war architecture that was straight out of pulp fiction. That night, or another like it, some of us climbed the wall, pulled ourselves up to the fire escape, and went up onto the roof and looked out over the town, the five-story bank building that peeked over the sleepy downtown, the Lurleen Wallace Bridge arching over the darkness of the Black Warrior River toward a few flickering lights in Northport. The summer moon blurred in the hazy sky and there was a sense of immense possibility in the air. My friend, Jeanne, had an apartment in Alta that year. She was the fiction editor of BWR when I started reading for the magazine, and I learned from her how to be an editor, how the writing was the thing that mattered, and that it was worth fighting for. She graduated, taught at the University of Tennessee, Central Florida, published a book of stories, Downriver, and ended up in Baton Rouge, editing The Southern Review, upriver from where I was editing the New Orleans Review. She told me that Tim Parrish's brother, a former Baton Rouge cop, had taken her under his wing, showed her around town, told her where to go and where not to go. She bought herself a green convertible sports car, and we drove it down St Charles Avenue on fine fall day. She'd started working on a statewide collaborative reading circuit like the one she had created in Florida while at UCF. Things were looking up for literature in Louisiana. We ran into each other at a conference in Lafayette in April 2012. We had lunch and talked for a couple hours, and as always I left rejuvenated, feeling jazzed about writing, editing, publishing, teaching. A week later, I got the news that she had been killed in a car accident on the interstate between Baton Rouge and Lafayette.
I am still unable to resign myself to it. Jeanne was one of a carload of us who drove to Atlanta in 1996 for the AWP conference, where I believe I met Tim Parrish for the first time, and we all spent a night of dancing with the inimitable, smart, and lovely editors of Painted Bride Quarterly at a subterranean dance club beneath a disreputable old hotel. I'd occasionally see Tim in Tuscaloosa. He was the front man for a garage band called the Irascibles that often played The Chukker. The Chukker was an infamous music venue and dive, established in 1956, according to the hand-painted sign out front. The Replacements, Sun Ra, Richard Thompson, R.L. Burnside, Dick Dale, The Dexateens, Morphine, Sublime, Southern Culture on the Skids, and many more, before and after my time, played The Chukker. The film Gimme Shelter includes a shot of Keith Richards playing pool in The Chukker, most likely filmed when the Rolling Stones played Tuscaloosa during their Exile on Main Street Tour in 1972. I'm not sure, but I'm thinking that the Irascibles opened for SCOTS at The Chukker one beer-soaked night in the mid-90s, and that I was there. I was often there. I once attempted in a now abandoned novel, a description of the Chukker:
Upon the high ceiling a painted mural appeared wavering in the smoky haze that hung above the drinkers slouched at the narrow wooden bar, a crude and blasphemous rendition of the Sistine Chapel. The only other drinkers at this hour, two gray pallored men whose hands were curled around their beer bottles as if they had evolved specifically for that purpose. The bartender, a sullen young man with a shaved head, smoked a cigarette and read an existential paperback novel as if oblivious to the presence of his patrons. I grasped the smooth shellacked surface of the bar and leaned back to gaze upon the ceiling. Only a dim shaft of the bright Alabama midday sun managed into the room through the small square window whose glass was opaque with accumulated grime and nicotine. Dust motes drifted like falling ash in the yellow light, adding to the eeriness of the gaudily painted figures on the ceiling, a grinning simian Adam with 1970s sideburns nonchalantly extending a hand toward a buff and puffy-eyed God. The jukebox clicked and whirred and Bob Dylan's voice croaked from the speaker, the cryptic lyrics triggering all manner of nostalgia and grief for me. I felt on the verge of tears, overwhelmed with the realization that it was truly all over now. I picked up the bottle and drained it, and set it carefully on the bar…
In 1999 I left Tuscaloosa for New Orleans. The Chukker closed its doors for good on Halloween, 2003. The building, along with the Alta apartments and the rest of that block of 6th Street, was torn down by the city in 2007. Southern Culture on the Skids, Tim Parrish, The Irascibles, Tuscaloosa, The Chukker. I felt pleased at connecting the dots, but also loss and grief. Jeanne, gone, and Alex too, who'd died a year earlier. I'd been editing an essay of his, part of a memoir about his early years in Tuscaloosa, the verse writing classes of August Mason, and the poet Everette Maddox, the little poetry journal whose name I no longer recall that in 1974 became the Black Warrior Review. I lost touch with Alex after Hurricane Katrina, had planned to finish work on his essay, and then publish it. The New Orleans Review did a special issue on Maddox in 1994, five years after his death in New Orleans where he lived for over ten years, an issue that chronicled his life and work in New Orleans where he was a prominent poet and tragic figure; Alex's essay focused on Maddox's early years in Alabama, and the manuscript sits in my office marked up with my notes toward revision, unfinished, unpublished, untouched since 2005.
I drive up the steep curving ramp that affords a view of the city and the river and will vault me onto the big rusting bridge high over the Mississippi and down into Algiers. I resolve to e-mail Parrish when I get home. He's flying into Baton Rouge in October and will drive down to New Orleans with his brother. Tim will give a reading or two from his new books (a memoir and a novel), and we'll go out and raise a glass to Tuscaloosa, to the good people and places there, to the Black Warrior Review, going strong for forty years. And to the Chukker and Alta, the places and the people no longer there. To Jeanne Leiby and Alex Sartwell, to Starbuck, Maddox, Hannah, and Yates.
Christopher Chambers is a graduate of the MFA program at the University of Alabama where he was editor of the Black Warrior Review from 1997 to 1999. He lives in New Orleans and was editor of the New Orleans Review for twelve years. His work has appeared in Best American Mystery Stories, The Normal School, The Gettysburg Review, BOMB Magazine, Washington Square, sleepingfish, and elsewhere. A collection of his flash fiction, titled Delta 88 is rumored to be forthcoming from Split Oak Press.
(Photo of Christopher Chambers by Dylan Chambers)