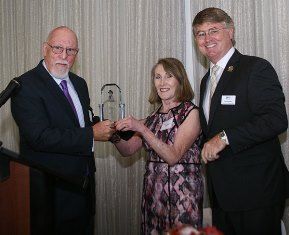 Editor's Note: The Alabama Humanities Foundation awarded Don Noble its Wayne Greenhaw Service Award at its annual luncheon on October 7, 2013.
I'll start, as an English professor should, by quoting from a classic of American fiction: "It is deeply satisfying to win a prize in front of a lot of people."
As many of you will recognize, those words are the thoughts of the farmer, Mr. Homer L. Zuckerman, when his prize pig, Wilbur, wins first prize at the county fair in E B. White's Charlotte's Web.
I have people to thank.
First, the Board of Directors of the AHF for selecting me for this huge honor. It is wonderful to join the list of Alabamians who have been honored by this foundation.
I want also to thank family and friends who have come here today to see me receive it.
It is a pleasure to see Dean Robert Olin of the University here; it must be gratifying to Dean Olin to see proof that not all the humanists in Alabama work at Auburn.
My special thanks go to those who took the time and trouble to nominate me for this award. Greater love hath no man than to nominate someone ELSE for a big prize.
I am especially pleased to win an award named for my good friend Wayne Greenhaw.
Wayne, as many of you know, was an extraordinary person: a talented fiction writer, fine historian, a wonderful raconteur. Wayne loved his native state of Alabama. Generous, he encouraged younger writers, especially his gang at El Rey Burrito Lounge in Montgomery.
Wayne had many gifts and first among these was a gift for friendship. Everyone liked Wayne because, partly, he liked everyone.
This is not my own natural inclination.
Sometimes, when we would be sitting late in a hotel room talking and sipping, usually after a conference or a reading, and I would be fulminating about some administrator or politician, Wayne would go all Atticus Finch on me and say: "Now, Don, he's a pretty good fellow once you get to know him"—and he was usually right. It's good advice.
I was having lunch with my friend Rick Bragg right after he learned he had won the Harper Lee Award for Alabama's Distinguished Writer and he said to me, "This award means more to me than any other, even the Pulitzer. You know why? Because it's being given by Alabamians, my own people, I feel I am finally accepted."
This humanities award means a great deal to me, but for very different reasons.
I am not an Alabamian. I never slept a night in Alabama until I was twenty-seven years old. I was a New Yorker, a Yankee, even worse, the kind that comes and then stays, a damn Yankee. Receiving this award in Alabama makes me feel not like Rick Bragg, more like Sallie Field. You like me, I guess. You really like me.
In 1969 I CHOSE to live and work in Alabama because I felt it was a university and a state where things were changing, getting better all the time. A person could make a contribution.
I was aware of the literary heritage already in place—the work of Harper Lee, Truman Capote, William Bradford Huie, T. S. Stribling, William March.
Since then, that literary flowering has only grown more profuse. We have a wonderful herd of living writers: Rick Bragg, Winston Groom, Gay Talese, Sena Jeter Naslund, Brad Watson, Tom Franklin, Rebecca Gilman, Bill Cobb, Mark Childress, Fannie Flagg, Rodney Jones, Andrew Hudgins, Sue Walker, Andrew Glaze.
At this point the speaker usually says, "Have I left anyone out?" YES. I have left out DOZENS of talented poets and prose writers whose names just came to your minds.
For the last forty-four years, it has been my calling and my pleasure to promote the literary arts in Alabama: in the classroom, in print, on radio and television. It has been very rewarding, and I intend to keep on doing it. The writers of Alabama deserve our enthusiastic support.
Take a poet to lunch. Buy a book.
A professor emeritus of English at the University of Alabama, Don Noble is host of the Alabama Public Television literary interview show Bookmark and the editor of A State of Laughter: Comic Fiction from Alabama.
Photo: Don Noble receives the Wayne Greenhaw Service Award from Greenhaw's widow, Sally, and AHF Chair Judge John Rochester. (Graham Hadley)