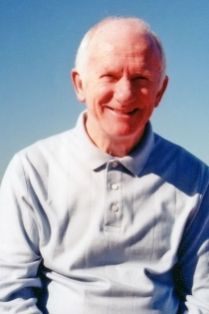 By Suzanne Hudson and Joe Formichella
He was a permanent fixture in Fairhope's funky world of artists, a gentle literary giant, authoring nine novels and a children's play before communing with Edgar Cayce, who guided his final turn at the craft. The result of that collaboration was The Return of Edgar Cayce. C. Terry Cline Jr., though, would not take credit. "I didn't write it," he laughed, "Edgar Cayce did."
Born in Birmingham "on a train going out" he always said of his short stay there, Terry would have been 78 on July 14. A memorial is being planned for June 30 at Henry George Park in Fairhope at 10:30 a.m. He would insist that he hasn't really left us, but the physical body did early Tuesday morning, May 21. A few days before, we left him a note and are comforted to know that he heard our bon voyage. What we don't know for sure is whether he wrote his final book in the buff, as he claimed he always did, but it makes us giggle to think so.
Terry's generosity with writers is legendary. He and his wife, author Judith Richards, never seemed too busy to spend time with a novice, whether attending most of the literary events in town with a question ready for those awkward early moments of Q&A or a lunch date at Andree's. And even the seasoned wielders of the pen loved to stop by for just a little more salt. It didn't hurt that they were a thoroughly delightful couple—Terry with his comic banter a-pattering while Judy gently upbraided him when she thought him a bit over the top. Some of his jokes were powder blue but never down and dirty. He was flirtatious but never ungentlemanly. One of us often left a lipstick kiss mark on his bald head, having been cajoled into doing so, only to hear him ask, "Is my wife rolling her eyes now?"
Laughter and death were the constant-running threads through this life well lived, although Terry would claim that Judy "hasn't laughed at one of my jokes since 1979," when the two wed. Along with his first wife, Linda Cline, the trio made up a writing machine, rotating production with one of them creating fiction, the other two editing, then splitting all profits even-steven, whether an individual bestseller, like Terry's Damon, or not. They have close to twenty books between them, and never in the history of the world has there been a more amicable divorce. "My first wife lives two hundred miles away," Terry would crack wise, "and at that distance she is darn near perfect." Linda gets it.
As does Judy. He delighted in making jokes about their marriage, never hesitating to throw in a zinger of humorous self-deprecation, playing the poor, dumb, bumbling husband with a constant sparkle in his eye. He knew that joy was the secret, and his early career was in joy production: writing jokes for disc jockeys and comedians, right on up to The Jack Parr Show. And, in spite of his disdain for public education, he successfully ran his own advertising agency as a young man.
It might seem incongruous that such a delightful personality would be fascinated with death, but his was not a dark kind of fascination. It was more of a head-cocked-to-the-side, isn't-that-interesting? kind. Not cold, but curious, comfortable with the human condition. "He's been talking about death for forty years," Judy often said. He turned his face to face interviews with serial killer Ted Bundy into 1982's Missing Persons, a brilliant psychological thriller. He put his perceptive, innovative stamp on the suspense genre with works like Quarry, Reaper, and The Attorney Conspiracy.
Not bad for a boy who hated school, preferring the life of an adventurous truant. Judy captured his magical childhood in her novel Summer Lightning, in which a redheaded, cigarette smoking, six year-old boy ditches school to explore the Everglades with an elderly naturalist.
One of us, not the one wearing lipstick, enjoyed baking for Terry—pizzas, raisin bread, and all things yeasty. In our note we assured him that we would be bothering Judy whenever she would allow it, making pilgrimages to their North Street cottage and laying baked goods at her feet. We like to think that knowledge, as devoted as he was to his bride, made it a bit easier for him to push off from the bank.
"So . . . you are about to go on a grand adventure," we wrote him, admitting to a little bit of jealousy but imploring him to save us "a good spot, right close to those sweetest and funniest of spirits," like Terry, "who ebb and flow as do sea tides, in the effervescence of the ever-ever." Judy's free spirited, cigarette smoking, red-headed little boy is on a grand adventure. And the rest of us mere mortals will never be the same.
(Photo of C. Terry Cline Jr. courtesy of MacAdam/Cage.)
Prize-winning Fairhope authors Joe Formichella and Suzanne Hudson, who make their home on Waterhole Branch of Fish River, have been anthologized several times and have written six books between them.