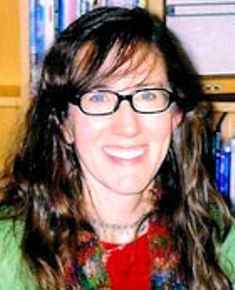 By Kerry Madden
Mary Ward Brown lives out in the country in Marion, Alabama, and people used to say to her after her husband died, "You still writing out there? You ought to join the D.A.R. or the Garden Club. Move to town." They quit asking after she published in one of the "big slicks."
It's a warm day for late February of 2008 when we visit Mary Ward Brown, and my nine-year-old daughter, Norah, spies giant buzzards flying overhead. The wild turkeys, buzzards, and road-kill on the back roads of Alabama fascinate my California daughter. She also finds Mary's feral kittens enchanting but she cannot entice them to be petted. My friend, Dr. Nancy Anderson, who has arranged the interview with Mary Ward Brown, takes Norah to Marion to do some shopping, so Mary and I can "get to work!" We sit at Mary's table bathed in winter sunlight, cardinals and robins alighting on her birdfeeder. I've been teaching nonstop all week, and I'm exhausted, so it's a relief to sit at this table with Mary Ward Brown, who feels like an old friend after all our e-mail exchanges. The only other thing Mary has to do today is burn off some of her tobacco land in the afternoon because of a government thing, which I don't understand, but her morning is free to talk stories.
Her mother and daddy started a store here on this land in 1910. It was a two-story store with a skating rink upstairs. Seven years later they built this house. Mary says, "They followed a plan in a magazine called American Bungalow. The walls are made of heart-pine that my father covered with orange shellac. My parents were so busy they hardly had time to watch me. Mama ran the store and kept the books."
I want to know about the routine of the farm back then, and Mary says, "There were 250 black people living on the place in their own homes. The woman who was the head of the house was Joanna Jackson. We called her 'Mammy,' which I know is not correct these days, but she was a necessary member of the family. I loved her very much. She told me what to do, fixed me for school, fed me. We all knew which day the 'drummers' were coming. Drummers were salesmen. They'd sometimes get lost or stuck on the roads to get out here, and they'd stay to dinner. They sold groceries, clothes, dry goods, plows. There was 'Mr. Cox Day,' and then 'Cecil Connor Day.' Each drummer had his own day."
I ask if her story "Swing Low: A Memoir" captured her life growing up on this farm. Did her father call her mother "Sweedart?" Was there a black man like William Edwards, who was her mother's most trusted friend? Mary nods and says, "Yes." I look out the window trying to imagine back eighty years and the friendship between her mother and a man like William Edwards, who knew far more about all the lives on the farm than his employers. It was such a poignant story of an unlikely friendship based upon mutual respect and understanding. He never left Mary's mother side when she grew sick.
Mary explains, "My mother had uterine cancer and hid it from me. I understand why she hid it from me, but I wish she hadn't. She was 55 when she died, and I was 18."
I ask her about her story "New Dresses," and Mary says, "I modeled the store after KYSERS in Selma. The same saleslady had been there forever. I got the idea for the story of buying a new dress from a friend whose daughter-in-law was dying. They went shopping for a new dress, and it was very clear what it was going to be used for."
We talk about her very early attempts at stories, and like me, she always added herself as a character, which, "never worked." She says, "At the time, nobody I knew was interested in creative writing. My sister-in-law wrote for the big slicks: Redbook, McCalls. She was very helpful to me until I started doing well with my stories. She didn't like it."
I laugh and tell her about a woman who used to be in my writing group who was the same way. Deborah was kind and funny until somebody sold a story or found an agent. Then she was miserable.
After the death of Mary's father, she and her husband moved back with their young son from Auburn where they'd lived for seven years to run the farm. I ask Mary if her husband, Kirtley, an editor himself, ever edited or read her stories, and she thinks about it and says, "Kirtley helped with one story, 'The House That Asa Built.' He said the guy should bring home a TV instead of a washing machine, which was just right. But he didn't read or edit my other stories. We were so busy."
I ask her about being a parent and writing and how she managed to do it and run a farm?
"Not very well," she says with a laugh. "I wasn't very good at it."
She actually quit writing when her son was in high school and didn't write for 25 years. Living out on the farm was isolating for a teenage boy without siblings, and she didn't want her son to feel even more isolated because his mother needed peace to write —she wanted him to feel free to bring his friends home, and so she made a decision not put pressure on herself to produce stories. But during those years she read everything - Faulkner, Tolstoy, Dostoevsky, Flannery O'Connor, Carson McCullers—(she liked her least). She also loved having friends over for dinner and cooking for people. Then her husband got sick, which began with a summer cough that nobody paid any attention to because their son was coming home from Vietnam, which a relative wryly described as "another second coming."
After her husband's death in 1972, folks expected her to move into town. Why stay alone on that farm out there? But she didn't leave. She had to learn to do everything herself, and another young widow taught her the ropes. She also got a chance to visit New York for the first time in her life in her early fifties going to plays, bookstores, the opera. She became friends with another author, Leonard Michaels, author of I Would Have Saved Them if I Could. He helped her start getting published. Eventually, she sold her story "Amaryllis" to McCalls.
It's getting on toward lunchtime, and Nancy and Norah come back with country lunches of fried chicken, greens, mashed potatoes, biscuits, black-eyed peas, butter beans, cornbread, and coconut cake from "Tallulah's" in Marion. Over lunch, Mary asks about Helen Norris Bell, and I tell her about the nursing home in North Carolina, her lost library. She asks me to send Helen's address, so she can write to her. She says, "Helen is so brilliant. Such a scholar and what a mind," but she's sad to hear about her being forced to leave her Alabama home and her friends.
I could keep listening to Mary's stories forever. We have covered only a tiny bit, but a man is due to drive Mary to burn off her land. He has already called to say that he's lost, trying to find his way—just like the "drummers" who used to get lost all those years ago is all I can think.
The lost man arrives and agrees to take our picture. We stand on the front porch—Mary, Norah, Nancy, and myself. He takes the picture and we say our good-byes. Norah hugs Mary good-bye and waves to the feral kittens who are on the roof and in the tree. I hate leaving. I always hate leaving places. I feel like there is a farmhouse out in the country with a big front porch in the South somewhere waiting for me to come home. I can almost hear Mary's father telling her to watch out for "strange men and draw bridges" the way he did when she went to a conference in New Orleans as a young woman and wound up meeting the man who would become her husband on the trip. I imagine the editor of her local country paper going off to "take the cure" and Mary covering for him and writing everything but the advertisements.
In the documentary of Alabama artists, Coat of Many Colors, Mary Ward Brown says, "I just wanted to do the stories. I don't know why. Maybe the same instinct as 'Kilroy was here.' I've always been really glad to be alive, you know. I've thought that things that I see and hear, a lot of it is just wonderful. I wanted to preserve some of it. I try to not use real people. I mean, [my characters] are a composite. I make them up, but I make them up from material that I have seen and known. James Joyce said about little tales that he wanted to keep, 'Pen that one down, will you.'
Editor's Note: This essay was first published in Five Points: A Journal of Literature and Art, edited by Meghan Sexton, as a longer piece about 90-something writers Helen Norris Bell, Kathryn Tucker Windham, and Mary Ward Brown.
Kerry Madden teaches creative writing at the University of Alabama at Birmingham, where she edits the journal pms: poemmemoirstory. (photo by Manuel Ramirez)