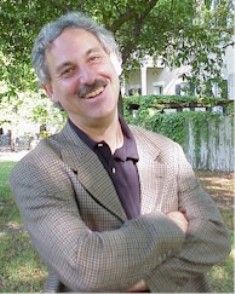 Editor's note: This article first appeared in the Mobile Press-Register on September 1, 2012.
For novelist Michael Morris, "life hurricanes," as he calls them, impact people in different ways.
As a boy in Perry, Fla., his hurricane came while growing up in "an abusive household with an alcoholic father," as he tells it.
Not yet 10, he found a safe harbor in his mother and her parents, Curtis and Audrey Whitfield.
"Being in their house," Morris says of his grandparents, "was almost like a religious experience. I felt safe. I felt peace there ... It was a healing sanctuary."
Faith was also essential, he says, to deal with "the scars on my soul."
Hurricanes and harbors — those of the heart and spirit — manifest themselves in Morris's novels, his newest, Man in the Blue Moon," acclaimed by author Pat Conroy as a "portrayal of small town Southern life where poverty, tragedy, and human love engage in a ritualistic dance."
A finalist for Christianity Today's book of the year award, Blue Moon revolves around a young mother abandoned by her husband, facing financial ruin, and finding help from a strange man who appears mystically to help repair her world.
That stranger has magical powers to heal, which make him revered by some in the community, scorned by others.
The setting makes healing especially important — it's Apalachicola, Fla., during World War I era as the great flu epidemic becomes its own deadly storm.
"When people go through personal hurricanes," says Morris, 45, a former Fairhope resident, "somehow faith is going to be a part of it. You're going to turn to it, or away from it. That's part of the story, part of the human experience. It doesn't matter what the religion is."
Although Blue Moon is published by Tyndale House, a Christian publisher known for its editions of the Bible, Morris does not want to be pigeonholed as a Christian author.
He worries that the term, to a broad readership, can be limiting.
"I'm a writer who is a Southerner who is also a Christian," he says. "Both of these aspects of my personal life filter into my work. I do not write with an agenda. I try to write stories I would want to read."
He prefers his books go on the mainstream bookshelf, or the one marked "Inspirational."
One short, inspirational novel Morris wrote on commission was a tie-in to the Tim McGraw country music hit, "Live Like You Were Dying."
His original titles, A Place Called Wiregrass and Slow Way Home, have dealt with his most critical concerns.
"Compassion and redemption," he says, "these are my themes."
He does not want to be seen as "commercializing" his faith, though, but turning to it to buoy himself up.
"Before I can write I have to pray," he says. "It's what Christianity is about, a personal experience with God. I can pray at my desk, at my computer, pray without ceasing, pray wherever I am."
Living in Birmingham with his wife, Melanie, a visual artist, Morris likes to rise early and have time to read the Bible.
He finds comfort in the Book of Psalms, and immerses himself in the Gospels.
"Jesus told stories," he says. "That's how he got his message out there, through storytelling."
The Bible instructs him in another way.
"Stories in the Bible are full of grit," he says.
He wants to create a fictional reality that does not "shy away" from that grit, the "real world issues. Faith is part of real life."
Morris says that a reader on Amazon.com gave a favorable review to "Blue Moon," though added she "didn't see any Biblical application in it."
"That's not my goal," Morris said.
"For people who are looking for that they might find it, but it's not up to me to determine that."
One of Morris's favorite quotes is from the great short story writer Flannery O'Connor, "a devout Christian, she went to church every day," and who suffered from the autoimmune disease Lupus.
O'Connor, Morris says, stated of her work that "when she writes it she gives it to God, and what God does with it is his business.
"That's exactly how I feel," he says.
© 2012 al.com. All rights reserved.
Photo of Roy Hoffman by John Sledge
Roy Hoffman's latest book is Alabama Afternoons.