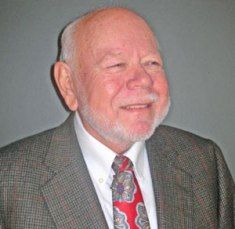 Editor's Note: Ralph F. Voss delivered these remarks at the Montevallo Literary Festival on April 13, 2012, and elsewhere.
Long ago, on Saturday night, November 14, 1959, I was a sixteen-year-old high schooler on a date in Plainville, Kansas, with my girlfriend Alice, also sixteen, who had to be home at midnight. The movie ended around ten, so we didn't have much time to drive around, honking at friends and listening to music. I took Alice home by midnight, neither of us aware that 200 miles southwest of us, at the farm home of Herb and Bonnie Clutter near the tiny town of Holcomb, another sixteen-year-old, Herb and Bonnie's daughter Nancy, was about to be murdered, along with her parents and her fifteen-year-old brother Kenyon. In some significant ways, my life changed that night because of the Clutter murder case.
News of the murders spread through the state rapidly. Kansas is a large state territorially, but small in population, shrinking distances for bad news to travel. At first there were no clues. Robbery was the apparent motive, but nothing about the Clutter house suggested large amounts of cash inside; Holcomb people knew that Herb Clutter wrote checks for everything. And Herb was very well-known, a member of President Eisenhower's Farm Credit Board and a leader in the Kansas Wheat Growers' Association. The Clutters were known throughout 4-H Club circles in western Kansas. As one observer said at the time, "Of all the people in the world, the Clutters were the least likely to be murdered." Yet they were, and brutally: Herb's throat had been cut before he was shot in the head with a .12-gauge shotgun. Bonnie, Nancy, and Kenyon were also shotgunned in the head.
In such an atmosphere, fear became palpable. Until then, my parents never locked our doors at night. The stores soon sold out of locks. The following Saturday night, Alice and I drove only the brightly-lighted main street, as did all of our friends. No one went anywhere alone. I attended Methodist Church Youth Fellowship, "MYF" it was called, and because we knew that Nancy and Kenyon had also been members of MYF, we included all the Clutters in our prayers. Murders had happened in Kansas before, but never a case like this, and in Holcomb, population around 300 people? There being no police in Holcomb, the case was turned over to the Kansas Bureau of Investigation, KBI for short, based in Topeka, over 300 miles from Holcomb. A daily newspaper published 200 miles away in Hutchinson offered a $1000 reward for information. Days passed with no break, and the fearfulness grew.
Among the many things we didn't know at the time was that a well-known writer named Truman Capote was also interested. We didn't know that the author of many Southern gothic short stories and novels such as Other Voices, Other Rooms, The Grass Harp, and Breakfast at Tiffany's had long had a theory about researching a true crime case and writing about it with all the technical skill of a novelist, producing a work that was entirely factual but reading like fiction. We didn't know that Capote had arrived within a few days after the murders, eager to do an article for the New Yorker magazine. He didn't care that the killers weren't caught; his interest was studying a community shocked and saddened by an unfathomable crime. He brought along his longtime friend and fellow writer, Nelle Harper Lee, who had just finished her book, To Kill a Mockingbird. They had been friends since their youth in Monroeville, Alabama, and neither imagined what they were in for.
At first, Capote got no traction in Holcomb and the nearby Finney County seat, Garden City. He was stereotypically and flamboyantly gay, and locals recoiled from him. However, Harper Lee was charming and gracious, and she helped him gradually insinuate himself into the community. Luckily, Marie Dewey, the wife of the head KBI detective on the case, was a native Southerner who knew of Capote's literary reputation and wanted to cultivate his friendship. Soon Capote and Lee were frequent guests in the home of Marie and Alvin Dewey, and Alvin was a vital link to the Clutter investigation. The more Capote learned, the more he knew he was onto something bigger than an article, but the case seemed stalled as November became December.
Ultimately, it was that announced $1000 reward that helped solve the case. When an inmate at the Kansas penitentiary heard about the reward, he spoke up. He had once worked for Herb Clutter and had told a cellmate named Richard Hickock that Clutter had enormous wealth and kept at least $10,000 in cash at his home. It was a lie told to pass time, but Hickock asked for directions to the Clutter house and declared his intent, once free, to rob and kill Clutter, leaving no witnesses. Hickock also said that Perry Smith, one of Hickock's former cellmates already on parole, would be the ideal partner in the plan. Hickock and Smith became the objects of an intensive search. They were captured in Las Vegas in late December, and KBI detectives went to Nevada to question them. Hickock confessed, and Smith later confessed. These confessions happened before the Supreme Court Miranda decision, and neither killer asked for an attorney. In Garden City they were charged with first-degree murder, and their trial was a little over two months later in March of 1960. They were convicted and sentenced to die. Such swift justice didn't end our fearfulness. Something awful had happened, and our world would never again be quite the same. As for Capote, he became just as fascinated with the killers as he had been with their crime and the investigation. Now he knew he wasn't just going to do an article, he was going to do a book—the book he'd been thinking about for so long, and like our world, his world was never again the same.
Capote repeatedly interviewed the killers, promising them money for their stories and giving them hope that his book would plead for their mercy. In Kansas in 1960, capital punishment meant hanging, a relic of old Western justice, and finding anyone who didn't think Smith and Hickock should hang was nearly impossible. Capote knew that Smith and Hickock had to hang for his book's maximum effect. Yet as he grew to know the killers better, the more conflict he felt. His sympathies lay against capital punishment for these men, yet his artistic sense of his "nonfiction novel" clearly called for the killers' executions. Capote felt strong attraction to Perry Smith, whose background of family abandonment and thwarted artistry made Capote feel he had much in common with Smith. In fact, many of Capote's associates believed that he was in love with Smith. If true, that could only have added to Capote's turmoil, which lasted because he couldn't control the time it took for the killers' routine appeals. Those appeals eventually took five years. The delays in publishing In Cold Blood did not prevent Capote from promoting it relentlessly. He gave public readings of excerpts and told everyone that his book was going to read like a novel but be nonetheless 100% factual. "I have it all perfectly," he said. "The book will be a classic."
Finally, on April 14, 1965, when I was a senior in college, Smith and Hickock were hanged, and Truman Capote could at last write the end of In Cold Blood. Now he had his greatest story. In January, 1966, after one of the biggest initial printings ever ordered by Random House up to that time, the book quickly became a best seller, prompting Newsweek magazine to report that the publication had already earned Capote $2 million in sales, and that he had sold paperback rights for another half million, and sold film rights to Columbia Pictures for yet another half million as well as "complete control" over the filming and one-third of the film's eventual profits.
Considering that an average beginning high school English teacher's nine-month salary in 1966 in Kansas was about $5,000—I know, because that's what I made in my first teaching job—it's easy to see what a fortune the book made. I bought and immediately read the book, with no inkling of the many, many times I would read it again. Nor could I have imagined then that In Cold Blood would eventually be translated into thirty-two languages and, as recently as November of 2005, be ranked #60 on Amazon.com's list of all books sold.
Soon after I read In Cold Blood for that first time, I entered graduate school to earn an MA. At that time, filmmaker Richard Brooks was in Kansas, shooting the first film version of In Cold Blood. Capote and Brooks agreed to film in Kansas in black and white, using the actual Clutter house for the murder scenes. I finished my degree and took a college teaching job in Texas, where I was teaching the book when the film was released in 1967. I required my students to see it. The film was a success, winning several Academy Award nominations. This was well before videocassettes or DVDs, so later when I taught the book I had the campus film committee book the movie. Still later, as a doctoral student at the University of Texas, I took a literature seminar in 1973 called Modern American Gothic which included In Cold Blood. Much later, from the 1980s until my retirement at the University of Alabama, I continued to teach the book and show Brooks' film in classes exploring the fine line between fiction and nonfiction.
So it was natural that my wife Glenda and I went to see Philip Seymour Hoffman star as Capote in the 2005 film of the same name. Though the film credited Gerald Clarke's biography of Capote as its chief source, the movie itself covers only that part of Capote's life while he struggled to write In Cold Blood. Capote's personal story and the story of In Cold Blood had become almost inseparable, even though Capote was a well established writer before In Cold Blood. Soon another Capote biographical film, Infamous, was released. Infamous is based on George Plimpton's oral biography, composed of reminiscences about Capote by those who knew him. Again, though Plimpton's book covers Capote's entire life, Infamous concentrates on the In Cold Blood part of Capote's life. By this time, about midway through 2006, I realized that the story of Truman Capote and In Cold Blood was extraordinary in American cultural history. I decided to write a book about the significant cultural legacies of Capote's book. Truman Capote and the Legacy of In Cold Blood was published in November 2011.
Each of the eight chapters of my book discusses a different legacy of Capote's masterpiece:
Chapter One deals with Capote as a very conspicuous celebrity among writers.
Chapter Two deals with how In Cold Blood, though nonfiction, can be read, at least in part, as a gothic novel in keeping with Capote's reputation as a writer of gothic fiction.
Chapter Three deals with how Capote maintained his extraordinary stylistic skill as a writer in In Cold Blood.
Chapter Four takes on the controversial question of whether or not there can really be such a thing as a novel that is nonfiction.
Chapter Five examines the subtext of homosexuality in In Cold Blood, a subtext that was not widely discussed in the culture of 1966.
Chapter Six deals with In Cold Blood as an argument against capital punishment, an issue that remains important in American culture today.
Chapter Seven explores the remarkable influence Capote and In Cold Blood have had on the creative works of other creative people such as filmmakers, playwrights, novelists, and documentary makers.
Chapter Eight revisits the legacy of In Cold Blood in Kansas today.
Because of time constraints, I will touch on how In Cold Blood is gothic in nature and on how Capote and his book have influenced other creative people's work, and then focus on Capote as a celebrity writer, the question of the "nonfiction novel," the book's gay subtext, and the legacy in Kansas today.
My Texas professor included In Cold Blood on our seminar list for a very good reason. In 1966, several critics complained that In Cold Blood was too much like the Southern gothic fiction Capote was already known for writing—a criticism implying that gothic fiction is by definition inferior literature. But to claim that gothic literature is categorically inferior insults many great works of literature that deal with foreboding, horror, and dread. Think of Edgar Allan Poe. Think of today's popularity of vampire stories. Think of Harper Lee's To Kill a Mockingbird. As my Texas professor long ago knew, In Cold Blood shows that Capote found that which is gothic in that which also happens to be true.
Consider just a few aspects of the book, large and small, as Capote describes them. The killers are psychologically scary and grotesque misfits. They mean harm regardless of, perhaps in part because of, how upright the Clutters are. They approach in darkness up the long Clutter driveway lined with over-arching trees. They terrorize the Clutters before slaying them. The killers leave sinister boot prints in the Clutter basement, one set in blood, the other only faintly detectible later in crime-scene photographs. Later they are caught and convicted, sentenced to climb the thirteen steps to the hangman's noose, and when they are hanged, it is a dark and rainy night reminiscent of stereotypical gothic fiction.
In the half-century since the Clutter murders, the conflation of Capote's career and In Cold Blood has had a legacy of influence on several creations by others, including the two biographical films mentioned earlier, two film versions of the In Cold Blood story itself, three single-actor plays about Capote; a graphic novel named Capote in Kansas; a conventional novel named Capote in Kansas: A Ghost Story; a novel called Dear Mr. Capote about a serial killer who writes confessional letters to Capote, hoping he will write the serial killer's story next; three television documentaries, and even an opera named Failing Kansas—all testimony to the extraordinary influence of Capote and his most famous work. Few celebrity writers and few books have been so influential to the creative work of others.
One of his greatest legacies is Truman Capote's reputation as a celebrity as well as an author. In Jay Presson Allen's one-actor biographical play, Tru, which ran for 297 performances in 1990 in New York, one of "Capote's" most telling lines is "I used to be famous for writing books, but now I'm famous for being famous." Capote was a conspicuous, attention-grabbing, media-savvy personality, eventually known to many non-reading Americans as a character who made appearances on television talk shows and said provocative, gossipy things about himself and other celebrities. In his biography of Capote, Gerald Clarke reports Capote's life as a tale of great artistic success followed by great, even tragic, public flameout. The confluence of his celebrity persona and his masterpiece of crime and punishment made Capote's life a cautionary tale. His personal story and his greatest book are deeply entwined in the public memory. The films, Capote and Infamous, are the chief, but far from the only, proof of this. One of Truman Capote's greatest creations and greatest legacies is the celebrity persona of Capote himself.
Turning to another focal point, can there be such a thing as a "nonfiction novel"? The answer is no, though Capote hated to admit it. He had famously bragged to George Plimpton that every word of the book was true: "One doesn't spend almost six years on a book," he huffed, "the point of which is factual accuracy, and then give way to minor distortions." But even he later admitted that the last scene of the book is entirely fiction. An important recurring image in Capote's work is that of the grass harp in the novel of the same name. The grass harp is the sound of the wind blowing through tall grass, telling the stories of all the people who ever lived in the area. The image is expressive of Capote's own storytelling skill, and in seeking a way to end In Cold Blood gracefully, Capote offers a final scene with his recurring wind-harp image. In the scene, KBI agent Alvin Dewey briefly visits the Clutter graves. The last sentence of the book is: "Then starting home, he walked toward the trees, and under them, leaving behind him the big sky, the whisper of wind voices in the wind-bent wheat."
Over the years many scholars have shown that there are, indeed, other distortions of facts in the book, most of them minor, but provable. The term "nonfiction novel" is an oxymoron, like "fresh-frozen food," and the term is the only thing Capote invented, chiefly to sell books—a scheme that worked brilliantly. The genre of nonfiction, even nonfiction done in novelistic ways, already existed before In Cold Blood, and in a wide variety. But Capote was right about one thing: he believed that writing about a sensational crime would give his book longevity because crime is a perennial topic. His success gave an enormous boost to the genre of fictional crime writing known as the "police procedural," and even more important, a boost to the nonfiction genre that would become known as "true crime," in which later writers emulated Capote's research and third-person narrative style to recount stories of actual crime and punishment of interest to large reading audiences. Thus In Cold Blood augured the success of writers such as Vincent Bugliosi, Joe McGinniss, Anne Rule, Joseph Wambaugh, Robert Graysmith, John Berendt, and many more.
Another important legacy of In Cold Blood has to do with Capote's homosexuality. Capote denied that there was a homosexual relationship between Smith and Hickock. But it was 1966 and mainstream America then was not quite ready to acknowledge and look directly and closely at homosexuality and its portrayal in literary art. Plimpton's question was pertinent. Smith and Hickock had been cellmates in prison. Capote refers to Smith having been sexual prey for other sailors in the merchant marine and for superior officers in the U.S. Army. In the book, Hickock frequently calls Smith "honey" and "sugar" when trying to persuade him. Capote tells us that Smith does the pair's laundry while Hickock goes out to write hot checks to raise money, an outlaw version of being a breadwinner. Smith seeks companionship with Hickock and admires Hickock's masculinity. And perhaps most fateful of all for the Clutter family, Smith is angered and conceivably jealous when Hickock declares his desire to rape Nancy Clutter. There is obviously no safe, no cash in the Clutter house, and Hickock's great plan has come to nothing; now Hickock, desperate to salvage something, says he will rape Nancy Clutter. Smith declares that there will be no rape, holds a knife to Herb Clutter's throat, dares Hickock to follow through with his murderous plan to leave no witnesses, and finds that in his anger he has himself slit Herb's throat. Now there is no turning back. Smith grabs the shotgun and shoots Herb in the head. Hickock scrambles for the spent shell. Then Smith shoots Kenyon, Nancy, and Bonnie, with Hickock picking up the shells behind. Ironically, Smith has protected Nancy from rape only to kill her.
Capote tells us in the book that Smith had a kind of "brain explosion" in which he killed the Clutters in a dissociative and motiveless trance. He tells us that perhaps Smith killed a surrogate for his own father when he killed Herb. Such special pleading focuses attention on the possibility of Smith's mental illness rather than the possibility of Smith's simple jealousy and flashpoint anger. It suggests that Capote had strong enough feelings for Smith to try rationalizing his crime. Capote himself may have felt a love for Perry Smith that led him to become a passionate anti-capital punishment advocate after Smith died, but he rather coldly didn't let that love spoil his book. Nor did he let the question of a homosexual relationship between Smith and Hickock rise to the fore in his narration of In Cold Blood because he knew that to do so would damage the book's appeal to the mass market of literature in 1966. So he deliberately muted the homosexual elements of the In Cold Blood story, leaving them as subtext but not foregrounding them.
There is yet another legacy of Truman Capote and In Cold Blood, and it lies in Kansas. At different times in the last few years, Glenda and I have visited the Clutter graves in Garden City, as do hundreds of people each year. We have also visited Mount Muncie Cemetery in Lansing, where the killers are buried, and where the sexton told us that "quite a few" people visit those graves annually too. There can be only one reason for this: Capote's book and its ongoing effect. In 2008 In Cold Blood was selected for an annual reading program in libraries across the state, and attendance in libraries soared, even though some libraries chose not to join in the program because they either thought the book was too grim, or because Clutter family members lived in the town, and out of respect the libraries declined to participate. There's no doubt that feelings remain strong among Kansans of a certain age.
I attended several In Cold Blood sessions at various Kansas libraries. They were all interesting, including one given by a woman named Terri Hurley, whose father, Harold Nye, was one of the KBI agents in the case. Hurley said that her father was a "by the book" detective who believed that Alvin Dewey violated agency policy by giving Capote privileged information. She spoke of how her father did not believe Capote reported the investigation truthfully. She recalled the time during the investigation, when her father was often gone from their home in Topeka, and how fearful they were for his safety and their own, even though they lived 300 miles from Holcomb. Only thirteen years old at the time, Hurley was so afraid that she placed stuffed toy animals into her bed, covered them up so as to leave the appearance that she was sleeping there, and then slept under the bed.
Duane West was the Finney County Attorney at the time of the murders and prosecuted the case. He says he doesn't understand why people remain so interested in such "old news." He believes the killers got exactly what they deserved and that he would have been willing to spring the trap door on the gallows himself. He thinks Truman Capote exploited the tragedy, and he marvels at the ongoing interest in the Clutter case and Capote's book. What Capote called with high intellectual seriousness "repor-todge," West calls "gar-bodge." Dolores and Clifford Hope Jr. of Garden City have fond memories of Capote and Harper Lee. The Hopes invited Capote and Lee to their home for Christmas dinner in 1959, and because Clifford had been Herbert Clutter's attorney, he made it possible for Capote and Lee to see the Clutter home. Not long after that Christmas, the two famous writers became popular guests in many Garden City homes. Dolores Hope, like many Kansans, found it easier to accept and like Capote because of the congeniality of Harper Lee.
Bob Rupp, Nancy Clutter's boyfriend at the time of the murders, was the first suspect in the case because he had been a guest in the Clutter home the night of the murders. He said he didn't like talking with Capote, and if it weren't for the kindly presence of Harper Lee, he "would probably have walked out of the room." Rupp still lives in Holcomb, and he places flowers on the Clutter gravesites each Memorial Day. In 2008 it struck him that while there are Clutter memorials elsewhere in the state, the town of Holcomb had none. He and his wife Coleen decided to work to establish a memorial to the Clutters in Holcomb, and thanks to the Rupps' efforts and the contributions of many others, the memorial was created and dedicated on September 12, 2009.
I could offer other examples of the lingering legacy of In Cold Blood in Kansas, such as the fact that the current Finney County Sheriff still answers questions about the case, the fact that the killers' original gravestones were stolen but eventually wound up in the Kansas Museum of History, which also houses the gallows used for Smith and Hickock's executions, or the recollections of the people who bought and live in the Clutter house, but I'll close with a story from a 2008 graduate of Holcomb High School, Machelle Klaus. Machelle said that even though she and some of her high school pals didn't know much about the story Capote told, they knew that awful murders had occurred in the house at the end of the long driveway just southwest of town, and often, when they drove around at night, they would creep up that driveway, perhaps to catch a glimpse of ghosts. After all these years, I admit that I, too, have crept up that driveway, thinking of the events that happened many years ago in the house ahead, and marveling at how those events wound up affecting my personal and professional life.
(photo of Ralph F. Voss by Glenda Weathers)
Ralph F. Voss is the author of Truman Capote and the Legacy of In Cold Blood (UA Press, 2011).