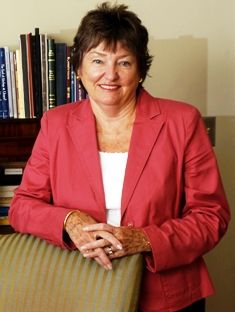 Editor's Note: Dr. Elaine Hughes, Professor Emerita of English at the University of Montevallo, received the Alabama Humanities Award on September 26, 2011. Following is a transcript of her acceptance speech.
My life-long love of literature and libraries began when I was ten years old. That was the summer I had resolved to read a book a day. The public library in my home town in west Jefferson County consisted of a small oak book case in the living room of Miss Mamie West, second grade teacher, who encouraged students to frequent her home library when school was not in session. Each morning I would get on my bicycle and pedal up Highway 78 West to Miss Mamie's house, select my book, and scurry home to begin reading. This particular morning, Miss Mamie discovered I had read all the selections in the youth materials, and the bookmobile had not been by to replenish her shelves. So she dutifully went through the titles and selected one she thought appropriate for me to read, The Bishop's Mantle. When I read the first sentence in the novel—"The priest was surprised when he opened the door to find an infant on the front steps of the rectory."—a new world was opened for me. I did not know what a rectory was; we had only Baptists and Methodists in my home town. Upon finishing that romance novel, I resolved that if I could spend the rest of my life reading books like that I would become an English teacher.
Thus began my journey, a journey that would take me through college and graduate school, to a teaching position at my alma mater, the University of Montevallo, where in 1978, two colleagues wrote a proposal to the fledgling organization later to be known as the Alabama Humanities Foundation to host a public forum on education in Alabama. I was then serving as chair of the Shelby County Board of Education and was asked to be a presenter. That was the first of many such opportunities I have had through AHF to travel about the state, to deliver lectures and conduct workshops, to host forums on topical issues, to write grants for professional development of teachers, to lead reading/discussion groups in libraries and in homes, to work with scholars from universities and colleges throughout the state, to be involved in NEH and AHF projects such as "Read Alabama" and "Reading Our Lives." Through these AHF venues, I have spoken in libraries from Aliceville to Eufaula, from B.B. Comer in Sylacauga to Emmet O'Neal in Mountain Brook; in churches from Huntsville to Mobile; in the Fayette Civic Center; in an antebellum home in Selma; in a double-wide on the banks of the Little Cahaba River in Bibb County.
I have had some memorable experiences on these excursions, such as the return trip from Greensboro one night and having to detour to avoid a bridge that was out. I suddenly found myself on a gravel road deep in the Talladega National Forest with no signs of light or life. Other memorable occasions were those when protestors showed up at the Hoover and Homewood libraries to picket my lectures on Joseph Campbell's mythology; also, the day I received a phone call in my office on campus, and the voice on the other end of the line said, "This is Alice Lee in Monroeville. I am not a judge, but I am a lawyer, and I want to know if I may attend your seminar for judges tomorrow to hear Wayne Flynt talk about my sister's book."
Perhaps the greatest stroke of luck for me was my being asked to serve as humanities consultant to the grant writers for the first Southern Voices event at Hoover Public Library in 1992, and for the past twenty years, I have had the privilege of working with Linda Andrews and her incredible staff—Amanda, Carrie, and Jeremy—with members of the Library Board and Patrons—as they have fulfilled the role of the exemplary library—providing educational opportunities and cultural enrichment for citizens.
Through the years, I have come to recognize the significance of that momentous day in Miss Mamie's living room: the influence a teacher can have on the life of a student; the importance of public libraries to preserve our history and our heritage; the necessity of the humanities in our lives—to help us discover and understand our humanness, our connectedness in this world. Libraries have certainly evolved—from the single oak book case to the click of a button that opens a computer screen to the Encyclopedia of Alabama Online and a wealth of knowledge. My journey to this appreciation of the humanities has been made possible through the varied programs of Alabama Humanities Foundation, through the support of my liberal arts institution which never seemed to waver whether I was bringing 1500 K-6th graders to campus or twenty-five Alabama judges, through support and help from my colleagues in the English Department, through the rich friendships I have from these experiences, and, most of all, through the patience and devotion of my family.
Joseph Campbell's advice to us as we are making this journey through life, the journey he calls the "wonderful song of the soul's high adventure" is: "Follow your bliss!" Through the opportunities given me by the Alabama Humanities Foundation, I have done this. It has been a joyous journey! Thank you for everything.
(Photo by Matt Orton)