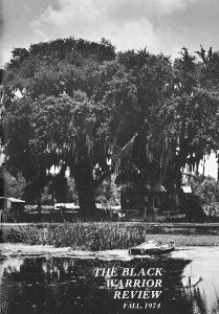 I was a child editor. Or that's how I'd like to think of it. Almost 22, I entered the MFA program at The University of Alabama in January 1974 and ended up as editor-in-chief of a magazine in the making: The Black Warrior Review. (Years later, another set of editors would drop that "The.") My team of rag-tag creative writing peers and I managed to launch a magazine that led off with poems by Norman Dubie and included work by Rodney Jones and Gary Soto. We published two short stories, one from the prize-winning Alabama fiction writer H.E. Francis. We learned on the job how to be editors, to work with printers, and to market our product. There were no courses in this, and we probably wouldn't have taken one if there had been. The only "trained" staff member was Beth Jost who could copyedit and spec the type for the printer because she had worked for the campus newspaper. Thank God Beth had been in poetry workshop and volunteered!
Guided by Thomas Rabbitt, my poetry professor and mentor, I wrote solicitation letters to poets and writers outside the UA community. ("Dear Mr. Stafford…we are starting a new magazine….") Some people, like Dubie, sent poems. Some didn't respond at all. We had every intention of being a nationally-known magazine. During this heyday of small press publishing, another magazine, The Missouri Review, was starting up. Later The New England Review came into being, and I was sought out at AWP/San Francisco by the new editor, Syd Lea, and asked if I would advise him. I was nonplussed, to say the least.
The best letter during my tenure as editor came written in longhand on Saturday Review letterhead from John Ciardi. While working on the second issue of the BWR, I had sent him some of my own work because my mom, who had subscribed to SR for as long as I could remember, urged me to send him poems. "Send him the new magazine, too!" she commanded. His rejection letter (and it was a letter, not a note) on the magazine's stationery began, "Dear Miss Thompson, I am writing to you as the unemployed, ex-poetry editor of The Saturday Review." He went on to tell how the editors at SR had made the financially-driven decision to fire him because poetry wasn't profitable. He politely admired my poems but praised our efforts with BWR more, telling me how important it was to keep poetry alive through the "little" magazines, as they were called at that time.
When it came time to publish that first issue, I made a trip to Drake Printers in downtown Tuscaloosa, a mile or so down from the UA campus. Mr. Strickland, one of the owners in this family business, patiently walked me through the choices related to printing my job. "What sort of typeface do you want to use?" he asked me. "Typeface?" I replied. "And what stock of paper do you have in mind for The Black Warrior Review?" he queried. "Paper stock?" I asked, another dumb look on my face. He initiated me, and instilled in me an awareness of typeface and papers that has grown to be a love in my writing life. Drake Printers was the first place I came to understand there's a reason for every choice in printing.
There was that strange contraption – the linotype machine – hovering like a prehistoric bird in the shadows of the print shop. At least the first two issues were produced with "hot type" or letter press – and I believe the pressman rolled out all the pages over the course of eight hours on a single sheet proof-press. I sat with him in the back as the pages were pulled, correcting errors we'd missed and asking from time to time to "add a line of space" in a poem or between stanzas. I'm sure the man could've brained me. The patience of these printing professionals with a novice editor was endearing. Years later I still become excited by the smell of ink, which signals the promise of something new coming off the press, that happy time when, as master printer Steve Miller posted recently on Facebook, "The smell of ink is in the house!"
Recently, something threw me back into this antique world of small press publishing. One of the first fiction writers published in BWR was Anita Miller Garner, who is now in the home stretch with a new collection of short stories. She's considering rewriting her first published short fiction, "Beautiful Mexico." Without a copy of the journal she was a little stumped. Would I please send her a photocopy of the story? Of course I would – in fact, I could do more than that. I could photocopy, scan, and e-mail it to her. In my office at the Alabama Writers' Forum I have a complete set of Black Warrior Review, with a few extra issues of No. 1, Vol. 1 with Marshall Hagler's romantic black and white Southern swamp photo on the cover. As I opened this magazine, I remembered how proud we were when we saw our names on the masthead and turned the page to find the table of contents, so hard won through solicitations and editorial wrangling. When Garner's The Southland comes out in spring 2012 from Rank Stranger Press, I hope to read on the acknowledgment page that "Beautiful Mexico" was first published in The Black Warrior Review.
While photocopying from that BWR, I found a note in brown ink on brown stationery tucked in the pages – it was a letter to my mother on Mother's Day, 1978, signed by me. The letter must've accompanied another magazine I had been published in because I was talking to her about that in the letter. I believe the poem was called "October: The Fact of Trees," an elegy for her father. I still send my published poems and other works to my mom, one of my first readers, and she saves them. I'm so glad she saved that letter, snugly inside the first BWR.
At Spalding, we have the great good fortune to have a press built right into our program – Fleur de Lis Press, founded by program director Sena Jeter Naslund. Students in the program read for The Louisville Review, and while they are not as involved as I was in the physical production of BWR, they select the work and have the moment of pride when they see what they have championed in print. Being part of a magazine means being part of the community of writers. We don't just write our poems, stories, plays, and children's picture books; we appreciate and nurture the works of others, too. If I learned nothing else through my time as editor of the first four issues of BWR, I learned this: the greatest gift a writer can give is to carefully and lovingly produce the work of another writer for the world to enjoy. I am so glad I was initiated into the world of literary magazine publishing by those who knew better than I the value of the printed word. If I had known how much work I was taking on in the spring of 1974, I probably would have fled. Thank God I was innocent enough not to.
Jeanie Thompson is executive director of the Alabama Writers' Forum and a faculty member in the Spalding University Brief Residency MFA program. Her blog was originally posted in Spalding MFA Accomplishments Spalding MFA Faculty Postings.