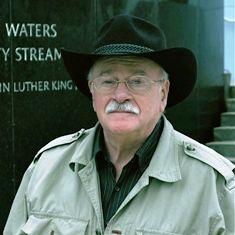 June 4, 2011
For the past few days, I pondered what brought Wayne Greenhaw and me (and Bill Baxley for that matter) together today. Different people from different places with different careers. After considerable speculation, I settled on one unifying movement containing many separate parts. Born only a year apart, the three of us left the culture into which we were born during our teenage years and entered through the gates of history into the most powerful freedom movement of the twentieth century. If the Depression and the Second World War defined our parents' generation, the Civil Rights Movement defined ours.
In his last book, Fighting the Devil in Dixie, Wayne describes his experiences as a young boy so crippled by infant polio that he underwent major surgery to correct a spine distorted by the disease, followed by nearly a year in a body cast. At first thrown into despair by the pain and isolation, he began to read (the Bible; history; fiction), to pray, and to believe again in the future. Central to his recovery was the ministrations of his beloved Presbyterian pastor in Tuscaloosa who brought him comfort and hope. But that same pastor in later years invited Stillman College faculty to their church, thus alienating many parishioners, including some of Wayne's relatives. The minister was replaced, and the disillusioned teenager began a journey toward a different kind of faith.
As with many human tragedies, Wayne's polio and long recuperation drove him into an imaginary world of books which can transport us beyond present reality. One world he discovered that he would soon transform from imagination to concrete reality was the Writers' Workshop in San Miguel de Allende, Mexico. After graduating high school, he boarded a train for the land of the Aztecs and Toltecs (Mayans), where he learned to write, to speak Spanish (albeit with a heavy and distinctive Alabama accent), and love the land of the sun and its people. He would return again and again, finally choosing to live part of each year in a second home there with his beloved wife, Sally. His friendship with Hudson Strode, his legendary writing instructor at the University of Alabama who shared his love for Mexico, only strengthened his ties to the land south of the border.
Wayne began his journalism career at age 15 as part-time sports reporter for his hometown Tuscaloosa News. After graduation from the University of Alabama, he took his love of writing to Montgomery, ultimately joining the staff of the Montgomery Journal, where he began a long writing career. History could hardly have placed him in a better locale at a more important time with so astounding a cast of characters: the Freedom Riders; terrorists who bombed homes and churches; brutal racial murderers; compliant city and state officials; regular Ku Klux Klan and White Citizens Council rallies; Governor George C. Wallace; Rosa Parks; Martin Luther King Jr.; Ralph David Abernathy; E. D. Nixon; Johnnie Carr; Fred Gray; J. L. Chestnut; Asa Carter; Charles "Chuck" Morgan; Morris Dees; the Selma-to-Montgomery March; Attorney General Bill Baxley's prosecution of the terrorists who bombed the 16th Street Baptist Church and murdered four young black girls as they prepared for Youth Day. A longtime U. S. Secretary of State once entitled his memoir Present at the Beginning. In so far as Wayne's journalistic career was concerned, he could have used the same title because the Movement was in his infancy when he arrived on the scene, and he was able to interview most of its major players.
Covering the Movement was no easy task and involved considerable danger. People of the darkness strike journalists first because they provide the images and narrative that shape public opinion. Destroy the cameras. Tear up the notebooks. Assault the writers. We witnessed it all in Montgomery. And where it succeeds, the forces of light are confused, divided, and impotent. Wayne first encountered the danger as he unlocked his apartment door while investigating establishment involvement in the murder of a young black man. A sudden and severe blow to the back of his head sent him to the hospital with a concussion.
Eleven years of covering Civil Rights as a reporter for the Journal and as a stringer for Time magazine and The New York Times from the epic center on the fight for freedom in America left him exhausted. Part of his personal therapy consisted of a detour into another genre of literature. Blending personal memoir, history, and fiction into a pattern shared by fellow Alabama journalists Howell Raines and Rick Bragg, Wayne told about the world from the interior perspective of a rural Alabama boyhood. His narrative works The Thunder of Angels, The Spider's Web, My Heart Is In the Earth, and Beyond the Night bear much the same relationship of narrative to history as his friend Harper Lee's To Kill a Mockingbird. As novelist Pat Conroy wrote of Beyond the Night: "Wayne Greenhaw writes about Alabama the way Eudora Welty writes about Mississippi, with great passion, authority, and love of the land." Wayne's moral conscience and sense of justice are rarely missing in any of his twenty-two books. He was, in fact, a fine example of Robert Frost's maxim about good writing: "No tears in the writer, no tears in the reader. No surprise for the writer, no surprise for the reader."
There is adequate validation of his passion and his craft: the applause of fellow writers such as Howell Raines, Rick Bragg, Harper Lee, and Winston Groom; selection as the 2005 recipient of the University of Alabama's Clarence Cason Award; selection for the 2006 Harper Lee Award for the state's distinguished writer; the Hectar Award of the Hall School of Journalism at Troy State University; the Hackney Literary Award from Birmingham-Southern College; induction into Auburn University's Alabama Journalism Hall of Fame. (Yes, we at Auburn do recognize courage and genius wherever we find it.)
Wayne, of course, had a lifelong lover's quarrel with his beloved though deeply conflicted and sometimes infuriating home state. His indictment of it led him gingerly but inexorably into politics, and in 1993-94 he served Governor James E. Folsom Jr. as State Tourism Director. In the 1980s he edited and published Alabama magazine. Early in the twenty-first century he used his chairmanship of the Alabama Humanities Foundation to call us to a celebration of the mind of this state that matched our regard for its athletic eminence. Telling the good stuff about Alabama always did please him more than telling the bad.
Stitching together all the complex parts of Wayne's life reminds me of some passages from the Bible that explore a common theme, passages that I suspect he read as a boy during that idealistic time of recovery and renewal:
1st John 1:5-7: "Here is the message we heard from him and pass on to you: that God is light, and in him there is no darkness at all. If we claim to be sharing in his life while we walk in the dark, our words and our lives are a lie; but if we walk in the light as he himself is in the light, then we share together a common life…."
Matthew 5:14-16: "You are the light of the world. A town that stands on a hill cannot be hidden. When a lamp is lit, it is not put under the meal-tub, but on the lamp-stand, where it gives light to everyone in the house. And you, like the lamp, must shed light among your fellows, so that, when they see the good you do, they may give praise to your Father in heaven."
John 12:35-36: "Jesus answered them: 'The light is among you still, but not for long. Go on your way while you have the light, so that darkness may not overtake you. He who journeys in the dark does not know where he is going.... While you have the light, trust in the light, so that you may become people of light.' And after these words Jesus went away from them into hiding."
My favorite theologian, Union Seminary Professor Reinhold Niebuhr, wrote two books decades apart in the first half of the twentieth century. Both were born in the ethical dualism of ancient Judaism and Christianity: law/grace; faith/works; rules/freedom; sin/righteousness; old life/new life; death/resurrection; light/dark. Niebuhr's first book, Moral Man and Immoral Society, written early in the century, reflected the author's naïve assumption that humans are inherently good and warped only by the injustice of the societies in which they reside. By the early 1940s, he had changed his mind. The rise of Fascism, Nazism, Communism, and other forms of totalitarianism, together with genocide, massive poverty, and ever widening class divisions, moderated his overly optimistic theology. In the second book, entitled Children of Light and Children of Darkness, he wrote that despite the best intentions of the people of light, all societies contain malevolent children of darkness who perpetuate themselves by intolerance, injustice, violence, and war.
Wayne was one of those remarkable people who understood the power of darkness without despairing about the capacity of light to overcome it. He constantly challenged us to move from the dark, morose, and fearful vales of our lives to the bright and hopeful uplands of our better natures. During a long session of writing about our irrationality and darkness, he never ceased to believe in our capacity for reason and light.
Now that voice is silent, and we must take whatever comfort we can from Wayne's lifetime of hope. For Sally and all his friends there is assurance in the words of theologian Paul Tillich: "Grace strikes us when we are in great pain and restlessness. . . . Sometimes at that moment a wave of light breaks into our darkness, and it is as though a voice were saying, 'You are accepted.'"
Wayne Flynt is Professor Emeritus in the Department of History at Auburn University.