The Inaugural class of the Alabama Writers Hall of Fame.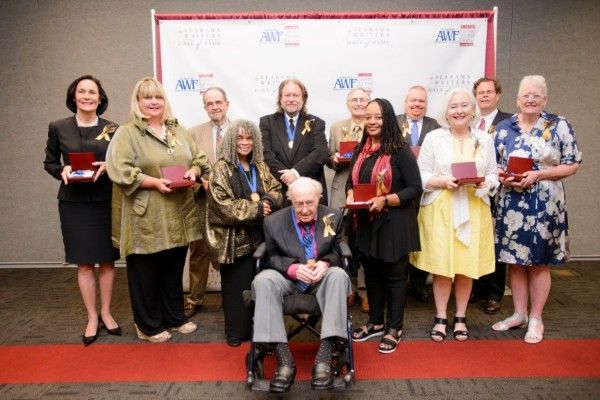 Above photo: (from left) Cathy Randall (for Harper Lee); Keller Johnson Thompson (for Helen Keller); Bert Hitchcock (for Johnson Jones Hooper); Sonia Sanchez; Andrew Glaze; Rick Bragg; John Jeter (for Sena Jeter Naslund); Valerie Boyd (for Zora Neale Hurston); Paul Devlin (for Albert Murray); Kathleen Thompson (for Helen Norris Bell); Edward Russell March III (for William March); Mary Lou Meaher (for Augusta Jane Evans Wilson).
At a gala dinner recognizing twelve renowned authors, some 280 people celebrated the induction of the inaugural class of the Alabama Writers Hall of Fame. The event was held on June 8 at the Bryant Conference Center in Tuscaloosa. Prior to the induction ceremony, attendees mingled in the reception area and had a meet and greet with the inductees, their families, and friends.
Below is a photo gallery of the event. Click the thumbnail to see the whole picture. (all photos by Miriam Brant)
Inductees Sonia Sanchez and Rick Bragg chat in the media green room.

Inductees Sonia Sanchez and Rick Bragg chat in the media green room.

UA Libraries staff member Vera Johnson greets attendees.

On June 8, 2015, the inaugural Alabama Writers Hall of Fame Gala Dinner attracted readers, writers, publishers, and literary fans from around the South and beyond to the Bryant Conference Center on the University of Alabama campus. They were greeted at check-in by UA libraries staff members Vera Johnson (left), Emily Burnett and Donna Adcock (not pictured).

The Albert Murray table reflects his work and life.

To create an atmosphere that was elegant and inviting as well as evocative of the literary arts, event organizers created table scapes that echoed the writers' works. At Albert Murray's table, a clarinet, a trumpet, and Romare Bearden art cards suggest Murray's love of jazz and visual art.

Ted Haddin congratulates Andrew Glaze.

Prior to the induction ceremony, attendees mingled in the reception area and had a meet and greet with the inductees, their families, and friends. Some friends met inductees in the media green room—here Alabama's Poet Laureate Andrew Glaze (Birmingham) is warmly greeted by his friend, poet Ted Haddin (Birmingham).

Table settings for inductees led to the stage and oversisized posters.

Printed programs provided a condensed biography and photo of the inductees. Sena Jeter Naslund's table is set with objects suggesting characters from her Alabama-based novel, Four Spirits, and her historical works of fiction with settings in France, including Abundance, a Novel of Marie Antoinette and The Fountain of St. James Court; or, the Portrait of the Artist as an Old Woman.

Dean Louis Pitschmann greets the honorees and their guests.

UA Libraries Dean Louis Pitschmann offered greetings as the meal was served and welcomed special guests including university officials, Albert Head of the Alabama State Council on the Arts, Armand DeKeyser of the Alabama Humanities Foundation, Jay Lamar of the Alabama Bicentennial Commission, and others. He also welcomed Angela Fisher Hall of the Birmingham Public Library whose board sponsored the Sena Jeter Naslund inductee table.

Theatre Tuscaloosa staged "An Evening of Selected Readings."

Theatre Tuscaloosa staged "An Evening of Selected Readings" to introduce the first class of inductees. Under the direction of Executive Producer Tina Turley, Theatre Tuscaloosa actors read excerpts from the writers' major works. Retired UA Professor of Theater and Dance Edmond Williams served as master of ceremony for the program. For some guests, this might have been a first hearing of Johnson Jones Hooper or Augusta Jane Evans Wilson. For others it was a welcomed reprise of favorite works. Willie Williams, pictured above, read from Albert Murray's Train Whistle Guitar and Sena Jeter Naslund's Four Spirits.

Actress Porsche Kemp reads from Sonia Sanchez's work.

Actress Porsche Kemp reads from inductee Sonia Sanchez's Shake Loose My Skin and Morning Haiku during "An Evening of Selected Readings." Kemp, who is studying acting at Shelton State Community College, said she had discovered a new love of poetry as a result of her role in the Hall of Fame Medal Ceremony.

Dean Louis Pitschmann presents Mary Lou Meaher with the Augusta Jane Evans Wilson medal.

The inductees or their designated recipients were presented medals during a formal Medal Ceremony, also emceed by Edmond Williams, following the readings. Here Dean Louis Pitschmann presents Mary Lou Meaher with the Augusta Jane Evans Wilson medal. Meaher has lived in Wilson's historic home, Georgia Cottage, in Mobile for 35 years.

Dean Louis Pitschmann presents Rick Bragg with his Hall of Fame medal.

Out of twelve inductees, three living recipients were present: Andrew Glaze, Sonia Sanchez, and Rick Bragg. As they each took the stage the audience cheered and gave standing ovations. Here, Dean Louis Pitschmann presents Rick Bragg with his medal, as Sonia Sanchez applauds.

Valerie Boyd accepts medal on behalf of Zora Neal Hurston.

Forum Executive Director Jeanie Thompson and Dean Louis Pitschmann present the Zora Neal Hurston medal to her biographer, Valerie Boyd (Athens, GA). Boyd attended on behalf of Hurston's niece, Lois Hurston Gaston. Gaston manages the Zora Neale Hurston Festival in Eatonville, FL, and sent her greetings.

The Alabama Writers Hall of Fame Medal.

"When I held the box containing the medal, I felt pride that our dream had become a reality," said Jeanie Thompson, AWF Executive Director. "This would not have happened without the unique partnership of the Alabama Center for the Book at the UA Libraries and its Library Advisory Board and the Alabama Writers' Forum and its board of directors as well as many other generous supporters. Collaboration, vision, and generosity have brought this state-wide initiative to life. We look forward to building the capacity of the Alabama Writers Hall of Fame to educate Alabamians about the rich resource of literary talent in our state—past and present."