Ralph Frohsin, Alexander City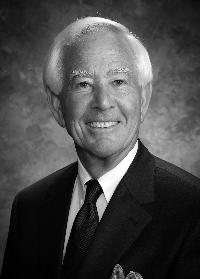 Ralph Frohsin, Jr.
115 Point Clear
Alexander City, Alabama 35010
256-329-8084
Born and resides in Alexander City, Alabama at Willow Point on Lake Martin.
Education: Primary and secondary education was obtained in local schools in Alexander City. Entered University of Alabama in 1958 and received a Bachelor of Science degree in Commerce in 1962. In 1964 a Juris Doctors degree was awarded by the University of Alabama School of Law. Has been a member of the Alabama Bar Association for over 50 years.
Business career: After serving as a Captain in the U.S. Army in Germany with the Army Security Agency I returned to Alexander City to join the management of Frohsin's Inc., a family retail apparel business. President and CEO from 1970 until the business closed in 1996.
Personal: Born on May 4, 1940. Married to Allyn Moses Frohsin who is originally from New Orleans, Louisiana. One son, Mark Adler Frohsin, who is married to Kelly Thumel Frohsin.
Civic Affiliations and Honors:
Alabama State Council on the Arts: Appointed for three six year terms. First appointed
by Governor Fob James in 1997 and served until 2003. Vice-Chairman of the Council
2001-2003. Reappointed to the art council in 2005 and served as vice-chairman
2006-2007 and as chairman from 2008-2009. Reappointed for a third term
2010 through 2015.
Russell Medical Center: Board member from 1999 to present. Chairman of the Quality
Leadership Committee.
Children's Hospital of Alabama - Serves on the Children's Hospital of Alabama Foundation Board of
Directors from 1992 until the present. A member of the Board of Directors at Children's Hospital of
Alabama from 2001 until the present. Serves on Quality and Safety Committee of the hospital and
appointed chairman of that committee in 2017.
Sat on the Board of Directors of the Alexander City Bank and SouthTrust Bank of Central
Alabama. Served on an advisory board of Wachovia Bank and served on the
same board at Wells Fargo.
Alexander City Jazz Festival Inc.: Organized the festival in 1991 as a " thank you" to the
local community celebrating the 100th anniversary of Frohsin's. Served on the
organization's board from 1991 until 2015. Served as president from 1991-1999.
American Red Cross: Director of local chapter from 1998 until 2013. Chaired
the chapter board in 2005. Served on several regional and state Red Cross committees.
United Way: Campaign Chairman in 1985 and President in 1986.
Lake Martin Area Chamber of Commerce: Board member for three terms and Chairman
of the Board in 1969. Recognized by the Chamber of Commerce in 1991 as Alexander
City's Man of the Year.
Served on the Board of Directors of the following organizations: Willow Point Country
Club 1974-1983 (president 1982 and 1983); Alexander City Beautification 1984-1992
(president 1985); Atlanta Apparel Mart Advisory Board 1991-1995; Sarah Towery Art
Colony 1993-2015; Alexander City Arts Council 2002-2012; Boys and Girls Club
1994-1996; Main Street Alexander City 1994-present (president 1997); Junior
Achievement 1990-1998.