---
We're pleased to announce the 2019 Harper Lee Award Winner is
Daniel Wallace
"Receiving the Harper Lee Award makes me so happy." said Daniel Wallace. "I've lived a long time away, but my imagination never left Alabama. All my stories happen there, and it's where all of my characters live and die. Thank you, Alabama. This is such an honor." Wallace will receive the honor during the Awards Luncheon at the Alabama Writers Symposium in Monroeville, Alabama, on April 26, 2019.
Click here to read press release.
---
ALABAMA HALL OF FAME INDUCTS EIGHT ON MAY 24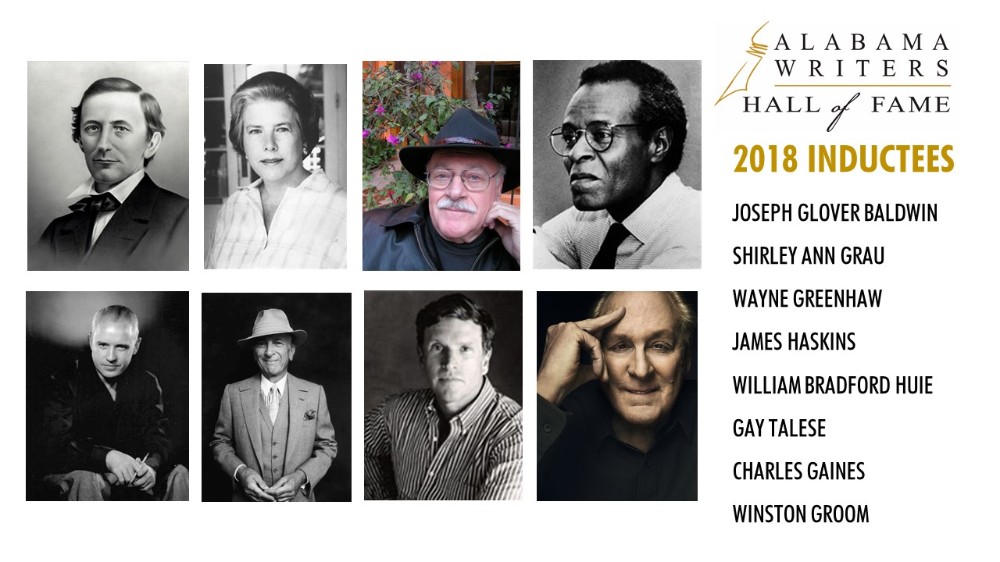 Eight distinguished authors will be inducted into the 2018 Alabama Writers Hall of Fame at The University of Alabama's Bryant Conference Center on May 24.
This year's inductees include Winston Groom, Gay Talese, Charles Gaines, Shirley Ann Grau, William Bradford Huie, Wayne Greenhaw, James Haskins and Joseph Glover Baldwin.
A reception will be held in their honor at 6 p.m. followed by dinner at 7 p.m. The induction ceremony will immediately follow dinner.
Organizers from the Alabama Center for the Book and the Alabama Writers' Forum, partners who created the Hall of Fame in 2014, hope to have people from across the state of Alabama in attendance to celebrate authors from their cities and counties.
"This is a gala event, with individual tickets as well as tables that can be purchased in honor of a past inductee, or to celebrate one of the incoming inductees," said Jeanie Thompson, Alabama Writers' Forum executive director. "Individual tickets and sponsor tables are on sale and can be purchased by contacting Emily Burnett at emburnett@ua.edu or 205-348-5543," she said. Read More...
---
We're pleased to announce the 2018 Harper Lee Award Winner is
Honorée Fanonne Jeffers.
"Honorée Jeffers is exactly the type of writer who deserves the Harper Lee Award. She is prolific, engaged in discourse on social justice, talented, and not nearly finished," said Dr. Jacqueline Allen Trimble. Jeffers will receive the honor during a gala dinner at the Alabama Writers Symposium in Monroeville, Alabama, on April 19, 2018.
Click here to read press release.
---
"Teaching in the Writing Our Stories program is the most important and rewarding work I've done," said Marlin Barton, teaching writer for Writing Our Stories at the Alabama Department of Youth Services (DYS) Mt. Meigs campus. This week Barton and his student writers will launch "Open the Door 20," poems and stories, in an on-campus event. Read more...
---
A Pulitzer Prizes Centennial Campfires Initiative, "Carried Home" is a production of the Alabama Humanities Foundation, the Alabama Writers' Forum, and Troy Public Radio (WTSU, 89.9 FM in Montgomery and Troy; WRWA 88.7 in Dothan and the Wiregrass; WTJB 91.7 in Columbus and Phenix City) in five short radio documentaries. The first broadcast aired on Troy Public Radio in December 2016.
Alabama Literary News
Jesseca Cornelson comments on her experience reviewing new talent in the Senior Portfolio category for the Alabama High School Literary Arts Awards