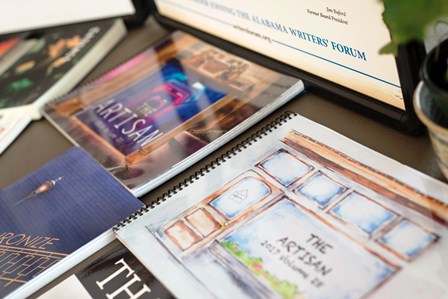 2019 High School Literary Arts Awards Competition
Deadline: February 8, 2019
---
We're pleased to announce the 2019 Harper Lee Award Winner is
Daniel Wallace
"Receiving the Harper Lee Award makes me so happy." said Daniel Wallace. "I've lived a long time away, but my imagination never left Alabama. All my stories happen there, and it's where all of my characters live and die. Thank you, Alabama. This is such an honor." Wallace will receive the honor during the Awards Luncheon at the Alabama Writers Symposium in Monroeville, Alabama, on April 26, 2019.
Click here to read press release.
---
"Teaching in the Writing Our Stories program is the most important and rewarding work I've done," said Marlin Barton, teaching writer for Writing Our Stories at the Alabama Department of Youth Services (DYS) Mt. Meigs campus. This week Barton and his student writers will launch "Open the Door 20," poems and stories, in an on-campus event. Read more...
Alabama Literary News
Jesseca Cornelson comments on her experience reviewing new talent in the Senior Portfolio category for the Alabama High School Literary Arts Awards