High School Literary Arts Awards & Scholarship Competition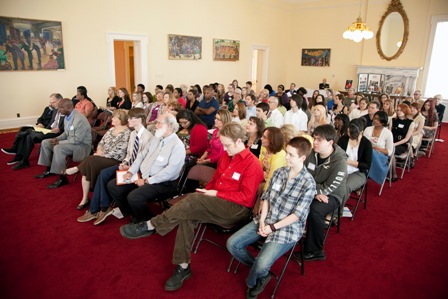 The Alabama Writers' Forum recognizes young writers, grades 9-12, and their teachers and schools each year for their work in creative nonfiction, drama, fiction, and poetry. Support the Alabama High School Literary Arts Awards and Scholarship Competition with a Named Scholarship. Click to learn more.
Literary Arts Awards 2015
Guidelines
ENTRY FORM FOR ALL OTHER GENRES
Calendar of Important Award Dates
Submission Period:  Dec. 1, 2014 – Jan. 12, 2015
Last postmark 1/12/15.  No exceptions.
Winning teachers notified by e-mail:  Feb. 22, 2015
Winners' list posted: Feb. 27, 2015
HSLAA Ceremony at Alabama State Capitol:  March 18, 2015
We hope you will make plans to be with us to receive your awards on Mar. 18, 2015.  The annual ceremony is a special day for the literary arts in Alabama and provides a chance for students, parents, and teachers to spend time with elected officials and literary arts supporters.
ELIGIBILITY
The Literary Arts Awards are open to Alabama high school students in grades 9-12.  Scholarships are available to seniors. 
LITERARY ARTS AWARDS
For the following categories:  Creative Nonfiction, Drama, Poetry, and Short Fiction
1st place ($150), 2nd place ($75), 3rd place ($50), Judge's Special Recognition, Certificates of Merit.
JUDGING
Writers in the fields of creative nonfiction, drama, fiction, and poetry will choose the winning entries.  The names of the judges will be announced when the awards announcement is made.
FORMAT FOR ENTRIES
Submit entries in a 9" x 12" envelope.  Submit clear photocopies only; students should retain originals.  No manuscripts can be returned.  Students' names should appear only on the Entry Forms since all works are judged anonymously.  All short fiction, drama, and creative nonfiction entries should be typed and double-spaced.  Poetry entries may be typed single-spaced or double-spaced.  No bond or colored paper.  Students must designate on the entry form the category for which they wish the work to be considered.
SCHOLARSHIP AWARDS IN LITERARY ARTS
Submit online this year. The scholarship awards in literary arts are open to seniors in good standing in Alabama high schools.  Up to six cash awards of $500 each are given.  Portfolios placed in consideration of the scholarship awards in literary arts will be judged anonymously by a judge from the fields of literature or creative writing.  Awards are based solely on merit of works submitted.  A Portfolio of approximately 20-50 pages of work from at least two categories is required. All entries should be double-spaced. Poetry may be single-spaced.
CATEGORIES FOR PORTFOLIO WORK
Chapter(s) from a novel accompanied by a one-page synopsis of the novel (25-page limit).
Creative Nonfiction (one or more essays; 15-page limit)
Drama (25-page limit)
Poetry (three shorter poems or longer works totaling no more than 10 pages)
Scholarly essay or research paper with a creative focus (10-page limit)
Short Fiction (one or more stories; 25 pages total)
FORMAT FOR PORTFOLIOS
Students' names should appear only on the entry forms.  A table of contents should list the names of the individual works that make up the portfolio with each work's category designated.
LITERARY MAGAZINE COMPETITION
Exceptional Literary Content ($150), Judge's Special Recognition for Exceptional Literary Content ($50 each)
Exceptional Graphic Design and Layout ($150), Judge's Special Recognition for Exceptional Design and Layout ($50 each)
Certificates of Merit for Literary Magazines
To enter, send one copy each of two issues of the magazine, published between 2012-2014, with the required entry form.  Magazines must have been published for at least two consecutive years to be eligible to enter and must consist solely of original student work.  List name of editor on the entry form, followed by other student editors' names on the lines provided after "This Submission if for Literary Magazine Competition."
HOW TO MAIL ENTRIES.
NOTE: Submit Portfolios online.
Please DO NOT use binders, folders, or any type of cover.  Paper clip or staple pages together.  Mail to HSLAA, Alabama Writers' Forum, PO Box 4777, Montgomery, AL 36103-4777. Delivery confirmation is recommended. Last postmark:  January 12, 2015. 
Winners