The Alabama Writers' Forum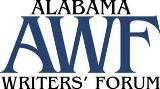 The Alabama Writers' Forum promotes and facilitates the practice of literary arts through its services to writers and the general public. With individual and corporate associates statewide, the Forum represents the diverse voices of today's writing talent. The Forum is a partnership program of the Alabama State Council on the Arts and is located in the Tuskegee Bank Buliding, 660 Adams Avenue, Suite 311 in Montgomery, Alabama.
The Forum was founded in appreciation of Alabama's strong literary heritage with a commitment to its continuation. Its community-based programs reflect that commitment and support established, novice, and student writers.
Young writers, their teachers, and schools are recognized through the Literary Arts Awards, an annual contest for Alabama high school students grades 9-12. Partnering with Alabama's juvenile justice community, the Forum manages "Writing Our Stories: An Anti-Violence Creative Writing Program" on three Department of Youth Services campuses. The Forum also collaborates with other organizations for adult prison arts projects. Keeping communities aware of Alabama's rich contemporary literary talent, the Alabama Voices series brings prominent Alabama writers to rural, urban, and school communities for mini-residencies of various lengths.
The Forum serves as Alabama's point of information for literary arts activities in close conjunction with the Alabama State Council on the Arts' literature program. First Draft, a quarterly journal published by the Forum, provides an in-depth look at the state's contemporary literary scene. The Alabama Literary Resources Directory is a compendium of information useful to both writers and those seeking to work with writers. A database of members and other information is also maintained at the Forum office and is being integrated into the Web site as part of the "Resources" feature.
Since it was founded in 1992 by writers, publishers, and educators, the Forum has formed partnerships to nurture and foster the literary arts.
Funding for the Alabama Writers' Forum comes from the Alabama State Council on the Arts, the National Endowment for the Arts, individual and corporate members, and other corporate sponsors.